Teaching a child about oral care can be like pulling teeth. They would rather go play with their friends, not brush their teeth. Considering your child will need those pearly whites for many years to come, it's important that you help them take care of them now.
With help from Oral B – and the awesome Precision Black 7000 electric toothbrush I've been reviewing – I've been using my own new dental care routine and have noticed a huge difference in my daughter's interest to brush her own teeth now that I'm visibly showing her my routine. here are a few dental care tips that may come in handy with kids! 
Dental Care Tips for Parents
#1. Monkey See Monkey Do
This is so true in the oral care world. Your kids need to see you brushing your teeth before they'll consider brushing theirs. Mom and dad, they need to see you get excited about brushing your teeth. Trust me, just like any other area in life, you are their role model. Try to stay positive about anything that revolves around oral care.
I recently was sent out an Oral B Precision Black 7000 to review in an effort to up my brushing routine and love how interested my daughter is in my oral health. She comes in to my bathroom each morning to brush alongside me and is obsessed with my new electric toothbrush. So much so that we've made this her next reward (see below)!
You can find my full review of the Oral B Precision Black 7000 here on Amazon.
#2. Cause and Effect
I believe that brushing one's teeth is a great way to teach about cause and effect. If a child doesn't learn to brush their teeth now, they'll have a lot of issues later. Luckily, kids' teeth are a little resilient when they are kids, but it's so important to make this a routine. Plus, if you teach them how to care for their teeth now, you will save a lot of money later.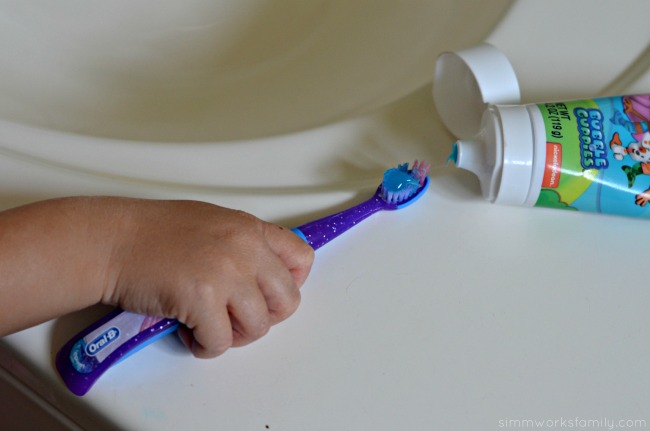 #3. Brushing Correctly
Sticking a tooth brush in your child's mouth for 20 seconds and moving it around is not brushing their teeth. Believe it or not, but gums can get really inflamed when they aren't not brushed too. So, make sure you teeth are brushed for at least 2 minutes a day, twice a day. It's important that a smaller toothbrush is also used on kids because they get all corners of the mouth cleaned. Don't just do this for them, help your child learn to brush their teeth by guiding them through the process.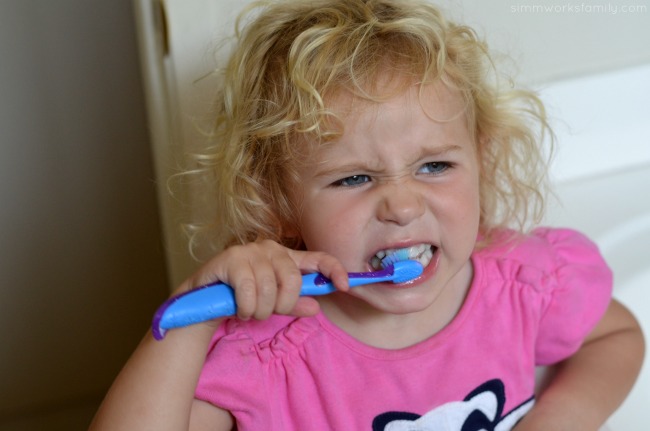 #4. Rewards
One of the best way to get your child to brush their teeth is to offer a reward. It's probably not wise to offer them candy or anything sweet, but here is a great example. Put a chart together. Have your child mark down each time they brush their teeth for a week. If they brush at least 10/14 times on the chart, then they get a reward.
Of course, when your child reaches a perfect 'attendance' for brushing, they get a larger reward. Let them have a say in what their reward is. For my daughter her large reward will be her own Oral-B electric toothbrush!
Learning to brush one's teeth can be fun and it's surely rewarding. If your child is really struggling with the amount of time it takes to brush their teeth, set a fun timer. It's always fun to watch a timer tick while you brush. Enjoy these oral care tips and teaching your little one how to be more independent on their own, while brushing!
What oral care tips do you have?
This post is brought to you by Oral-B. Like Oral-B® on Facebook for future offers, promotions and more! To receive a $7 off coupon on your next Oral-B electric toothbrush, click here: http://bit.ly/1hrxqno