Find out how easy it is to make DIY dinosaur fossils for your next dinosaur birthday party or activity!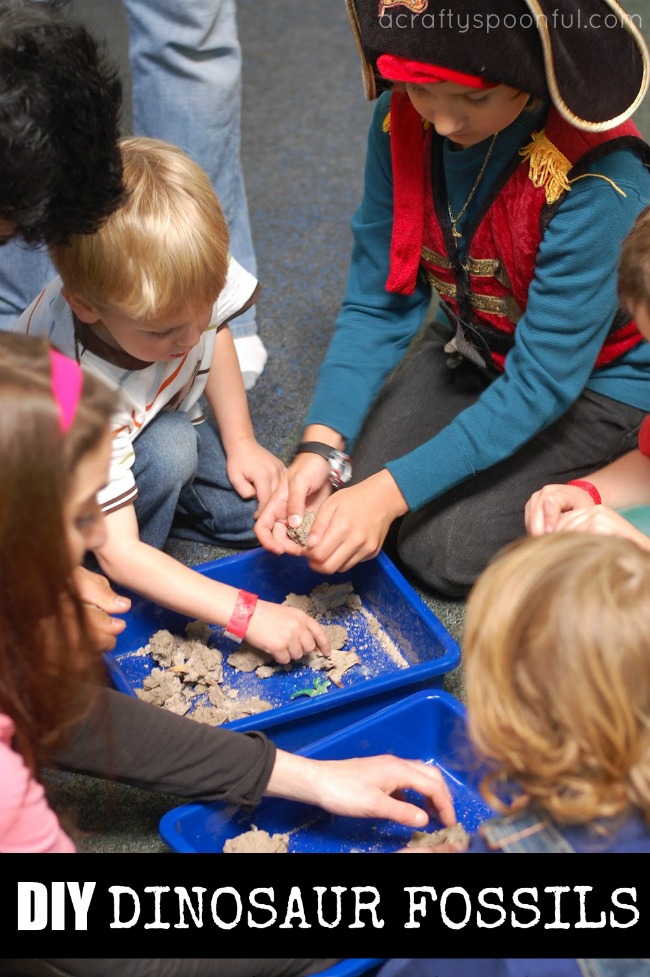 When I started planning activities to do at my son's dinosaur themed 3rd birthday party I knew I had to have something fun that both the boys and girls would like. Since his party was a dinosaur train theme I started scouring the internet for great ideas on crafts my son and I could create together for the party.
After searching around a bit we found a great recipe for do-it-yourself dinosaur fossils! As soon as I showed my son the fossils he was all aboard. And then when I told him he'd have to help make them he quickly ran to grab the measuring cups and flour.
The fossils were a big hit at the party and the kids took turns finding them all over the indoor play place we were at. Then they took all of the fossils to two buckets we had set out and started opening their fossils to reveal tiny plastic dinos inside.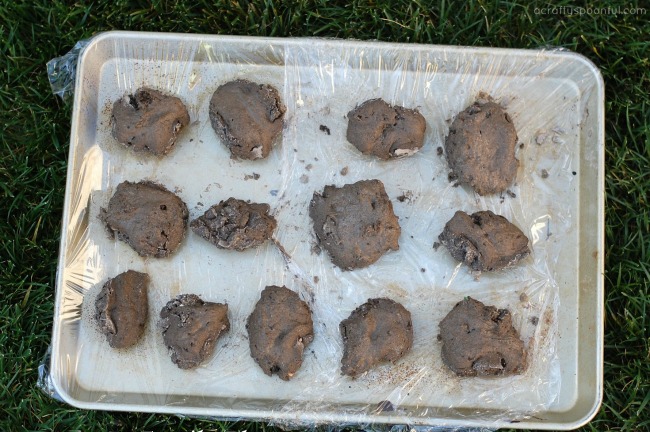 DIY Dinosaur Fossils
What You'll Need:
1 cup flour
1 cup dirt
1/2 cup sand (play sand works the best)
1 cup water
12 tiny plastic dinosaurs
Plastic wrap-lined cookie tray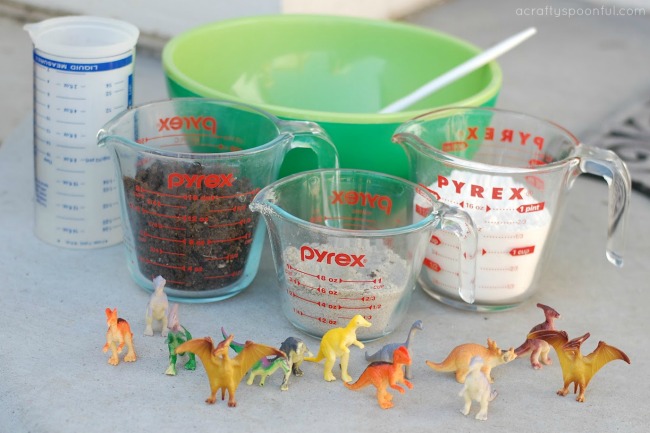 What you do:
1. Dump the flour, dirt, and sand into a bowl.
2. Pour the water over the dirt mixture.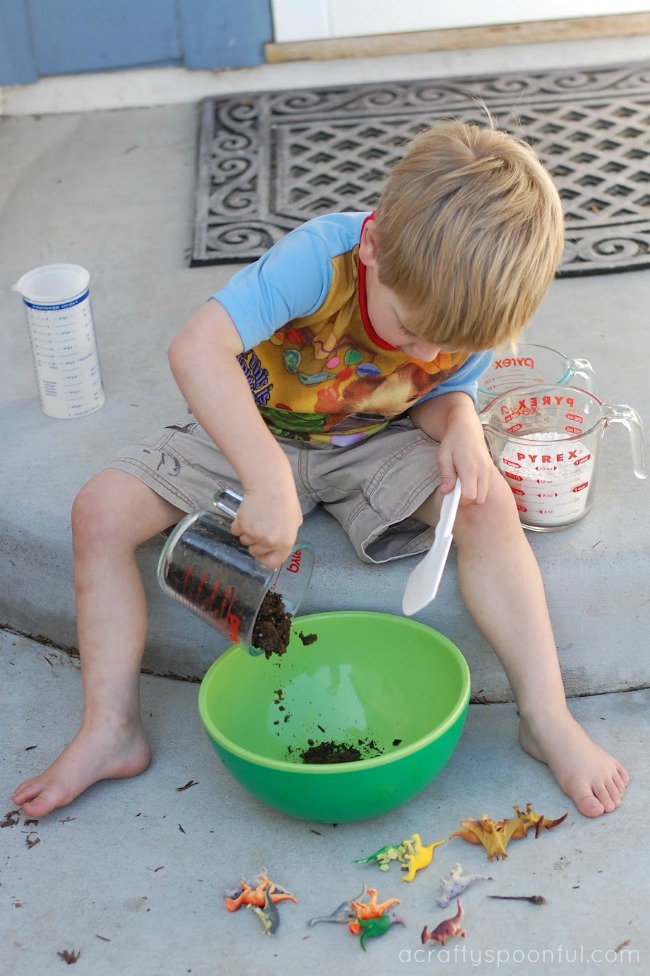 3. Stir the mixture together until it's a thick muddy batter-like consistency.
4. Add more dirt, sand, and flour as needed if too liquidy.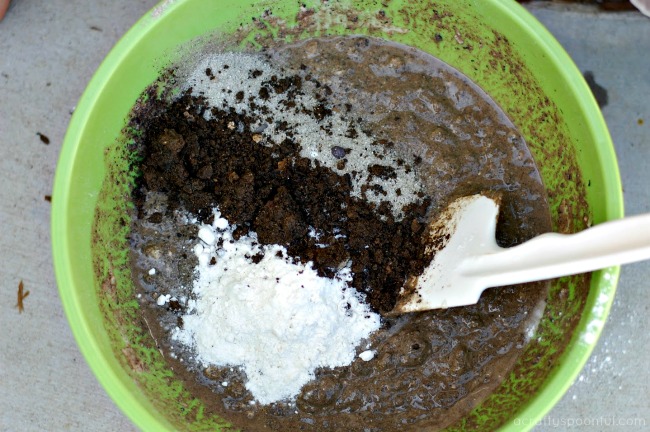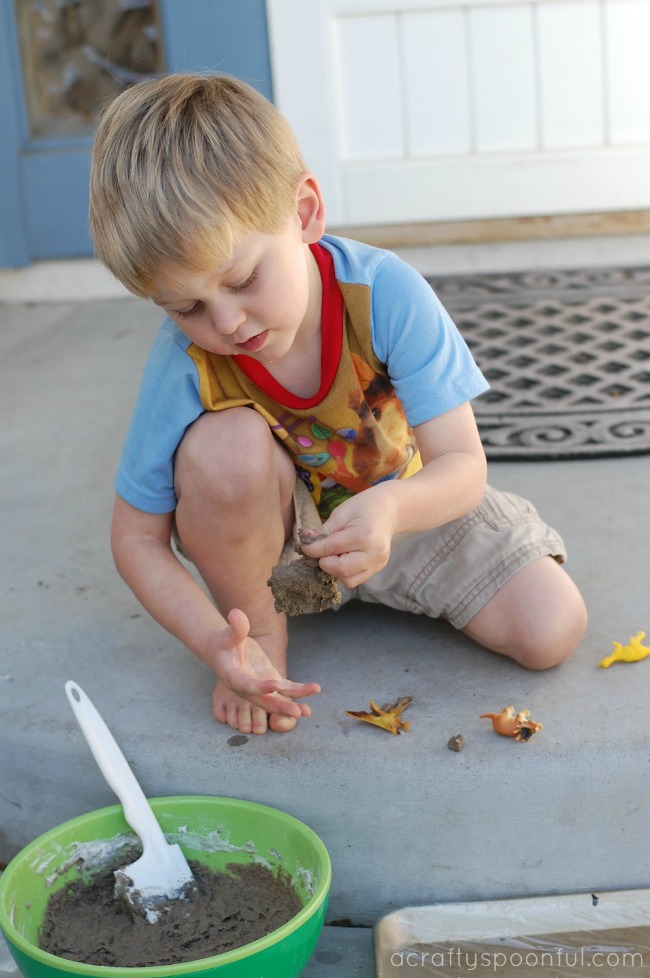 5. Let your kids dip in the dinos and coat them well.
5. Place on plastic wrap-lined cookie tray and cover with a little more of the mixture to make sure it's coated very well. Cover up any parts that may be sticking out.
6. Let the mixture sit out in the sun for a few hours to dry. Once the top side is dry flip each fossil over and let the other side dry completely.
7. Let the kids have fun breaking the fossils apart!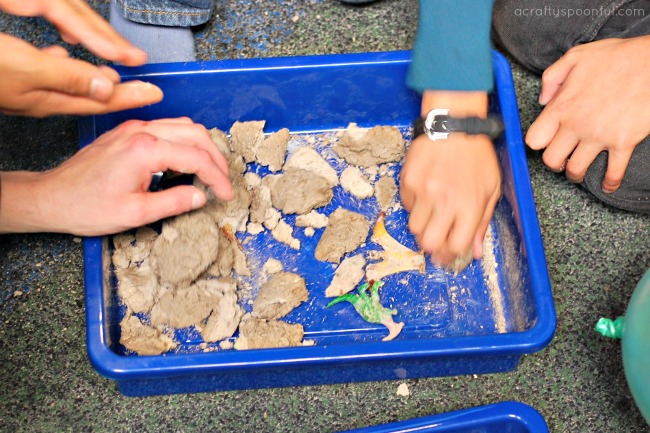 Have you made DIY dinosaur fossils you can break open before?
Love this idea? Here are some more dino-fun crafts:
Pin this article for later!
Click the Pin button on the image below to save for later.