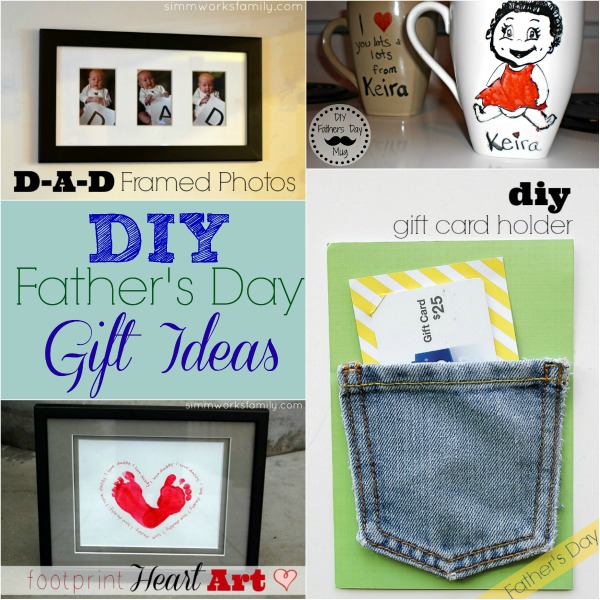 Every Father's Day I sit and wrack my brain with what I think would be the perfect gift to give my husband. Would he love his favorite TV series on DVD? Does he want to go somewhere and make a day out of it? Or does he love the cute, homemade gifts I have the kids make him every year?
So I decided I'd come up with a plan this year. Each child gets to pick out something to give him from either the store or online (I can still direct them to things he's interested in or has asked for) and then we'll make something for him.
And of course I turn to the internets for great ideas on what to do for Dad. So if you're looking for great gifts the kids can make Dad for Father's Day, look no further.
Check out these DIY Father's Day gift ideas and find something for every age child!
DIY Father's Day Gift Ideas
D-A-D Framed Photos
Whether your child is an infant, toddler, preschooler or school-ager, you can make Dad oh and ah over their cuteness with this D-A-D Framed Photo set.
And this is a super simple project. Just get a print out of the letters D and A (or a wooden version) and have your child(ren) hold the letters. Make sure to choose a different pose for the alternating D's.
Web now take D-A-D photos every year to add to this frame I bought for my husband's first Father's Day. We've also used the photos to make custom cards, mousepads, and more!
DIY Gift Card Holder
If you have an older child who isn't into memory making and would prefer to give dad a gift card to his favorite store, consider having them make a gift card holder.
My friend Tonya over at Create Celebrate Explore
shows us how in her guest post on The Centsible Life with this easy DIY pocket made from an old pair of jeans.
You can find the full post with instructions here.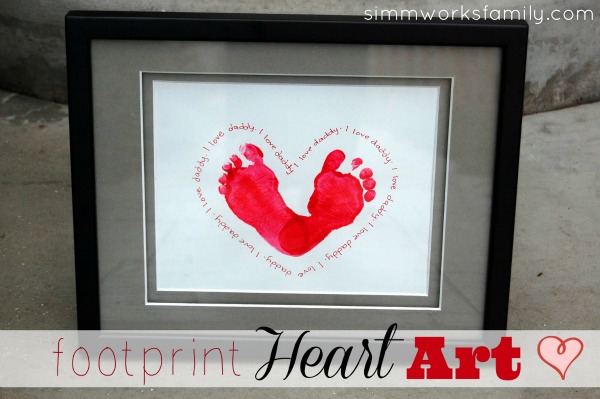 Footprint Heart Art
If your kids want to get a little messy and create a great way to preserve just how small they are at this age. And luckily you don't need many items to recreate this artwork!
Simply let your child choose the paint color of their choice, grab some card stock and a frame and let your kids squish their toes in paint and walk on the paper!
Detailed instructions on this post here.
DIY Father's Day Mug
Looking for something Dad will use everyday? Why not have the kids decorate some mugs for him. They can personalize them with everything Daddy loves and even sign their names.
You can find out exactly how to make these DIY personalized mugs on FrugalMomEh.com.
Looking for more great ideas? Check out some of the DIY gifts I found on Pinterest: