This post is brought to you by I and Love and You.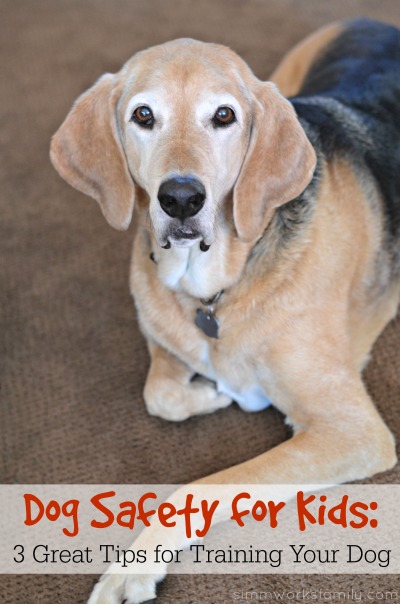 A dog can provide pet owners and their families with many years of joy, companionship, comfort, and love. However, not all dog breeds are the same. Each dog breed is known for its distinctive characteristics, whether it be for fighting, hunting, intensity, intelligence, wandering, and so forth. No matter what breed of dog you may introduce into your family, the safety of your kids around the dog should be your utmost concern.
After our daughter was bitten by our family dog (warning – graphic photos in post linked), we took dog training and dog safety for kids to heart and have continued to work with both our kids and our dog, Scout, to ensure that this doesn't happen again.
Training your dog in an effective manner will provide you with a sense of security in having a dog as a family pet. Whether the dog is part of the family unit before the child arrives or afterwards, both will need to be taught rules, boundaries, as well as consequences.
Start a Conversation
In order to teach your child about being safe around dogs, it is important that you talk to them about dogs in a simple manner so they can comprehend what you are trying to teach them. Start a conversation about animals, in particular, dogs. Tell them how they can be very protective and loving. Let them know of the role your dog plays in your family unit. Teach them the proper way to react around the dog and how to be gentle.
Parents should closely watch how their toddler interact with the dog in order to learn about how to approach the dog, which mannerisms to use, and, of course, how to avoid getting bitten by any dog. Loud voices and a flurry of action can put a dog under stress and entice a sudden change in behaviour.
But there also might be known stressors – like our dog's sensitivity to his paws being touched – that we keep a very close eye on to reduce the chance of upsetting our dog. And we also know to never approach him when he's sleeping so we don't startle him.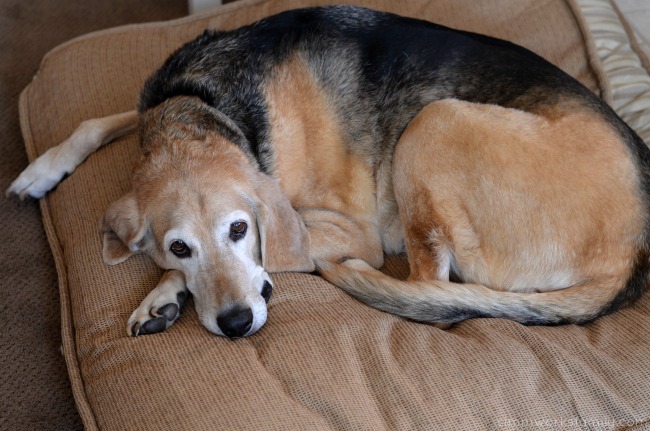 Give Your Dog Space
Give the dog a place of their own to relax, whether it is a dog bed, a dog house, or even a crate. Teach your child about the importance of leaving the dog alone to rest. They will come to them when they want to play.
Children also need to be taught that dogs also have toys that they can play with. Teach them to never try to take a toy away from the dog as the dog may snap at them to try and get it back. Food and water bowls are also another thing you should teach your child about. They need to be taught never to trouble the dog food or bowls while they are eating or to take away their treats.
Supervise your children around the family pet until they get used to each other. Learn to read your dog and its mannerisms. Loud noises may cause your dog to suddenly freeze. Often they will suddenly cast a wicked eye to the person causing the ruckus. Snarling and growling may suddenly be heard. These are all warning signs of a pending attack. Know them and react in a positive manner to ensure that this behaviour can be capped beforehand.
If you are not able to supervise, have a cage to put them in so they can have some time out and not have the ability to run loose. Make sure to keep the cage in close proximity to the family. It is not meant for punishment, but rather a place for them to relax. Most dogs, once crate trained, see their cage as their own little sanctuary and will sometimes go inside even when it's not time to just to get away.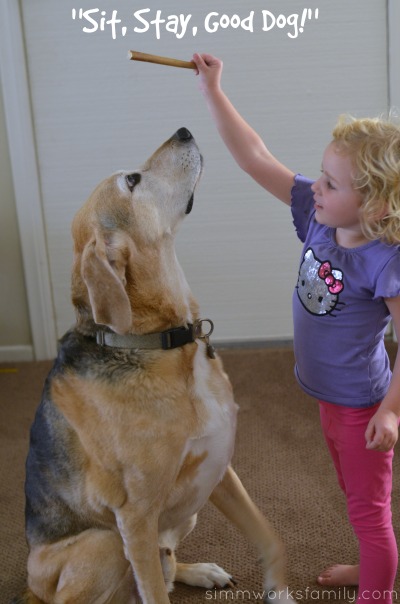 Lay Ground Rules
Teach your child certain safety rules for them to follow to avoid getting bit by neighborhood dogs. You can teach them about never approaching a stray dog, and to always ask the pet owner if the dog can be patted. If your child happens to be approached by a stray, aggressive dog, teach them to stand still with hands tucked in front of them. Have them look down at their feet as this is a sign of passiveness, which tells the dog that they are no threat.
On the other hand, training your dog about kids and safety matters means training them in a different way. Teach them how to heel and obey commands. Never let your dog go outside off leash, that is, unless it is on your own property, and without strange kids running amok at your place. If you want some off leash time, take them to the dog park or where you know there are no other people in attendance.
One thing we really wanted to focus on was establishing our kids as alphas in our pack. So we now have them feed our dog and give him his dog treats.
Since our dog is so particular about treats, I was excited to have my daughter try out the I and Love and You brand after we switched our dog over to their dry dog food (which he still loves). With no surprise we found that Scout LOVED his new treats and would do just about anything for them.
With a combination of keeping our conversation about animals and dogs going, knowing when to give our dog space, and sticking to our ground rules we've been able to build up my daughter and dog's relationship. My daughter still talks about when she was bit but from the beginning insisted on keeping our dog. She now continually shows her love for our dog and enjoys the fun they have together.
Do you get your kids involved in training your family pet?