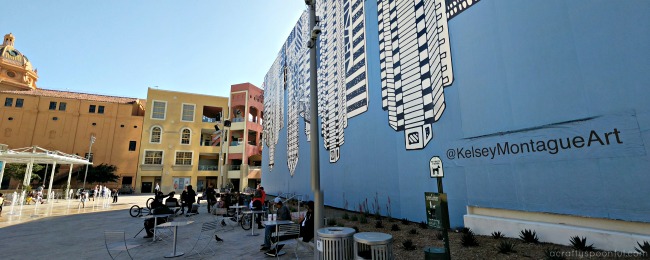 In San Diego and looking for a fun way to spend the day? If you're heading downtown there is plenty to do and see with the kids!
From great kid-friendly museums like the San Diego Children's Museum to kid-friendly activities at Horton Plaza Park and kid-friendly restaurants like the Hard Rock Cafe, you'll never tire of the fun to be had in Downtown San Diego. One thing we love doing is planning one day a month where we do something new in our city.
This month we decided to hit up Horton Plaza Park for some playtime and grab lunch at the Hard Rock Cafe. Not only was it the perfect afternoon out of the house, it allowed us to enjoy our city and the gorgeous weather we've been having lately!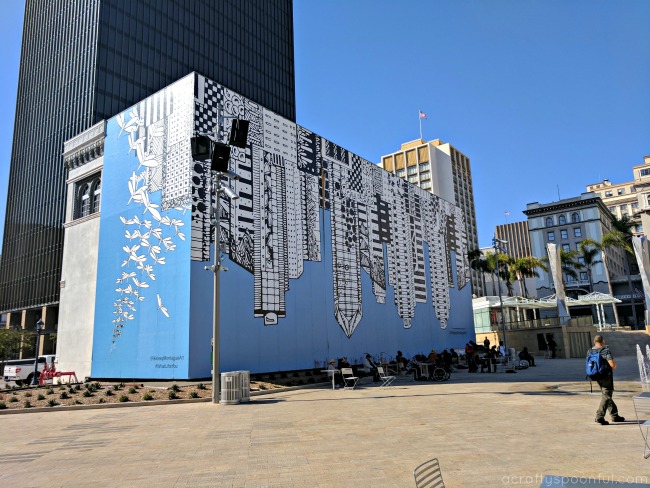 10 Must-Do Activities with Kids in Downtown San Diego
Where to Play
1. The New Children's Musem –
This museum is great for kids 10 and under who are looking to enjoy hands-on experiences. There are interactive art exhibits, workshops, and camps, as well as immersive art studios to allow the kids to do what they do best – explore, learn, and create! Learn more on their website.
2. Horton Plaza Park –
Horton Plaza got a snazzy new upgrade and is now home to Horton Plaza Park, a gorgeous area in front of Westfield Horton Plaza that includes a Starbucks, Sloan's Ice Cream, and water play at the fountain. While you're there, take advantage of Plaza Play and enjoy a game of Lawn Darts, Jenga, and other lawn games every Thursday & Friday from 11:30AM – 2:30PM and Saturday & Sunday from 11:30AM – 4:30PM.
If you are planning on letting the kids enjoy the water fountain, make sure to bring an extra pair of clothes! We may or may not have had to step into Gymboree to buy a few outfits for them after allowing them to enjoy a nice soak in the fountain water. But they loved every minute of it!
3. Balboa Theater or the Civic Theater –
My husband and I absolutely love heading to the Civic Theater to watch the latest shows at Broadway San Diego. We've been season ticket holders for the past 3 years and it's something we look forward to every year. Throughout the year there are some great shows to bring the kids to! Just recently we saw Matilda and coming up is Finding Neverland!
You can also watch your favorite movies at Balboa Theater through Cinema @ Balboa Theatre & Hard Rock Cafe. Enjoy a cinematic movie experience at the historic Balboa Theatre every month and meet-up with your fellow fans before or after the show for 15% off food, non-alcoholic beverages and non-charity retail with your movie ticket. And get $2.00 Off Cinema @ Balboa Movie Tickets at Balboa Theatre online or at Balboa Ticket Window & use code: HardRock. For Cinema Show listings and times: http://sandiegotheatres.org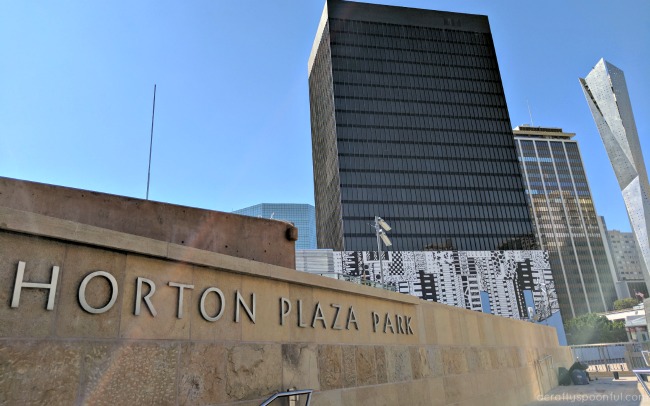 Where to Explore
4. Seaport Village and The Headquarters
The one place I love visiting over and over again when I'm downtown is Seaport Village. I don't know what it is about this little shopping area or why I always want to come back. And now with the Headquarters right next door, I have even more reasons to come visit again. Maybe it's just because I love good shopping and delicious food?
The kids will love hitting up the carousel and Ben & Jerry's while at Seaport Village. And don't forget to check out the old jail at The Headquarters. This is my kids' favorite place to visit. My daughter loves reading what the inmates were incarcerated for back when the jail was still operational. And she loves sticking her brother in one of the cells. You can also purchase great gifts, cheeses, and chocolates while you're there among other things.
5.The Embarcadero –
With the Star of India, USS Midway, and many other gems along the Embarcadero, it's a must see for those visiting San Diego or exploring for the 100th time. You can also enjoy a harbor cruise on one of the many cruise ships in the Embarcadero. We love checking out Flagship Cruises to see if they have any special events happening. They're also perfect for whale watching season!
6. Balboa Park
While it is a bit farther than the other areas, we love heading to Balboa Park to explore the various museums and attractions (including our famous San Diego Zoo). If you have time, grab an explorer pass and really get to explore what Balboa Park has to offer! And don't forget to stop by and see what's new at the San Diego Natural History Museum. Dinos are taking center stage right now!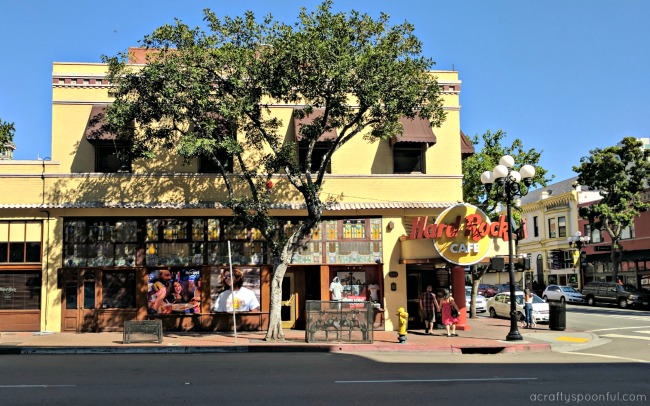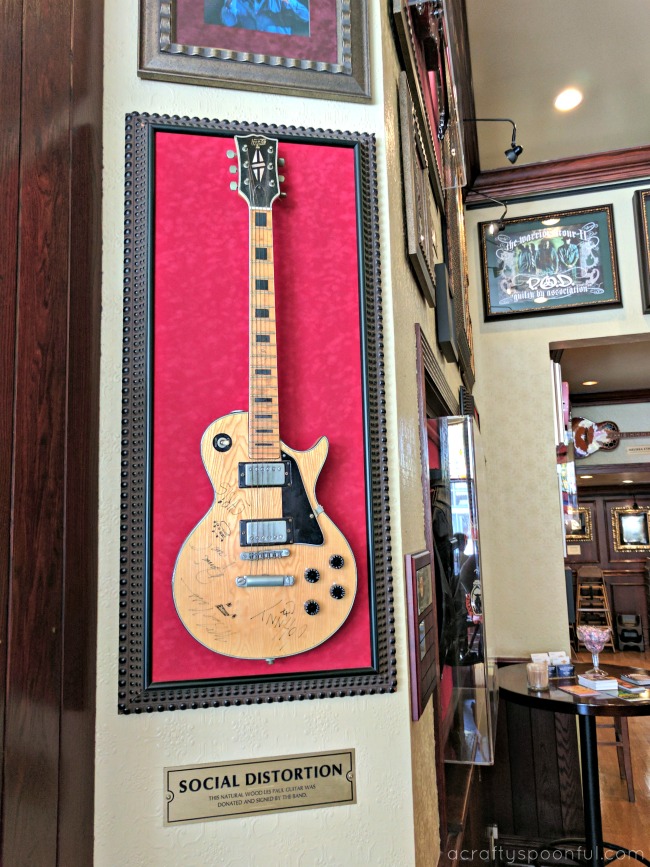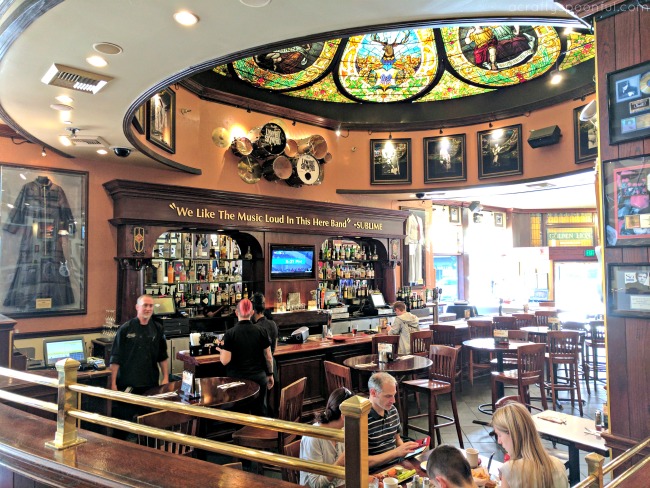 Where to Eat
7. Hard Rock Cafe –
We were recently invited to head down to the Hard Rock Cafe San Diego and try out their awesome menu. The location was so convenient for our family as it's within walking distance of Horton Plaza Park (across the street). The menu was extensive and they had a great selection of drinks and kids items.
I enjoyed a delicious Texan pulled pork sandwich paired with a southern rock while my husband had a burger with strawberry lemonade. The kids took advantage of the delicious smoothies and hot dogs on the kids menu. We ended our meal with an amazing hot fudge brownie. Pictures do not do this dessert justice! It's massive and was perfect for our family of 5. No one felt left out. Next time we're trying the fresh apple cobbler per my husband's request.
The best part about this restaurant is the ambiance. Being surrounded by our favorite band's memorabilia and quotes made our experience even more awesome. And just like the Hard Rock Hotel (which I highly recommend), the service and attention to detail is spot on! You feel like a part of the family as soon as you walk in.
8. Food Trucks –
When you're out and about in Downtown San Diego, especially when there's an event going on, make sure to keep an eye out for the delicious food trucks our city has driving around. You can take a look at the food truck schedule by visiting their website.
9. Double Standard –
While we love quite a few restaurants in Downtown San Diego, the sandwiches at Double Standard keep me coming back for more. Plus the kids love their pizza! The menu is always changing so stop by and check out what they are serving up. I'm sure it'll be delicious! When we're with the kids we prefer coming for lunch as it's a little less crowded and we can snag a comfy couch seat.
10. Ghiradelli –
If you didn't snag an amazing brownie sundae at Hard Rock Cafe, stop by Ghiradelli. For a scrumptious ice cream dish to share with the whole family! It's close to all of the other restaurants and places we've previously mentioned so it's a great place to end the night (or day)!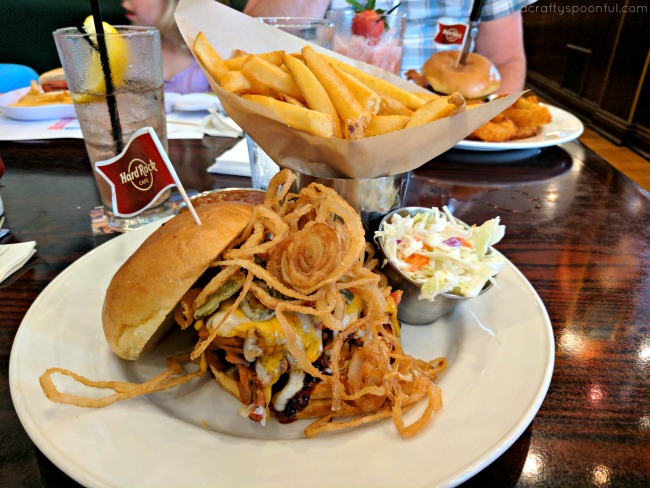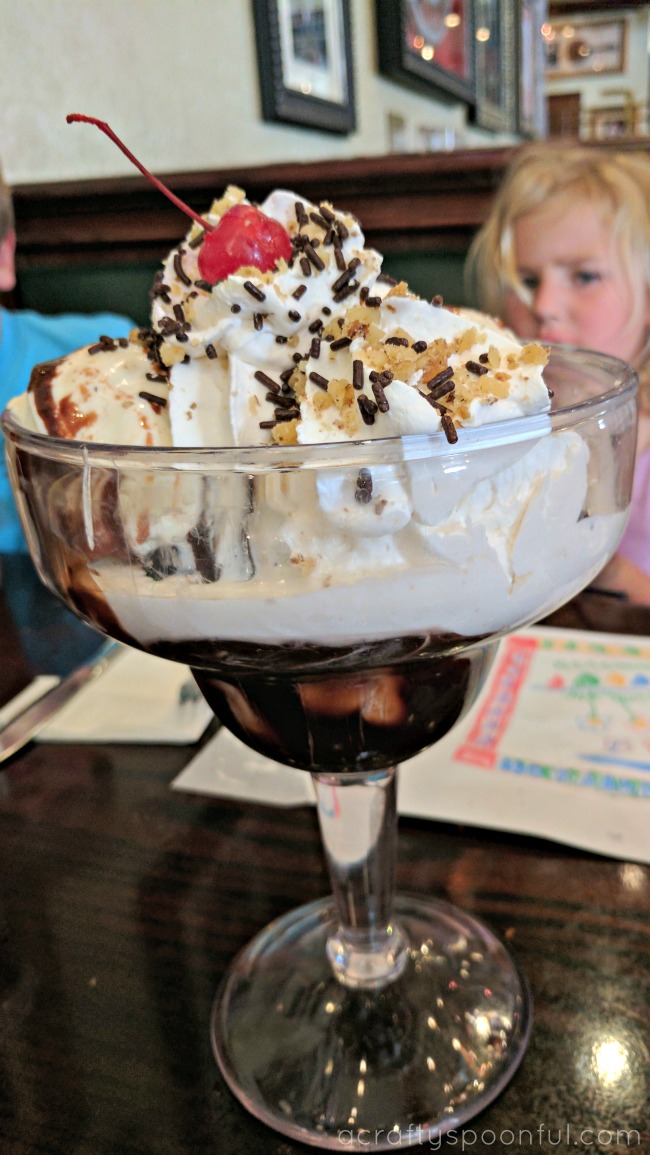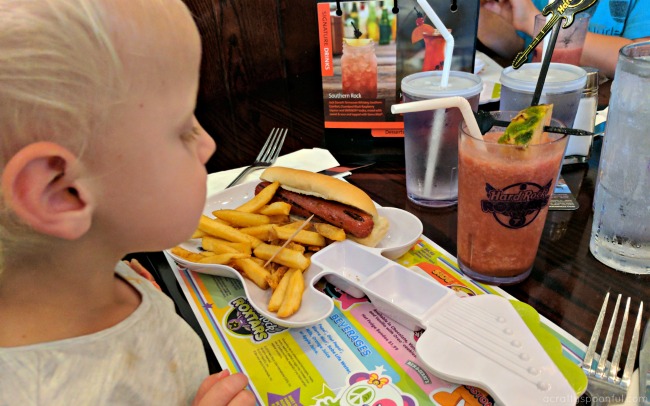 No matter what you do while you're in Downtown San Diego, I'm sure you'll have fun doing it! If you have any suggestions for kid-friendly activities, please feel free to leave them in the comments below! We're always looking for something new to explore in San Diego!
What's your favorite thing to do in Downtown San Diego?
Disclosure: Our family was provided a free meal at the Hard Rock Cafe San Diego.