I recently checked out the new Ergobaby 360 carrier at Baby Bloggy Boot Camp. This post is written by me on behalf of Liz Lange and Ergobaby. Product was provided.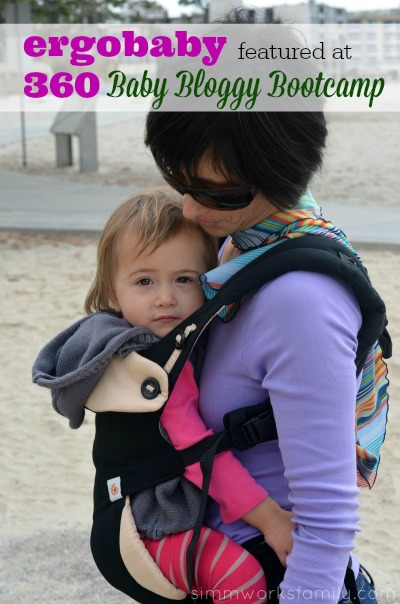 Two things I absolutely love are babywearing and blogging. So when these two came together at Baby Bloggy Boot Camp hosted by the SITS Girls I knew I wanted to attend. Since I was already attending Women Get Social, coming in a few hours early wouldn't be a big deal. Plus I got a sneak peek at the new Ergo 360 baby carrier and some other amazing products.
Baby Bloggy Boot Camp (#BabyBBC) was an informative mini blog conference that featured sessions on creating compelling content for moms, sponsored content tips and authentic story-telling. Each session was lead by bloggers in-the-know about what brands want and what readers want to see.
And in those 3 hours I learned a lot about how I can improve my own brand (this blog) and really deliver what my readers want to see. I've already seen an amazing change in how I view my blog and how I approach each and every post I share.
At the conference we were able to connect with a few brands including Ergobaby. Now we've owned an Ergo carrier since my son was about 1 year old. When I first had him I lusted after an awesome carrier like Ergo however kept telling myself they were too expensive.
So I made my other babywearing products work for me until the moment was right for us to introduce an Ergo carrier into our home. Since then we've taken our Ergo with us just about everywhere we go. Including trips to Mammoth, Disneyland, and Palm Springs.
Since both of my children are now heading out of the babywearing stage, I thought that passing the baton to my sister (who's expecting her 3rd in May) would be the perfect way to continue my love of babywearing. After seeing the demo of how easy the Ergo 360 is to use, I know she'll love it just as much as I do.
Ergobaby has come a long way from their original carrier and now offer an Ergobaby wrap and Ergobaby swaddler in addition to the new Ergo 360. Both of which I wish I had when my kids were younger! I cannot wait to hear how my sister loves these products. They'll definitely come in hand as she's caring for her new baby and trying to wrangle two other boys!
In addition to the Ergobaby products, I also will be letting my sister enjoy out the gorgeous figure flattering Liz Lange maternity dress I received. In these last few months of pregnancy she doesn't really have much that fits comfortably so I'm hoping this dress will brighten her day! The material feels amazing… so luxurious!
Not only did I get to learn some amazing tips and tricks to put into play with the blog, but I was also able to test out these amazing products. The event was an amazing treat and I am so blessed that I was able to attend. Thanks again to the SITS Girls, Ergobaby, and Liz Lange for putting on a great event.
Did/Do you babywear? What Ergobaby product would you love to have?
Disclaimer: This post is written by me on behalf of Liz Lange and Ergobaby.  Product was provided.