This shop featuring simple football party snack ideas has been compensated by Collective Bias, Inc. and The Coca-Cola Company. All opinions are mine alone. #GameDayGreats #CollectiveBias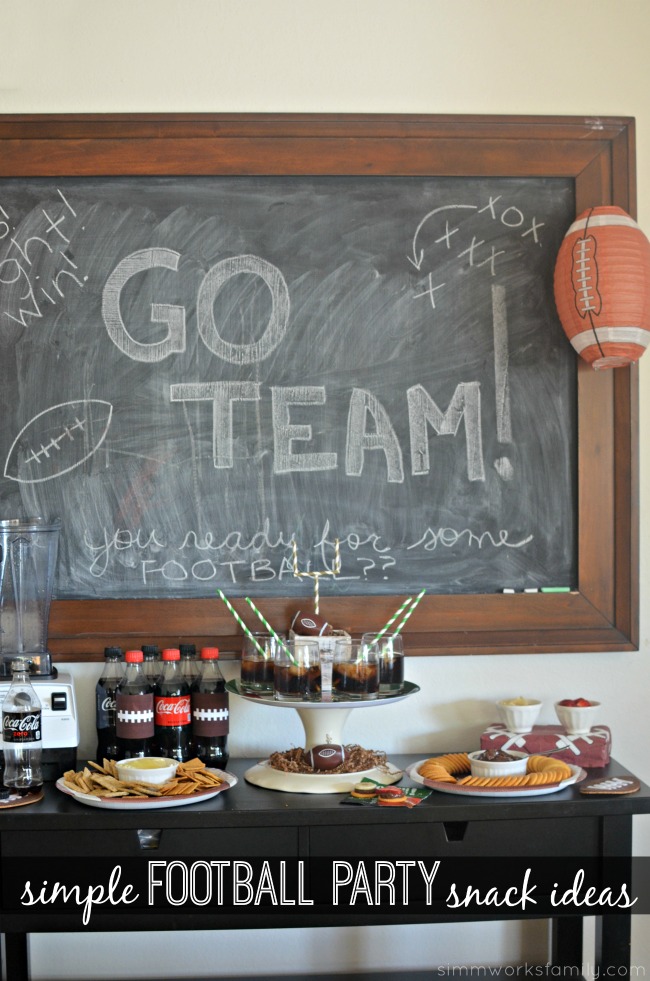 Do you have that one family member who's just crazy about football? Loves the game and everything it means? That person in our family was my Grammy. She would have us over for the big game every year and without fail she'd know all of the players, who to look for, and could always call the winner. It was like her talent. Sadly my grammy passed away this year and this is a hard season for us to get through.
But that doesn't mean we can't do the one thing she was always able to do every year: Bring our family together to watch the game.
So I put together a delicious spread of savory and sweet dips along with some Coca-Cola slushes to enjoy with my family this past Sunday. What's great about the spread is it's versatility. You can make so many different sweet and savory dips and the touchdown toppings make everything a bit more fun. And as we've mentioned before, we're huge RITZ fans. This time instead of topping our RITZ, we're dipping them!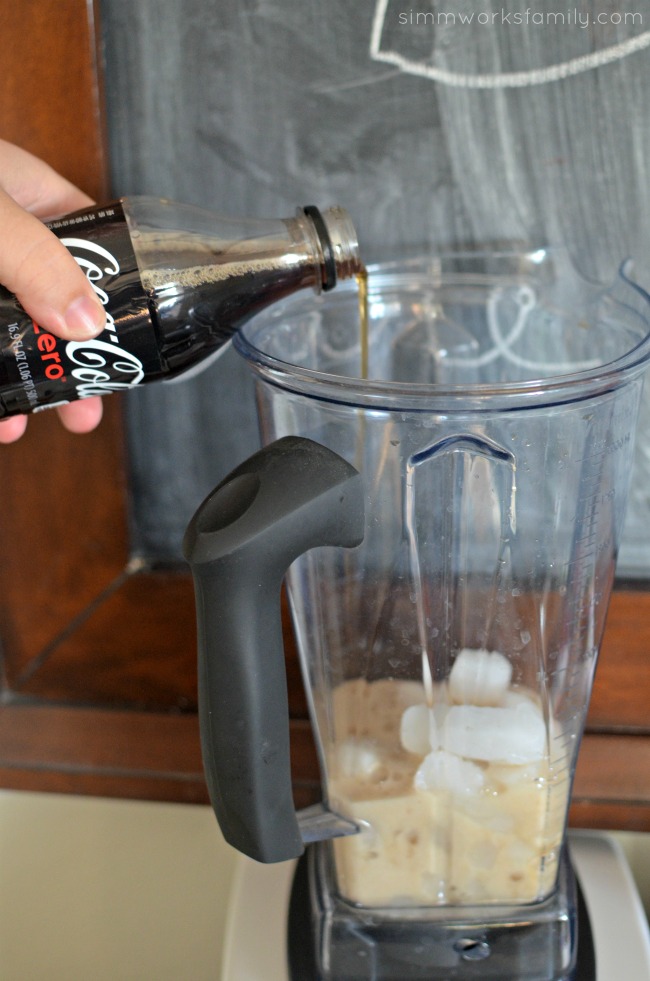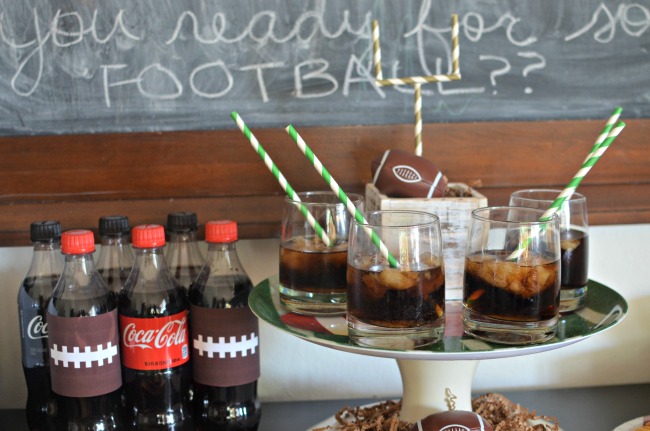 Football Party Snack Ideas
One of my favorite things about game day at Grammy's was the appetizers. She'd always have the best spreads including this amazing green chile topping she put on a sliced baguette and baked until bubbly. The taste was out of this world! But it took forever to keep making (because everyone wanted more) so I decided to take her toppings and turn them into a dip for easy eatability (is that a word?).
Dips are a great way to serve the masses as well as provide variety. I like to use small ramekins to serve multiple dips instead of one large dip in one dish. And with a good cracker selection like my favorite RITZ, Wheat Thins and TRISCUIT crackers we can mix up savory and sweet dips. Have you had a pie made with a RITZ based crust? So good!
And to wash down the dips, we've served up our favorite Coca-Cola slushes. These are so popular over here and versatile as well. We can switch up the flavors and even add a splash of cream to make the flavor similar to a float. I, of course, prefer my drink of choice, Coke Zero, when making my slush. But the husband? He's a Coca-Cola fan through and through.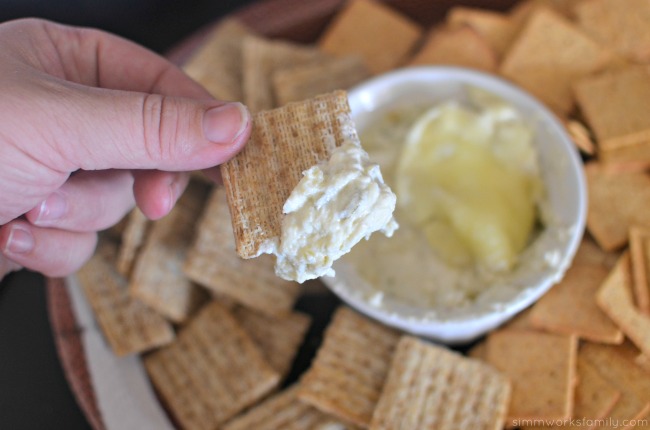 Savory Dips: Grammy's Green Chile Dip with Jack Cheese
As I mentioned before, I took one of my favorite appetizers from my Grammy and turned it into a dip. This dip is absolutely delicious on it's own but would also be great mixed with some chopped chicken for a heartier dip. And TRISCUIT crackers and Wheat Thins are the perfect thing to enjoy it with.
1 pack 8oz cream cheese
1 can diced green chiles
1/4-1/3 cup sour cream
1 package 16 ounce shredded jack cheese
Preheat oven to 400 degrees
Soften cream cheese. Grab a mixing bowl and mix softened cream cheese and diced green chiles together until combined. Add sour cream and fold in. Then fold in 3/4 of the bag of jack cheese.
Place dip in a few ramekins, top with remaining cheese. Bake in the oven for 15-20 minutes until cheese and dip are bubbling.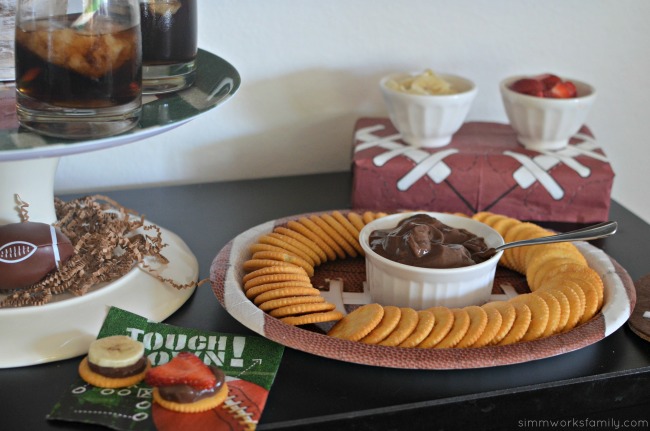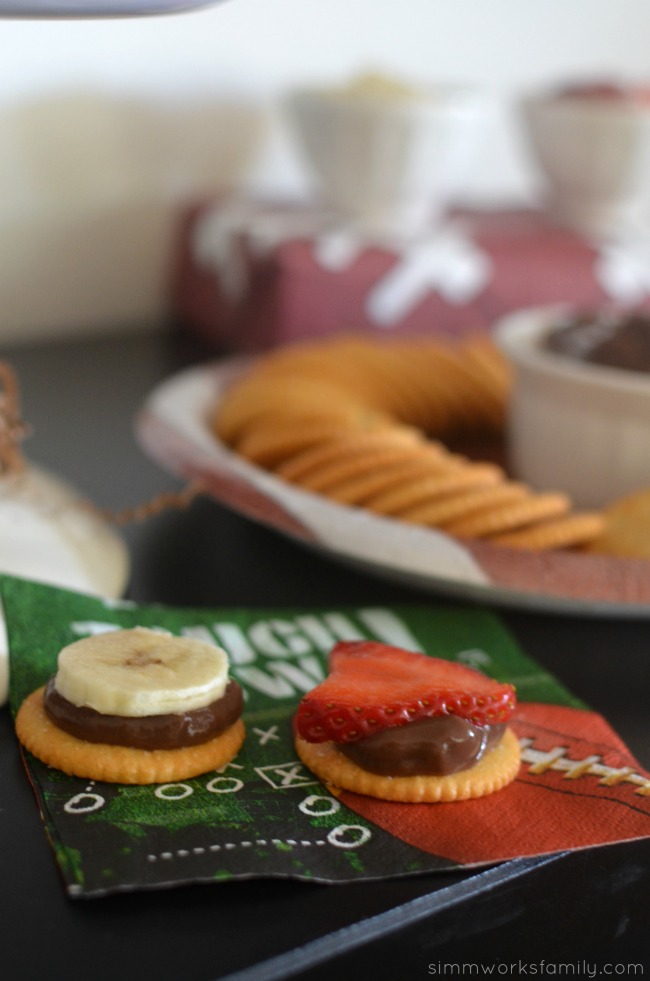 Sweet Dips with Touchdown Toppings
While I always have a savory dip at any party we host, I'm just starting to find a love for sweet dips as well. Instead of baking for hours, I can throw together some sweet ingredients and serve it with some RITZ crackers. Add some touchdown toppings like bananas, strawberries, mini chocolate chips, shredded coconut, etc and you have yourself a great portable dessert!
The saltiness of the RITZ crackers pairs perfectly with this chocolate pudding dip. Yup… you read that right! And don't knock it till you try it. You can use store bought or homemade chocolate pudding and fold in some fresh whipped cream. Then serve with a variety of toppings. This party we went with sliced strawberries and bananas.
Need more sweet dip ideas to pair with your RITZ crackers? Check these out:
To feature our game day greats snacks, I used our large chalkboard as the background. I love having this large chalkboard as it's so versatile and can be decorated in many different ways. It lets the food take the front stage in this set up.
Along with the chalkboard, I put together a super easy football goal post made out of 2 paper straws. I simply took one straw and cut it into three pieces then super glued it together. I added the second straw to the goal post and the placed it into a holder.
Another easy way to great a great football spread even better are these football bottle covers. Simply print on sticker paper or cardstock and cut out to wrap around your cups or bottles.
Download a FREE Football Bottle Wrapper here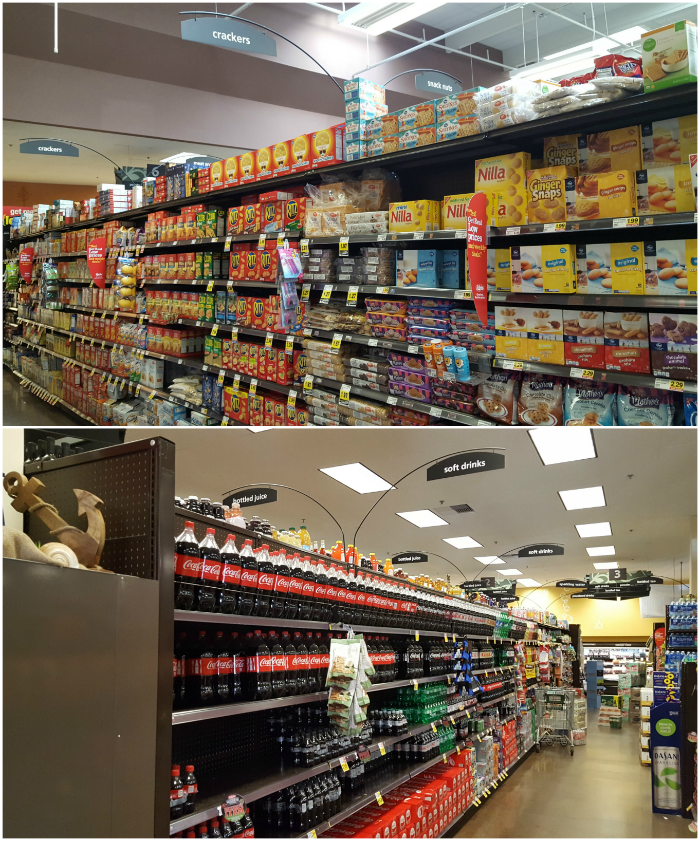 You can find all of the Coca-Cola and Mondelez products featured in this post at your local Ralph's along with everything else you need for the perfect football party spread!
With great dips, delicious drinks, and a simple party set up, you can serve up some game day greats to your guests with these simple football party snack ideas during the next game.
What's your favorite game day snack?