This shop featuring simple football tailgating food ideas with hot wings has been compensated by #CollectiveBias, Inc. and its advertiser. All opinions are mine alone. #GameTimeHero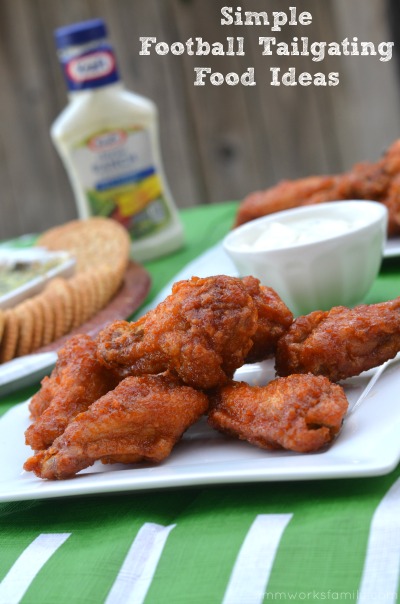 I love football season. But it's not for the game… it's for the food. No, seriously. I also like the fact that we have an excuse to get together with friends and hang out. And it gives me an excuse to try out delicious recipes without having to enjoy them all by myself.
And as of this weekend, football season is here with full force. So that means a. I have no control over the remote anymore and b. I get to try out all of the recipes I've been pinning over the summer! Starting with a delicious spinach artichoke dip that will complete any tailgating spread.
With any party food I try to keep it simple. My basic rule of thumb is to buy mostly pre-made foods (let someone else do a little of the work) and focus on one homemade recipe to keep my stress level down. Luckily I got some help from Walmart's deli department this time…
Main Course – Hot Wings
It may be this pregnancy or maybe it's just the season but I've been craving hot wings for about a month now.
And now that the Walmart Deli carries Tyson wings in Bone-in Hot Wings and Boneless General Tso's flavors I am all set when a craving hits. The wings can be purchased in a Pick 3 Bucket, a plated meal, or wings by the pound. Just grab your favorite bottle of dipping sauce and you're set!
Side Dish – Spinach Artichoke Dip
This spinach artichoke dip is one of my absolute favorites! Since it was only going to be our family and one other this weekend I cut the recipe (below!) in half and it was the perfect amount.
Another great idea for a side dish would be this hot white pizza dip with baguette slices. It's pizza you can dip!
Dessert – Brownie Bites
Now dessert is usually what I choose to make since my husband and I love to bake but this time I left the baking to the bakery at Walmart and picked up these cream cheese frosted brownies and brownie bites.
Not only were they already the perfect size for grabbing on the go in between plays, but they tasted delicious.
Another great idea for football desserts would be cookies, mini cheesecakes, or cupcakes!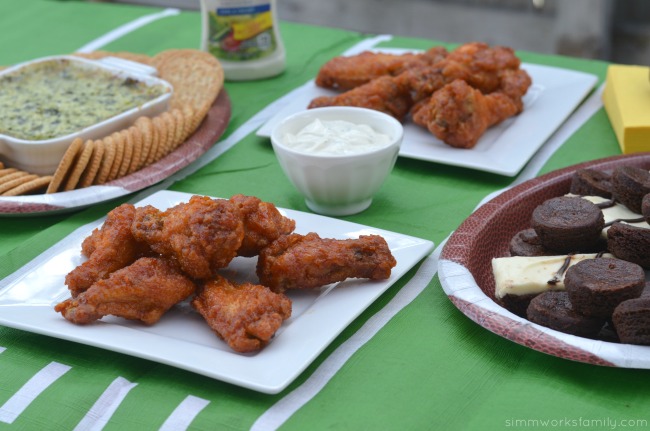 Spinach Artichoke Dip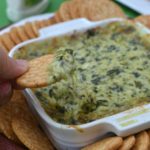 2 tablespoons butter
3 garlic cloves (minced)
1 package frozen chopped spinach OR 10 ounces fresh spinach (10 ounce, thawed and drained well*, chopped)
1 can artichoke hearts (14 ounce, drained and coarsely chopped)
salt and pepper (to taste)
1 package cream cheese (8 ounce, softened)
1/2 cup shredded Parmesan (plus more for topping)
1 cup shredded mozzarella cheese
dash of cayenne pepper (or more to taste)
2 tablespoons sour cream
2 tablespoons mayonnaise
In a large skillet heat butter on medium high. Once melted add minced garlic and cook 2-3 minutes until fragrant.
Add spinach to the pan and toss a bit to let the garlic and butter soak in. Remove spinach and garlic from the pan but leave the liquid/butter mixture. Set spinach aside in a large bowl.
Add artichokes in the liquid/butter mixture and heat for 1-2 minutes. Remove artichokes and place them in the bowl with the spinach.
Add cream cheese to the pan and stir continuously until cream cheese is melted and creamy. Add shredded Parmesan and cayenne pepper, stir. Cook until Parmesan is fully melted then pour over spinach and artichokes.
Stir to combine then add sour cream and mayo to the mix. Spread batter into a 9×9 baking dish and sprinkle with Parmesan cheese. Bake at 375 for 20-30 minutes, until top is slightly browned and bubbling.
Serve hot with crackers, bread, or chips!
Tip: Grab 2-3 paper towels and layer them on top of one another. Put the thawed frozen spinach on top of the paper towels and squeeze very well to drain the spinach completely.
 What is your favorite go-to tailgating recipe?