This valentine is super easy to make and is the perfect gift for parents, grandparents and special people in your child's life. I made it two years ago with my son's feet as a gift for my husband.
Then when I was actually making it I figured… his feet are already in the paint, why not make some more?! And I made a few others for his grandma, great aunt and uncle. I personalized them and he presented his gifts on Valentine's Day.
Here's what we did…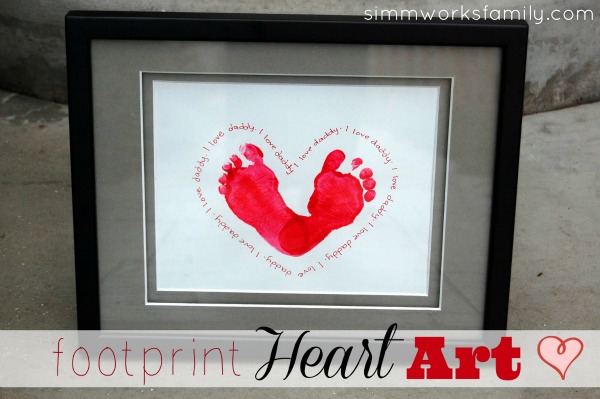 Footsie Heart Valentine
What you'll need: 
paper plate
painter's tape (to be removed)
red washable poster paint (we used Crayola)
white construction paper
red fine point sharpie (or other pen)
damp wash cloth
dry wash cloth
What you do: 
1. Place a nice amount of paint onto the paper plate, set aside somewhere the kids cant reach it.
2. Tape the paper to the ground to reduce the chance of it slipping around.
3. Take your child's bare foot and place it in the paint, right foot first.
4. Make the first half of the heart by placing the child's foot at an angle facing the toes to the top right corner of the paper and the heel in the center of the paper closer to the bottom
5. Then dip the other foot, the left, into the paint and do the same to the opposite side of the paper placing the left heel inside the right heel and pointing the toes to the left upper corner of the paper.
6. Let the paper dry completely (you can make multiple at once by lining up the construction paper and stamping feet in a line).
7. Once the paint is dry start writing your phrase around the feet in a heart shaped pattern. I used, "I Love _____" and filled in the blank with the person we were making the valentine for.
You can frame your final product and wrap it to present as a cute keepsake or leave unframed and let your child hand it to their loved one. I've also seen this done with hand prints as well which would be equally as cute!
Have you made cute DIY valentine's with your kids this year? I'd love to see what you have! Feel free to place your link in the comments below.