I created my healthy #Outshine Funny Face Frozen Fruit Bars as part of a sponsored post for Socialstars by Crowdtap.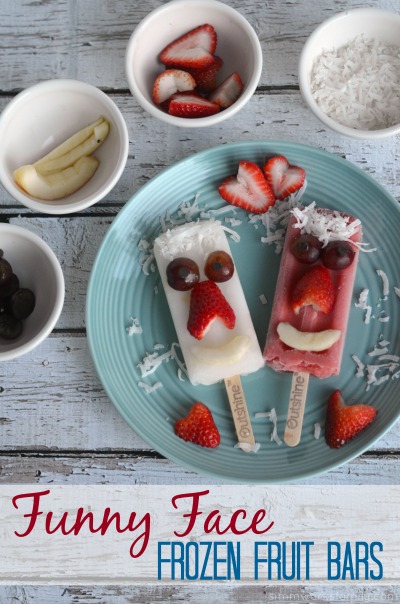 You know that time in the day that you just start craving something sweet or salty? Because I know it isn't just me! There's some time either right after nap time and before my husband gets home or after the kids are in bed that I just crave something bad.
And since I'm on Weight Watchers and trying to watch the mindless snacking, I've been trying to find alternatives for my old go-to's as well as healthy snacks that the kids can enjoy with me as well. So when I found these deliciously tasty looking frozen fruit bars on my most recent grocery trip I knew I had to try them.
60-70 calories each and no fat?! Sign me up! Plus I knew the perfect way to make these bars the ultimate after school snack for the kids. Put funny faces on them! What kid could resist awesome funny face frozen fruit bars? Not mine.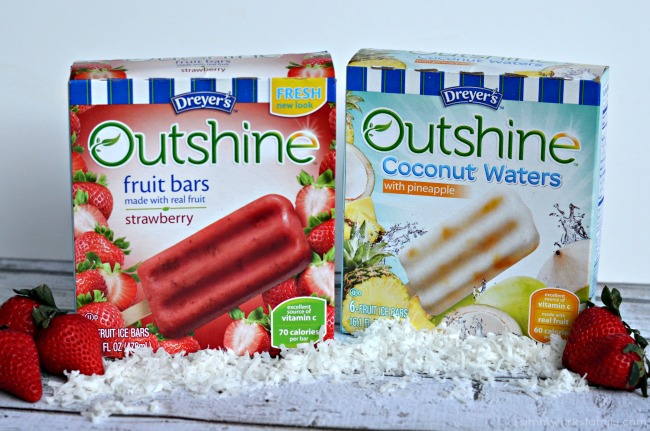 Now the key to an awesome after school snack is to be healthy but fun and tasty. So I grabbed a few body parts fruits and prepped them for when the kids woke up from their naps.
They go down for naps right after they get home from school so I knew they'd want something tasty when they woke up.
Prep for these funny face frozen fruit bars consisted of chopping grapes in half, cutting apple slices, and taking the tops of strawberries and cutting those in half too. But honestly you could just just about any tasty fruit you'd like to shape into body parts.
With all of the ingredients laid out it was time to wait for the kids to get up. When I explained to them what we'd be doing they jumped right on board and began to create their funny faces.
I sort of wish we had more options for them to use so I'm sure I'll be expanding our fruit selection for our next funny face creations.
And now I have the perfect snack to enjoy with the kids when I have a craving for sweets – guilt free!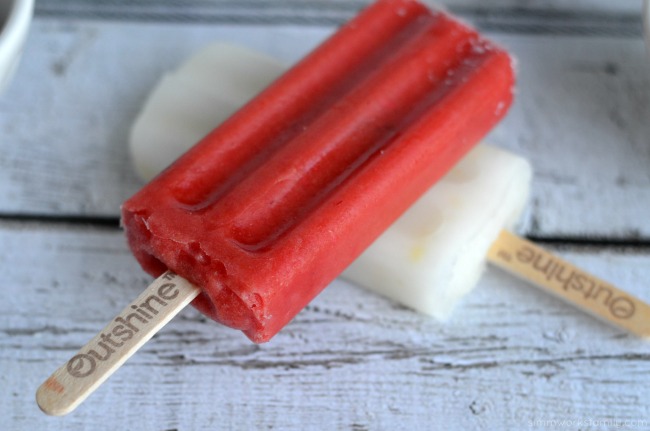 The natural juice of the fruit should make everything stick easily to the frozen surface of the fruit bar. But if you need to, lick the front of (your own) fruit bar before adhering the fruit.
Unless you're making these in advance for friends or a large party. In which case just squeezing the fruit a little to let out more fruit juice should work just fine. No licking your friend's bars!
Funny Face Frozen Fruit Bars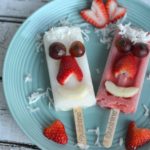 Outshine frozen fruit bars
grapes (cut in half)
strawberries (tops removed and cut in half)
apples (cut into thin slices)
mini chocolate chips (for the pupils)
unsweetened coconut flakes
Take the Outshine frozen fruit bar out of it's packaging and place on a plate.
Grab a grape half and a mini chocolate chip. Poke the pointy part of the chocolate chip into the rounded part of the grape to form an eye. Repeat with another grape half.
Add grapes to the fruit bar to make your funny face's eyes. Then add a strawberry as a nose. Follow up with an apple slice for a mouth.
Finish off the funny face frozen fruit bars by adding some coconut flakes to the top above the eyes to create hair.
Enjoy!
How do you make snack time fun?