This post featuring Goldfish Crusted Chicken Tenders has been compensated by Collective Bias, Inc. and its advertiser. All opinions are mine alone. #GoldfishMix #CollectiveBias
As the kids get older they are more and more interested in helping me with the daily chores. But the one thing the are always bugging to help me with is dinner. While it sounds like it'd be something that would take forever with kids, having them help in the kitchen is actually … well… a help!
These Goldfish Crusted Chicken Tenders are not only absolutely delicious but the kids have a blast helping cook them. The only thing I have to do is supervise and do the actual cooking!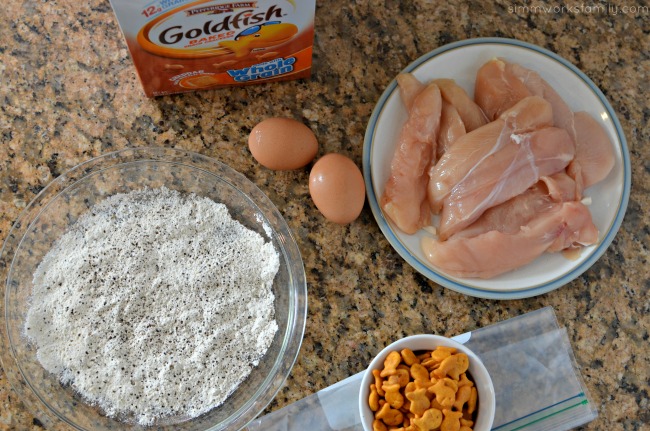 There are quite a few ways to get the kids to help with this dinner. The first is to help get out the ingredients!
Second?
Why crushing up the Goldfish crackers in a plastic bag, of course! My kids have a blast with this part and have used everything from the bottom of a bowl, to a rolling pin, to their own hands to help crush up the little guys.
The kids second favorite thing to do besides crushing crackers is to shake the chicken tenders up in the bag after I help them dredge the chicken in seasoned flour and egg. They make it a contest to see how quickly they can coat their tenders.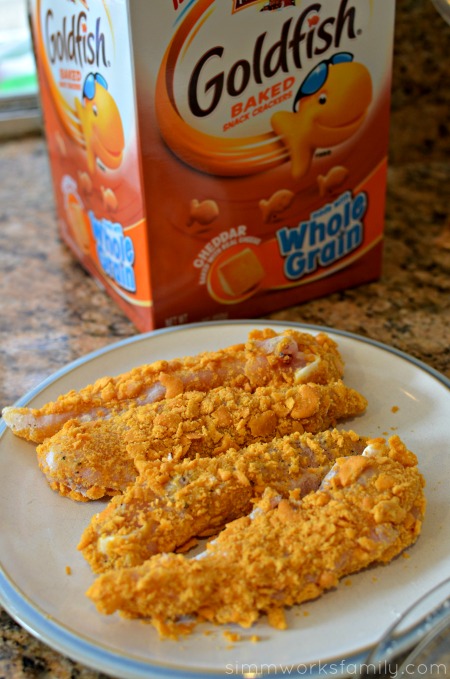 Not only is this a great recipe to get the kids involved with, it's also a recipe that includes one of the kids favorite snacks, Goldfish crackers! They're not just for the lunch box or an afterschool snack anymore.
Goldfish Crusted Chicken Tenders
1 lb chicken tenders
1/2 cup flour
salt and pepper
2 eggs
1 cup Goldfish crackers (crushed)
olive oil
Preheat oven to 350 degrees. Place chicken tenders on a plate. Add flour, salt and pepper to a shallow baking dish. Whisk eggs in a seperate shallow baking dish and set aside.
Place the Goldfish crackers in a gallon size plastic zip up bag and let the kids crush them with the bottom of a bowl, a rolling pin, or their hands until no whole fish are left.
Dredge tenders in flour then dip in the egg. Once coated, add to the bag of crushed Goldfish crackers. Once you have a few in the bag, close it up and shake until each chicken tender is coated.
Place coated tenders on a clean plate and repeat with the rest of the tenders.
When all chicken tenders are coated, place a large pan on the stove and drizzle with olive oil. Heat pan to medium heat and cook chicken tenders until lightly browned on each side, only cooking a few at a time so as not to crowd the pan.
Place all browned tenders in an oven-safe dish and cook in the oven for 12-15 minutes or until fully cooked inside.
Goldfish crackers can be found in the cracker aisle at Walmart. Goldfish cartons will be on Rollback for a limited time starting 1/22.
You can find more fun and great recipe ideas by visiting their Facebook page or following them on twitter at @GoldfishSmiles.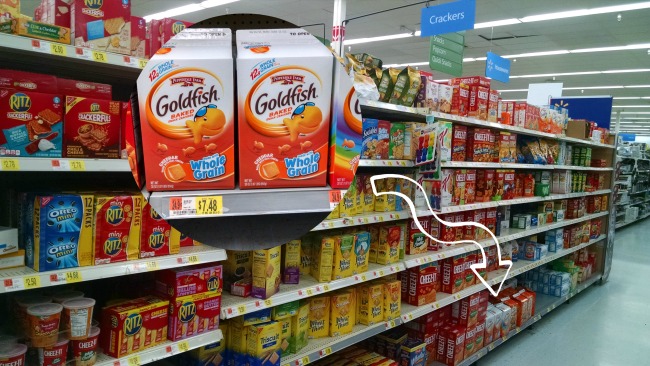 How do you make food fun for your kids?