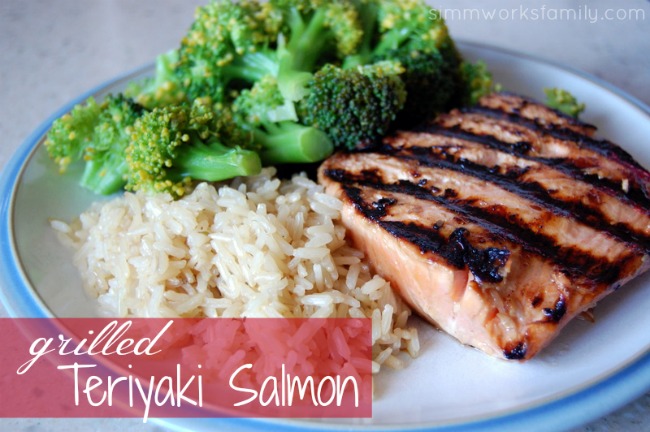 With the hubub of the holidays around us, I've found myself indulging a bit too much lately. So I've decided to try and get back on track and watch my eating habits over the next few weeks. Sure I'll save a few moments of indulgence for Christmas when it arrives but there's no excuse for treating every day in December like a holiday! This grilled teriyaki salmon is one step in my plan of eating healthier than I have been.
In order to get this beautiful char on the salmon, and not have my salmon stick to the grill pan I used, I sprayed a little Pompeian Grapeseed Oil that I received for review onto the grill pan first before using it. And what do you know?! The salmon came off the pan easily and effortlessly! Plus the oil didn't interfere with the awesome taste of the marinade I used on the salmon.
To keep things simple I served this salmon to the family with my kids favorites: brown rice and broccoli. They're broccoli fanatics so I knew they'd gobble up their plates. And they did! They even tried the salmon. My daughter still isn't a fan but my son asked for another fillet! The next day I stir fried the left over broccoli, rice, and a few other ingredients in my fridge using the grapeseed oil again and made a delicious healthier "fried" rice for breakfast. Yum!

Grilled Teriyaki Salmon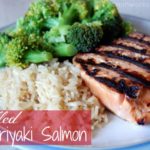 4 6 ounce salmon fillets
1/4 cup reduced sodium soy sauce
1/2 tablespoon grated ginger
1 tablespoon honey
2 minced garlic cloves
Pompeian Grapeseed Oil
Mix all of the ingredients in a ziploc bag and let marinate in the fridge for 6-24 hours. Preheat grill (or grill pan) and coat with Pompeian Grapeseed Oil.
Remove the salmon from the bag and place on grill. Cook on each side until opaque and flaky, about 5 minutes depending on the thickness of the fillets.
Serve with rice and your favorite vegetable for a healthy, delicious meal for the whole family.
What's your favorite way to prepare salmon?