I am a member of the Collective Bias Social Fabric Community. This shop featuring growing communities and an #OreIdaHashbrown recipe is part of a social shopper amplification for #CollectiveBias and its advertiser.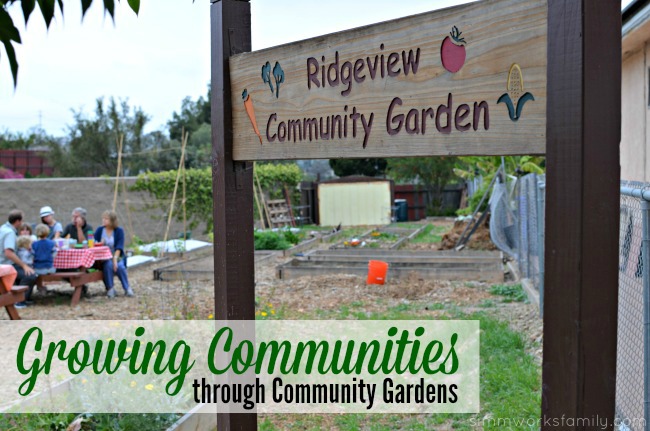 While our community garden has brought our community together through growing food, it stays together as we share meals with one another and truly get to know each other. So when I considered how I could give back to my fellow gardeners, I thought it would be wonderful to share our first meal of the growing season together with a delicious Hash Brown recipe.
I invited all of the plot renters/growers to meet my family and me at the garden for a nice meal we could share. It would be the perfect excuse to get together between our community garden meetings and chat about more than what we're growing. Plus I'd do all the cooking and clean up! Win-win, right?
By sharing these meals with one another we are truly growing communities and establishing strong roots in our neighborhood. I couldn't imagine not having these wonderful people in our lives.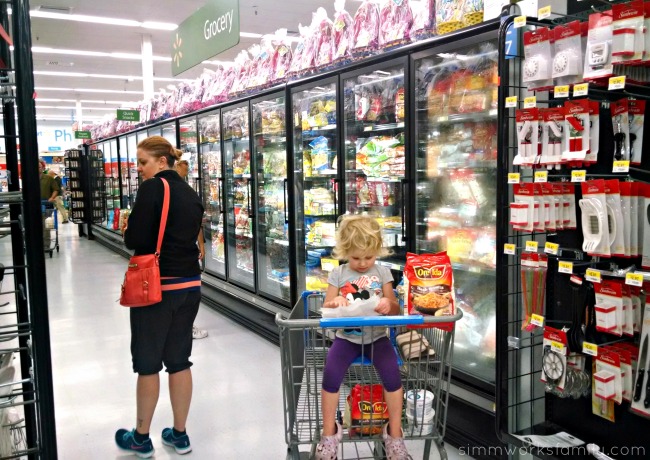 Since we were planning on feeding a large group of people, I decided to make a tasty and delicious Cheesy Hashbrown Casserole. This casserole dish is easily doubled (or tripled) if needed so that's exactly what I planned to do.
I've tried this casserole out on my playgroup and they absolutely loved it! It paired perfectly with my overnight french toast casserole (and both can be prepped the night before if needed!).
I grabbed my daughter and headed to Walmart to pick up a few bags of Ore-Ida Shredded Hash Brown Potatoes and other ingredients we'd need for dinner. This casserole is perfect for a brunch menu but also works great for dinner when it's paired with a delicious salad.
As soon as we got home I headed into the kitchen to prep my double batch of cheesy hashbrown casserole. Since I normally have to make a half batch for our family (the kids don't eat a lot) I wasn't sure how hard it'd be to double the recipe.
Luckily doubling the recipe was as simple as grabbing a larger bowl and splitting the mixture into two casserole dishes! This casserole comes together so nicely and took less than 10 minutes to prep and get into the oven.
Since I'm not used to feeding a crowd, I had to test the casserole out before serving it. I totally burned the roof of my mouth as I snuck my first bite before it cooled down a bit! It was just as good as I remembered it. So the burned mouth was worth it.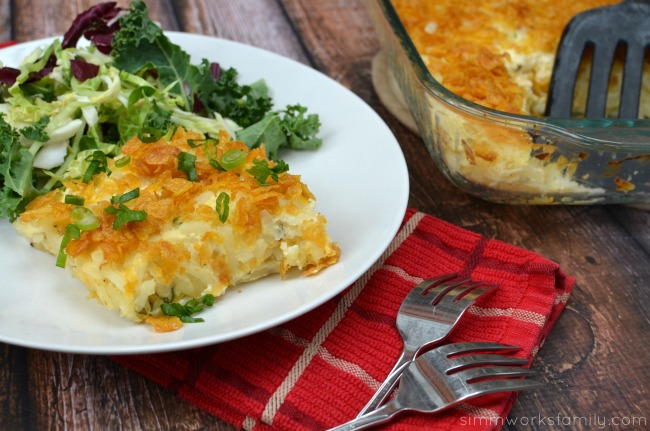 Cheesy Hashbrown Casserole
1 condensed cream of chicken soup * (10.5 oz.)
2 Cups Sour cream
1 Teaspoon Salt
1/4 Teaspoon Ground black pepper
2 Cups Shredded cheddar cheese
1/3 Cup Sliced green onions
1 Package Ore-Ida® Shredded Hash Brown Potatoes (30 oz.)
2 Cups Crushed corn flake cereal
1/4 Cup Butter (melted)
Preheat oven to 350°F. Coat 13×9 baking dish with nonstick cooking spray.
In a large bowl, whisk together soup, sour cream, salt and pepper. Stir in cheese, onion and hash browns until well mixed. Spoon evenly into baking dish.
In a medium bowl, mix together cereal and butter. Sprinkle evenly on top of hash brown mixture.
Bake uncovered for 45 to 50 minutes, or until hot and bubbly. Allow to rest for 5 minutes before serving. Season with additional salt and pepper to taste if desired. Garnish with additional sliced green onion if desired.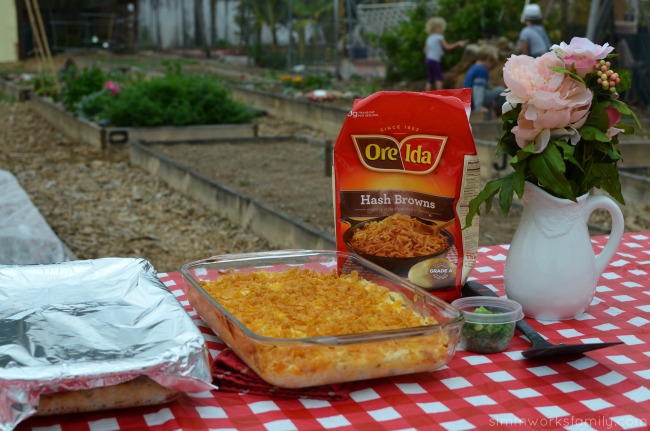 Once the casseroles were ready I packed everything up (I also brought a large kale salad and some sparkling water) and grabbed the kids and food and headed to the garden to set up.
Luckily when you have a community event, people want to help. So a few of the early birds helped me set up.
As I set up the kids enjoyed exploring the garden like they do just about every other day. They decided to build fairy houses with the other kids there.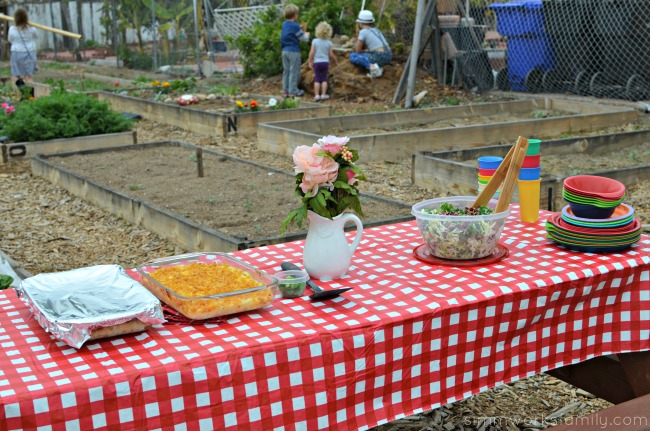 Being able to sit around the table as a community united is such a great feeling. I know that these people give their time (and money) to help better our community and truly give back.
A great example of giving back is our kids preschool teacher. Not only does she help enrich and better our kids lives, she's also very involved in the community garden and our neighborhood association.
Whether it's supporting local businesses by giving recommendations or helping to educate people by providing great resources, she's always trying to give back and share her knowledge with our community.
If it wasn't for our community garden I wouldn't know half of the people in our community that I now know. There's something about coming together for a common goal and watching it blossom into something amazing.
We have a place to teach our children not only how to grow vegetables and herbs but how to grow community as well.
They're learning their neighbor's names, realizing there's more to where we live than just our home. And instead of looking down when we walk around the neighborhood, we look around and wave, smile, and greet each other.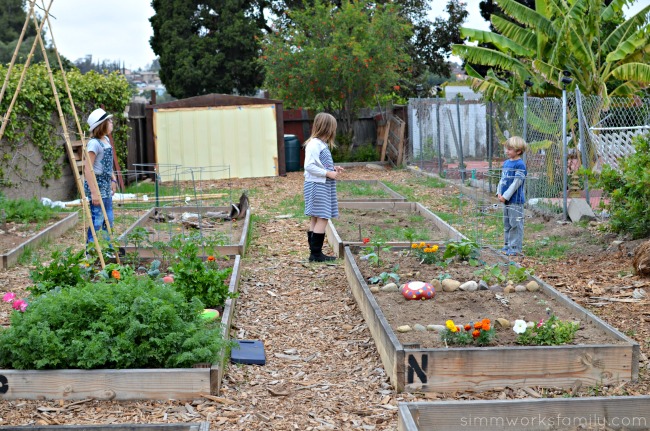 I foresee many more meals at the community garden with our new friends and neighbors as the weather gets warmer and the beds start producing more.
Being able to give back, even with a simple meal, has brought me such a wonderful warmth. And it was so easy to do.
If you haven't done so, consider whipping up a double or triple batch of cheesy hashbrown casserole yourself and feeding someone in your community, whether it be a community hero or charitable organization.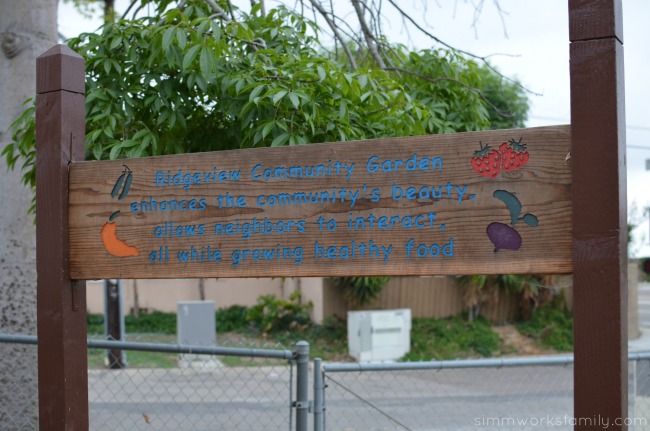 How do you grow community?