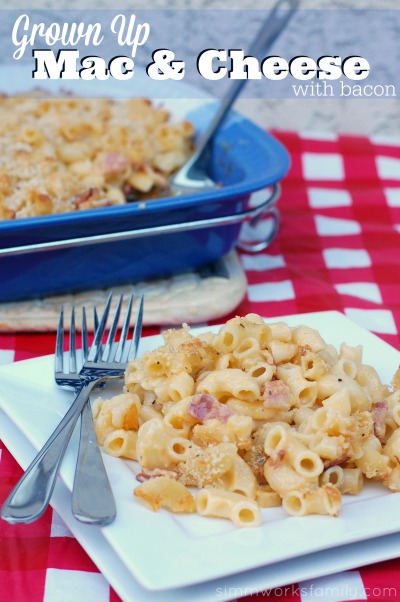 This adapted mac and cheese has been a favorite of mine since I first started making it back when I was pregnant with my son. It's the ultimate comfort food and is something I know will always please a crowd.
With the addition of bacon, and the panko crust, this mac and cheese is taken from ordinary to extraordinary. But I really think that the secret ingredient is the pinch of nutmeg. It really does change the flavor for the better!
If you're a huge fan of mac and cheese I highly suggest you try this grown up mac and cheese with bacon. It's well worth it. 
Grown Up Mac and Cheese with Bacon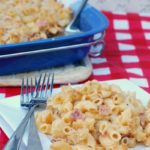 4 pieces bacon (cooked and crumbled)
2 cups elbow macaroni
1 1/2 cups milk
2 tablespoons unsalted butter
2 tablespoons all-purpose flour
4 ounces fontina cheese (grated)
8 ounces extra-sharp Cheddar (grated)
1/4 teaspoon freshly ground black pepper
Pinch nutmeg
1/4 cup panko
2 tablespoons freshly chopped basil leaves or Italian seasoning
Preheat the oven to 375 degrees.
Start boiling a large pot of water, add salt. Add the macaroni and cook according to the directions on the package, 6 to 8 minutes. Drain well.
Meanwhile, heat the milk in a small saucepan, but don't boil it. Melt the butter in a medium pot until it starts to smell nutty and is slightly browned. Then add the flour. Cook over low heat for 2 minutes, stirring with a whisk. While whisking, add the hot milk and cook for a minute or 2 more, until thickened and smooth.
Off the heat, add the Fontina and Cheddar, 1 teaspoon salt, pepper, and nutmeg. Add the cooked macaroni and crumbled bacon and stir well. Pour into a baking dish.
Sprinkle the panko and herbs over the top of the pasta. Bake for 30 to 35 minutes, or until the sauce is bubbly and the macaroni is browned on the top.
What's your favorite go-to comfort food?