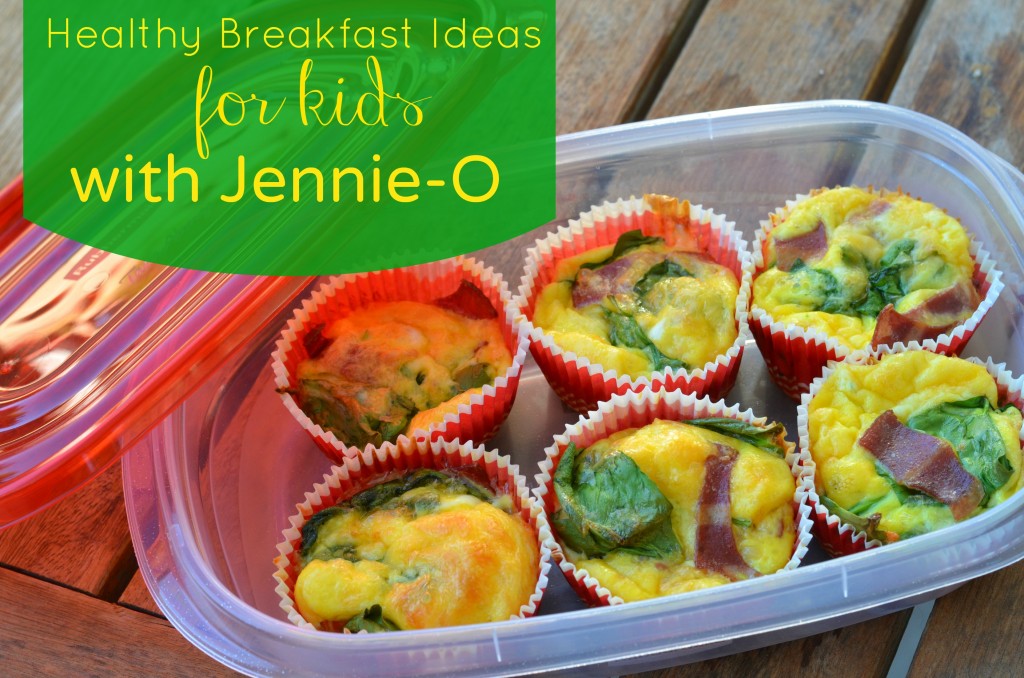 One thing I am passionate about is trying to instill good eating habits in my children as they grow older. Offering healthy alternatives, choosing the best meals for my children, and overall choosing to educate them on how they can make better choices themselves.
Don't get me wrong… they'll probably choose a french fry over veggies any day but give them the choice of an apple and a french fry and it could go 50/50.
And I'm not saying I'm perfect. We do eat out about once a week at either a restaurant or fast food place and the children do consume greasy, fatty foods that are horribly bad for them but oh-so-good. But we do spend the majority of our meals at our dining room table. Together as  family enjoying the food before us.
Most meals are actually prepared together. Because I find importance in getting the kids involved with tasks they can do for their age. Once they start to get involved they become much more interested in the foods they're eating. And you'd be surprised at how many new things my kids have tried simply because they've helped prepare the dish.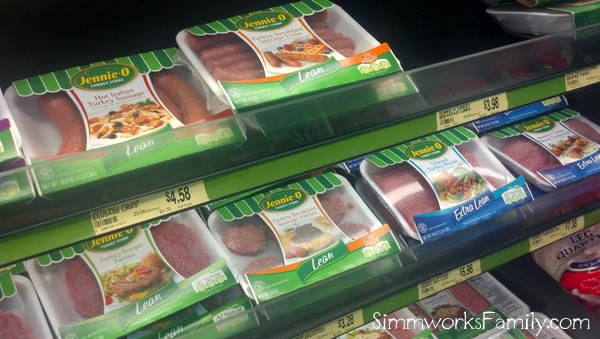 Healthy Breakfast Ideas for Kids – Jennie-O's SIMPLE Service Projects
With that passion I've wanted to spread the word and give back in some way to other families. I heard about Jennie-O's SIMPLE Service Projects and knew I wanted to get involved. When I found the preschool my son is currently going to I was happy to find out that his teacher felt exactly the same way as me.
She has the children get involved in our community garden, lets them prepare certain foods for their lunches (which are always well balanced, whole grain, fruit and veggie filled meals), and they get to help with the composting after the meal. Hows that for a well-rounded nutritious education?
So in an effort to give a little bit of my knowledge to my son's friends I asked if I could come in last week and show them how to prepare our favorite go-to dish for breakfast – egg cups. And they were going to taste even better with the addition of Jennie-O turkey bacon and sausage
My egg cups are fairly popular with my playgroup but I hadn't yet told my son's teacher about them. They're such an easy and simple recipe to prepare in advance. And when you're feeding 8+ children breakfast they're a great alternative to other choices. Plus the kids can choose to put just about anything in them!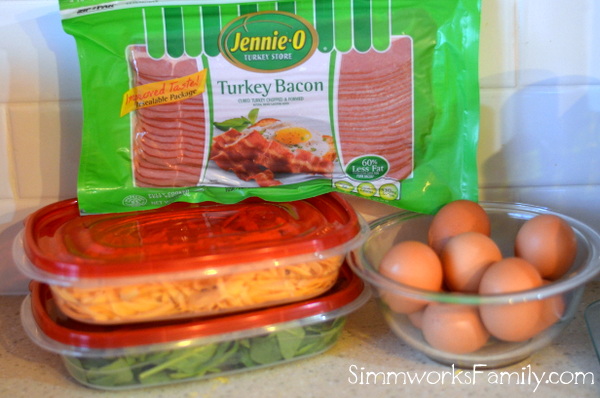 Getting the Kids Involved
In an effort to make things easier for myself and the kids we did a bit of prep at home before we came over to teach them how to make their own egg cups. And my little miss decided she wanted to help out with her favorite task – whisking!
I could hardly contain her from eating all of the Jennie-O Turkey Bacon we cooked up but convinced her it would be just as tasty in the breakfast we were about to make.
I gathered up a few tasty ingredients into some reusable containers and let the kids decide what they'd put into their own egg cups. When we got to my son's preschool I let the children choose from a variety of veggies, a few different cheeses, and Jennie-O breakfast sausage or bacon (or both for some kid!).
By having a few egg cups on hand already made we were able to feed a few of the kids while the first batch of egg cups baked up.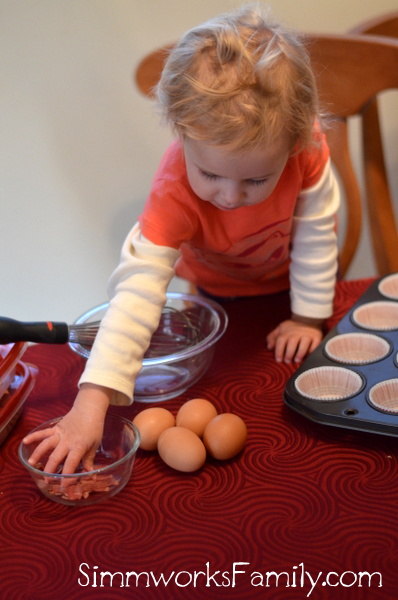 The Perfect Low-Fat Protein
Jennie-O breakfast sausage and bacon provide the perfect low-fat protein for a healthy, delicious breakfast. Children need a healthy well balanced breakfast before heading out to school and having options like Jennie-O can help fuel them for the rest of the day.
We love how easy and versatile Jennie-O is and pair it up in quite a few ways. Our favorite way, of course, is mixing it into our egg cups. But we've also paired both with pancakes, waffles, fruit, and other breakfast favorites. My kids love the taste and haven't mentioned it tasting different than other brands and varieties of bacon and sausage.
With a limited amount of time in the morning before we head out to school I need something that I can either prepare in advance or fix up quick. By keeping a freezer stocked with go-to breakfast ideas that I can either heat up in the toaster oven or on the stove I've been able to cut the amount of time spent on preparing breakfast in half.
Here are a few great ideas: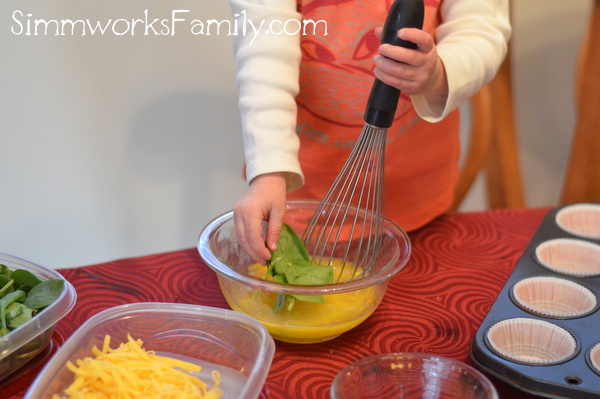 By getting the children involved in preparing breakfast we can teach them about the foods they eat and why they're important. You'd be surprised by how many things they might try when they've prepared the dish themselves. These kids gobbled up the egg cups we made without batting an eye or complaining about the amount of veggies in them.
We didn't even have to hide the vegetables from them!
The kids absolutely loved being a part of the process and were asking for more ideas of what they could make for breakfast. I sent each of them home with a print out of the recipes in hopes that their parents will let them re-create their own versions at home.
You can find out more about how you can become involved by checking out Jennie-O's SIMPLE Service projects.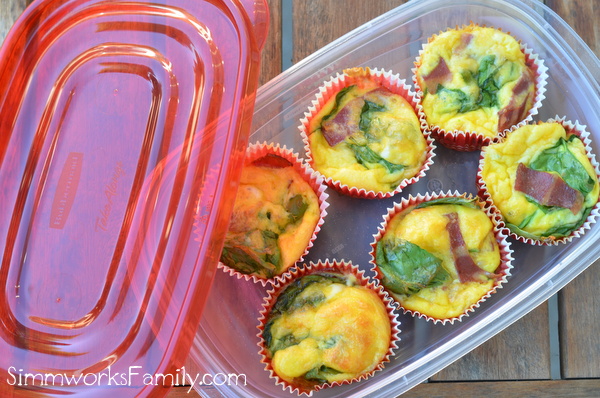 You can find Jennie-O on Facebook and follow on twitter at @SwitchToTurkey. You can also find some fabulous ideas on how to use Jennie-O products by checking out the recipes on their website.
How do you get the kids involved in choosing healthy breakfast options?
Disclaimer: I am a member of the Collective Bias®  Social Fabric® Community.  This shop has been compensated as part of a social shopper insights study for Collective Bias®  and Jennie-O. All opinions are my own #cbias #SocialFabric