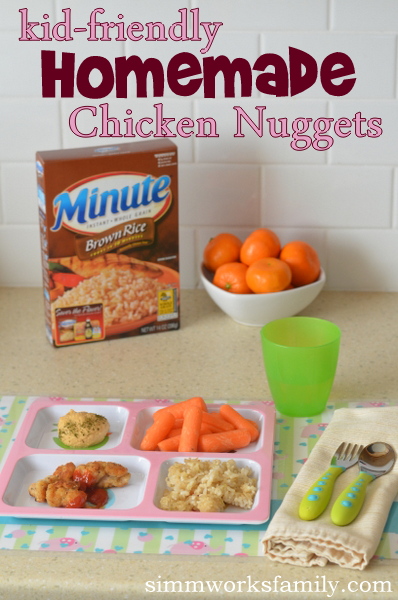 Dinner can sometimes be quite the chore for our family. Not only do we have children with limited palates right now, we also seem to forget to plan ahead lately and end up scrounging around the cupboards and fridge for a quick, healthy meal everyone will love.
Luckily I have a few tricks up my sleeve recipes to fall back on that are also kid-friendly. These homemade chicken nuggets are not only tasty but healthy as well. They're pan fried in a little bit of olive oil and served with delicious brown rice and steamed veggies.
What kid could resist a chicken nugget?
Plus, by using Minute whole grain brown rice and steamed veggies I save time waiting for the sides to be done. My rice cooker takes anywhere from 30-45 minutes for brown rice to be fully cooked. Minute rice takes 10 minutes from cooking to serving! That's just enough time to cook the chicken and steam the veggies!
And since I refuse to cook two separate meals, my husband and I also indulged in the chicken nugget goodness. We preferred dipping ours in barbecue sauce while the kids enjoyed some ketchup.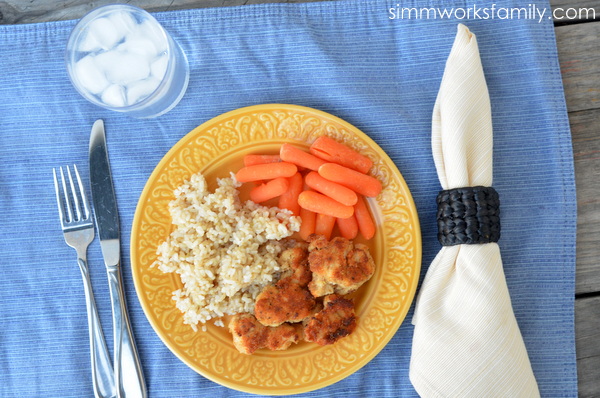 Homemade Chicken Nuggets
Author:
Ingredients
2 chicken, breasts, cut into 1″ pieces
2 tablespoons 1% milk
1/4 cup all-purpose flour
1 egg white
1/2 cup Italian-Style Bread crumbs
1/4 cup freshly grated Parmesan cheese
1 teaspoon table salt
1 teaspoon black pepper
2 tablespoons olive oil
Instructions
Place chicken breast pieces in a bowl and cover with milk. Let soak for a few minutes while prepping the other ingredients.
Place 1/4 cup of flour into a large ziploc bag. Measure out 1/4 cup of breadcrumbs and place into a container with salt and pepper. Grate parmesan cheese into the same container, stir to combine and set aside.
Place egg white in a small bowl.
Take chicken and place in bag with flour. Shake vigorously until the chicken is well coated. Put coated chicken in bowl with egg white and stir to coat chicken.
Place bread crumb mixture in bag you just used for flour. Put chicken back in the bag and shake again coating the chicken with bread crumbs.
Heat oil in a skillet on medium high heat. Add coated chicken to the pan and cook until golden brown, about 15 minutes. When chicken is cooked thoroughly remove from pan and serve with brown rice, some steamed veggies or a nice salad to make this a complete meal.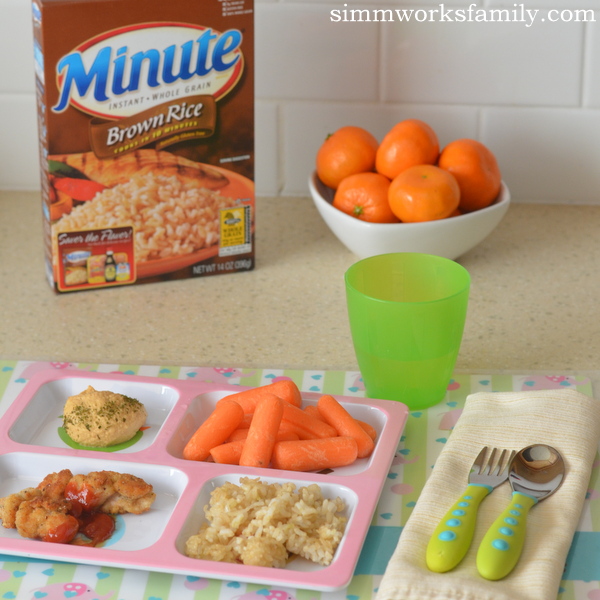 Minute® Rice is so quick and easy to prepare and is great pantry staple. When meal time seems like a hassle, Minute® Rice is a go-to ingredient your whole family will love and allows you to have more quality time doing what your want with your loved ones.
Leftover rotisserie chicken or veggies from a meal earlier in the week? Minute® Rice can easily be paired with some of your leftover ingredients to make a quick, easy and wholesome meal your whole family will love in just a matter of minutes.
Visit http://www.minuterice.com/ to create a great main meal or side dish for your next family get-together or potluck.
Disclaimer: This is a sponsored post written by me on behalf of Minute® Rice.