I am a member of the Collective Bias® Social Fabric® Community. This shop has been compensated as part of a social shopper amplification for Collective Bias and its advertiser.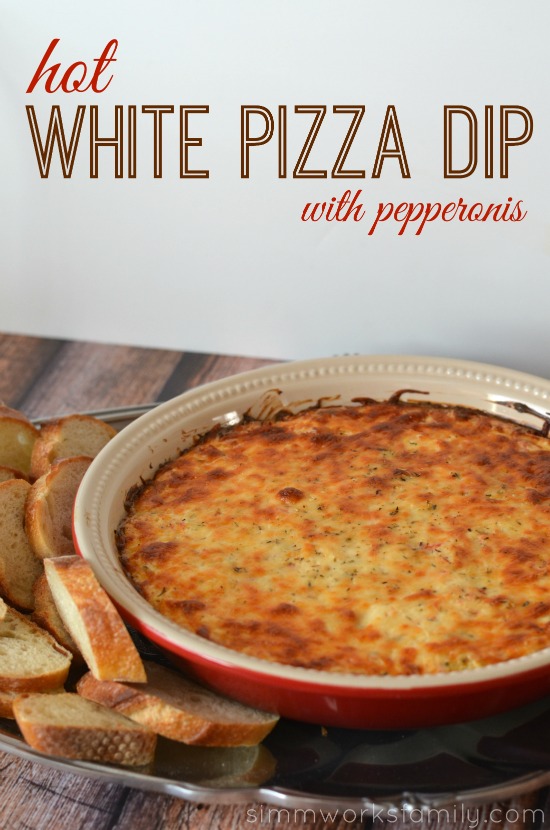 I'm all about the appetizers and desserts this time of year. The one thing I always love to make for guests is a hot dip to enjoy and warm up to. And my dips almost always include Philadelphia cream cheese. Because who can say no to that creamy goodness? In an effort to combine a few of our favorite flavors, I made this delicious hot white pizza dip with pepperonis.
We just celebrated my daughter's 3rd birthday yesterday and boy was it a blast. Good friends, good food, and good fun. While in full party prep mode the day before I made a list of all of the items I still needed to pick up for the party. Including the ingredients for this dip.
I went into the garden to see what kinds of veggies and herbs I had. Luckily I had 6 gorgeous tomatoes, a ton of small red peppers, and some fresh basil, thyme and oregano. So those were definitely going into the dip. Then I headed to Sam's Club to pick up all of the items we needed for the party.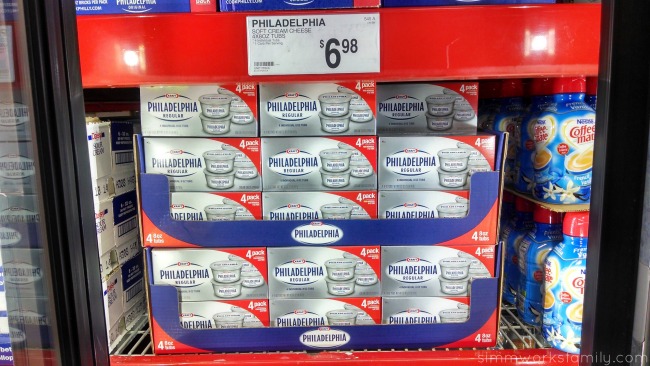 While at Sam's Club I grabbed a 4-pack of Philadelphia cream cheese. I was excited to see that they recently upgraded their 3-pack to this 4-pack. While it's the same amount of cream cheese, a smaller volume in each tub means I don't have to worry about using up all of the tub before it expires.
I also grabbed the veggies, salad, and cupcakes we were going to serve at the party. Once I checked out it was time to get home and start the party prep.
Having Philadelphia cream cheese on hand is perfect for my holiday baking and cooking!
I love incorporating cream cheese in my sugar cookies, buffalo chicken dip, and a few other favorite recipes.
Planning ahead is always my number one guarantee for success when it comes to party planning. And that includes making anything I can for a party the day or night before a must. Dips, casseroles, veggie prep, etc is all done the night before. And so was this dip.
It can be refrigerated overnight and then taken out when you need to heat it up before guests arrive.
You can also heat it up right before leaving for a party and just carry it in one of those awesome hot food holders so it arrives at your destination all hot and gooey. But don't worry… the dip still tastes great lukewarm or even cold. Just ask my guests…
If you don't have time to roast your veggies ahead of time, don't fret! I've also made this dip with jarred sun dried tomatoes and jarred roasted red bell peppers before and it's tasted equally delicious.
But since I already had both veggies on hand from the garden I went that route.
Hot White Pizza Dip with Pepperonis
6 small tomatoes (sliced)
6 red peppers (seeds removed)
4 roasted garlic cloves
1 teaspoon olive oil
1/4 teaspoon salt
1/4 teaspoon pepper
16 ounces Philadelphia cream cheese (softened)
8 ounces grated mozzarella and provalone cheese blend
8 ounces grated mozzarella and parmesan cheese blend
1/4 cup freshly chopped basil leaves
2 tablespoons freshly chopped thyme leaves
1 tablespoon freshly chopped oregano leaves
1 tablespoon Italian seasoning (plus more for topping)
6-8 pepperonies (diced)
bread or crackers for serving
Preheat oven to 425 degrees. Slice tomatoes, de-seed peppers, and peel garlic cloves. Toss in olive oil and spread over a rimmed cookie sheet lined with foil. Roast in the oven for 20-25 minutes. Let cool.
Reduce oven to 375 degrees.
While veggies are cooling, in a large bowl mix together two cheese blends. Set a handful of cheese aside for topping. Add salt, pepper, spices, pepperonis, and cream cheese to the bowl and mix well.
Once veggies and garlic are cool, dice up veggies and mince the roasted garlic. Add to the cheese mixture and stir in well.
Place dip into a pie pan and spread evenly into the pan. Add the reserved cheese to the top of the dip and sprinkle with Italian seasoning.
Bake dip in oven at 375 degrees for 30 minutes or until top is browned and bubbly. Serve hot with a delicious sliced baguette or crackers.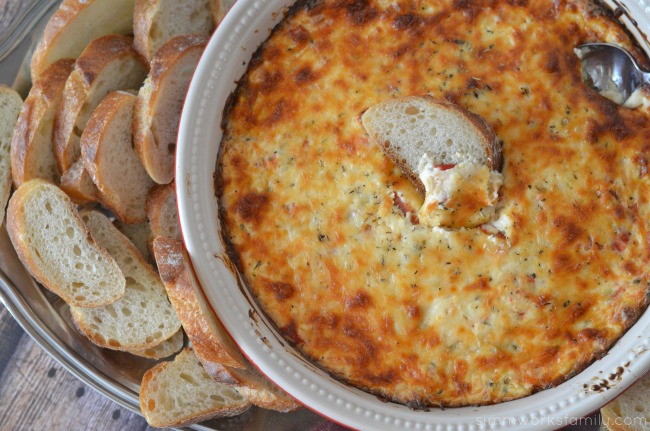 The dip was a huge hit at my party and is sure to make a repeat appearance at our Christmas dinner.
What's your favorite party food?