I received a free product as part of a promotional program with Jockey® and MomSelect. All opinions are my own.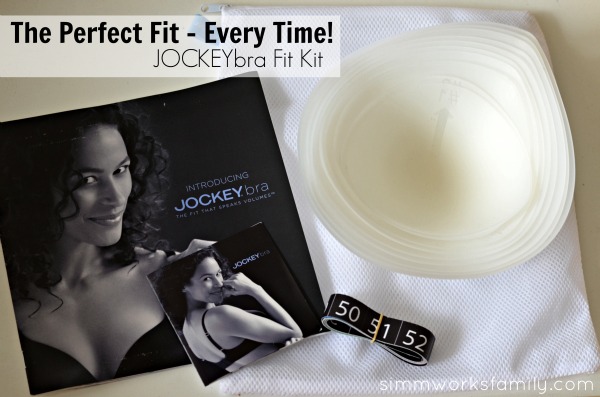 Did you know that about 1 out of 3 women wear the wrong bra size? Getting fit for a bra shouldn't be a one time thing as our bodies grow and shrink throughout our lives. With the Jockey Fit Kit I can continue to find the right fit as I go down each pant size!
Losing weight is hard work and I want to show off my hard work in my new clothes but one thing was holding me back… my bras!
While losing pant sizes I was also losing in other areas as well and these issues needed to be addressed. Not to mention the fact that I've breastfed two kids (still nursing occasionally with my daughter) and the girls just aren't what they used to be 5 years ago.
I turned to the experts and was sent a Jockey Fit Kit to find the perfect fit for my changing body.
What's a Jockey Fit Kit?
The Jockey Fit Kit is your answer to the perfect fitting bra each and every time! With volumetric sizing instead of cup sizes and super comfy bras, Jockey has created the best way to bra shop… from your home!
The Jockey Fit Kit includes: 
10 volumetric fit cups
Color-coded measuring tape
Easy-to-follow instructions
A protective lingerie wash bag
$20 OFF your first bra (you're credited for your Fit Kit purchase when you buy your bra)
How to Use the Jockey Fit Kit
Once I received my Fit Kit in the mail I was able to use it to find my size. By using the cups included I was easily able to see what size I fit in.
The visual of a great fit was perfect for me. I knew the cup size wouldn't be too large or too small because it fit the volume of my breast and wasn't just a letter size.
I then used the tape measurer to find the perfect band size for my body. While I measured at 37 inches I ordered a 38. But I'll be sure to measure myself again once I lose more weight.
The experience I had with my Jockey Fit Kit was awesome. In less than 10 minutes I knew exactly what bra I wanted and had it ordered online with the help of the perfect fitting process.
The 5 different styles of bras offered covered a range of needs and are available in white, tan, and black. I can't wait to receive my Jockey bra in the mail! Once I receive it I'll be sure to update with the fit of the bra and the look and style.
To purchase your own Jockey Fit Kit simply head on over to the Jockey website and order one. The $20 you spend on your kit will be credited towards your bra purchase when you select the bra you want.