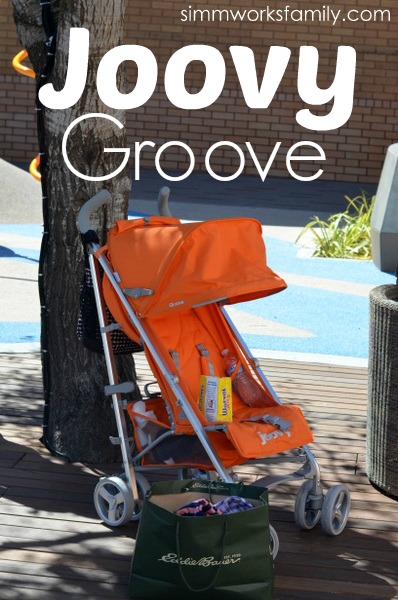 This summer our family is on the move. From big family vacations, to trips to the beach, to days at the fair, we have a lot on our summer bucket list. Since retiring our double stroller for the past few months we were not looking forward to getting it back out for the events we have coming up.
So we decided to research and find a great lightweight umbrella stroller that the kids could take turns using when we go out on our adventures. When the Joovy Groove arrived at our door for review we knew that we had found "the one" for our summer traveling needs.
Not only did our Groove come in a snazzy Orangie tangerine color perfect for summertime, it also had all of the features we needed in a lightweight umbrella stroller: large shade cover, large basket for storage, drink holder for the kids. Plus this stroller folds up compactly and has plenty of other great features to talk about!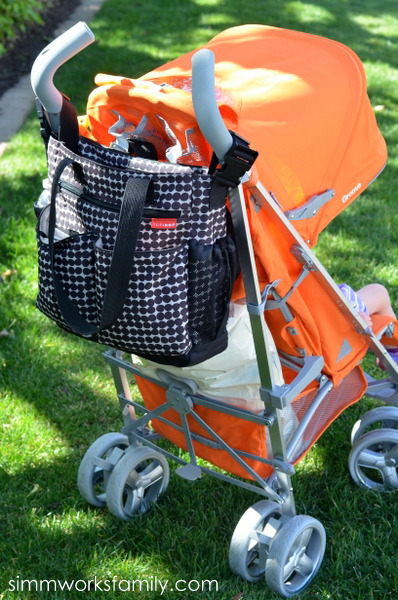 Why We Love the Joovy Groove
The specs:

• Fully adjustable 5-point harness with removable shoulder pad

• Removable oversized canopy – covered viewing window

• Mesh pockets in seat for kid's stuff

• 2 cup holders for parents

• Zippered storage pocket

• Automatic fold lock and carry handle

• Unlimited recline positions to 149 degrees

• Large basket

• Sealed bearings in all wheels

• Adjustable leg support

• Reflective light technology for safety

• Great Joovy customer service
Now one of the most important reasons why we love our Joovy Groove and have ditched our "other" umbrella stroller is the fact that both my 4 year old son and my 2 year old daughter can both use the stroller and still be comfortable. My son was definitely not comfy in our other stroller.
Since my daughter always needs to be shaded on her face due to her scars from the dog bite, the over-sized shade cover is perfect for sunny So Cal days. And when she starts snoozing in the stroller we simply recline her down to the best angle, put the shade down all the way, and she's good to go until she wakes up!
Another amazing feature I absolutely love? The maneuvering of this stroller!! Seriously… it's like I'm gliding on air it's so smooth. I can swivel and turn in my place without getting stuck or having to use any force whatsoever. Such a change from my old stroller! This Groove seriously made our family happy!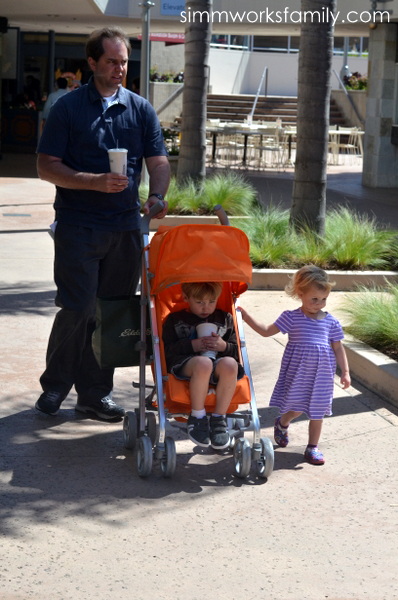 If you're looking for an awesome lightweight stroller for your toddler or preschooler, then the Joovy Groove is the one for you! Not only is it easy to maneuver and holds all of our stuff, it's compact and fits into any spot perfectly.
In need of a stroller that does a bit more? Consider the Joovy Zoom 360 (my baby). Not only is it an amazing jogging stroller but it also does well for an everyday stroller if you have the room for it in your trunk.
You can check out the Groove, the Zoom and everything else Joovy has to offer by visiting the Joovy website. And don't forget to look into Club Joovy! It's a cool new club for anyone who loves Joovy and wants to be in on the inside track with new products, fun contests, specials & more.
Where would you go with a Joovy Groove?
Disclaimer: I received a Joovy Groove for review purposes only. Regardless, I only recommend products or services I use personally and believe will be good for my readers. All opinions are my own.