Every month I host a playdate at my house for my playgroup. It's a great way for moms to get together and enjoy each other's company while the kids play with each other. It also gives newcomers to the group a chance to feel welcomed in without having to search a park or other location for a group they aren't familiar with.
So when two new friends arrived at my door for our latest playdate and one's hands were filled with these amazingly delicious lemon tartlets I knew they'd fit right in! And they did.
Of course after polishing off a few of these bad boys I had to ask for the recipe and luckily my friend had no problems sharing it with me. This dessert is so simple to prepare and great for parties and get togethers.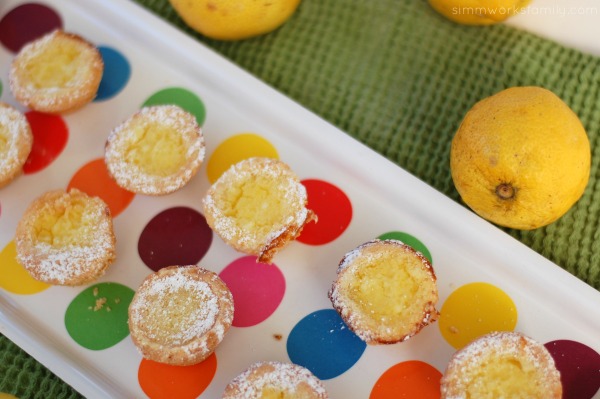 Lemon Tartlets
Tart Shells
1/2 cup butter, softened
1/3 cup sugar
1 egg white
1 1/4 cups flour
Filling
2 eggs
1/3 cup sugar
1 tablespoon butter, melted and cooled
2 teaspoons lemon zest
3 tablespoons lemon juice
powdered sugar to top
Preheat oven to 325 degrees. Spray two mini muffin pans with cooking spray.
In a mixing bowl beat butter and sugar until light and fluffy. Add egg white and beat well. Add flower and mix until well blended. Divide into 24 pieces and press into muffin cups to form tart shells.
For the filling, lightly whisk eggs. Add sugar, butter, lemon zest, lemon juice and mix well. Pour filling evenly into tart shells.
Bake for 20-22 minutes or until edges are lightly golden brown. Remove pan and cool for 5 minutes. Remove tartlets from pan onto cooling rack and let cool completely. Sprinkle with powdered sugar before serving.
What's your favorite type of citrus?