With an overabundance of hard-boiled eggs in our home left over from Easter I've tried to come up with some creative ways of incorporating these little eggies into my new lifestyle.
While I could technically eat a whole egg while on the Nutrisystem program, I'd much rather get the most bang out of my buck. And these light deviled eggs hit the spot perfectly and only count as a limited extra on Nutrisystem.
Or you could choose to eat more (not all) as a power fuel! How filling is that? No guilt, great taste, and easy to prepare. Now that's my kind of snack!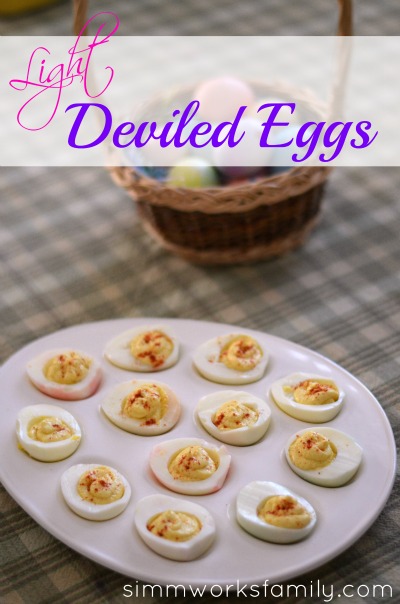 Light Deviled Eggs
Ingredients
6 hard-boiled eggs, sliced in half length wise yolks removed
1/2 cup egg beaters or liquid egg whites
1 tablespoon light mayonnaise
2 teaspoons mustard
1 teaspoon dill pickle juice
salt and pepper to taste
paprika, optional
Instructions
Scramble egg beaters gently over low heat in a non stick skillet. Allow them to drain well on a paper towel while they cool completely.
Once cooked eggs are cool put them in a mini food processor with light mayo, mustard, dill pickle juice and salt and pepper to taste.
Process until the mixture is smooth and creamy like typical deviled eggs.
Grab a zippered sandwich bag and fill with mixture. Cut off one corner of the bottom of the bag to use for piping.
Pipe mixture into egg white halves. Top with a sprinkle of paprika and serve.
Serving size:
2 eggs
Calories:
33
Fat:
1
Carbohydrates:
1
Sodium:
138
Fiber:
0
Protein:
6
 What do you do with your left over hard-boiled eggs?