I absolutely love multi-purpose kitchen gadgets. If it doesn't do more than one thing, I don't want it in my kitchen taking up space! When I was asked to check out the latest Zojirushi rice cooker and see how it fared compared to my smaller rice cooker I knew i wanted to find more ways to test it out than just make rice. So I figured out how to make oatmeal in a rice cooker. And I have to say… I'm pretty impressed!
I already loved the Zojirushi brand and own one of their bread machines (all the way back from when my husband and I first got married) and the smaller rice cooker so including this larger capacity rice cooker into our home was perfect. The Zojirushi NL-AAC10 is a great multi-use rice cooker. And I've not only made rice and oatmeal in it, but I've also used it to steam things as well. Hello delicious dumplings and pot stickers!
Making oatmeal in a rice cooker is a piece of cake! As simple as dumping the ingredients in, adjusting the settings for porridge, and letting it cook. The rice cooker does all of the work. Wait… did I just give that all away in the beginning of the post? Well let me just show you the pretty pictures and talk about this awesome machine.
Aided by microcomputer technology, this category of rice cooker takes having rice on your menu from "occasional" to "serious". Basically, the microchip does all the thinking for you, as far as adjusting cooking times and temperatures according to the type of rice you are cooking, and timing the pre-soaking of the raw grains and the final "wait" period during steaming.
That means you're left with perfectly cooked food that every family member will love! No more burnt rice on the bottom. And it also means that you can make a delicious breakfast, lunch, or dinner using the same rice cooker.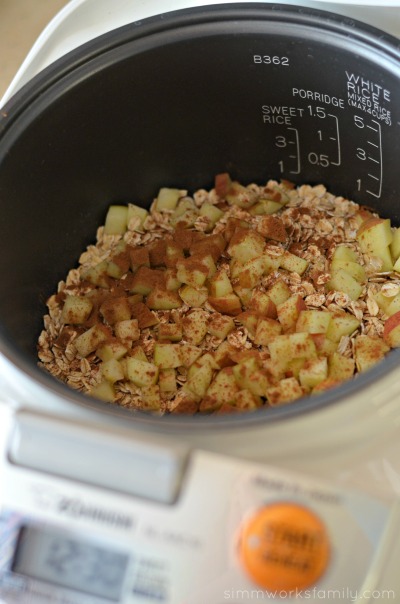 How to Make Oatmeal in a Rice Cooker
1. Add 2 cups of old fashioned oats into the rice cooker*. Then add in 3 cups of water (or milk if you prefer a creamier oatmeal). Add any mix ins or flavors and stir together to combine. I added 1 diced apple, 1 teaspoon of ground cinnamon, and a tablespoon of brown sugar.
*For this recipe I consulted my rice cooker's manual to see if there was a minimum amount of oats I needed to use for this rice cooker. I also wanted to make sure I was using the correct amount of liquid. If you're using steel cut oats, double check the manual to see what the minimum amount is as well as what the liquid level should be.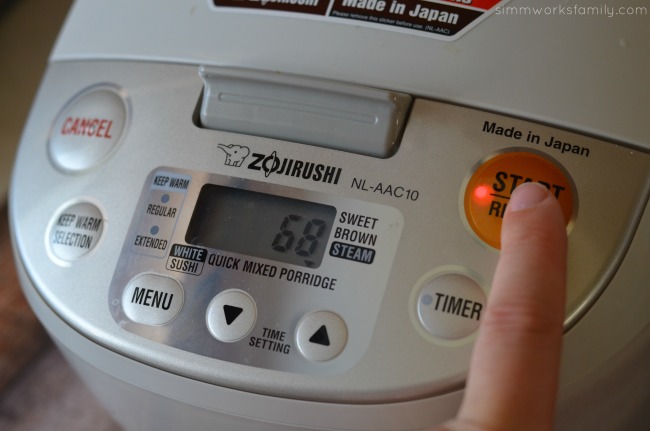 2. Using the menu button, set rice cooker to porridge setting (bottom right). Once the setting is selected, hit the start button. A melody should play letting you know that the rice cooker has started the cooking process. Sit back and relax as your food cooks.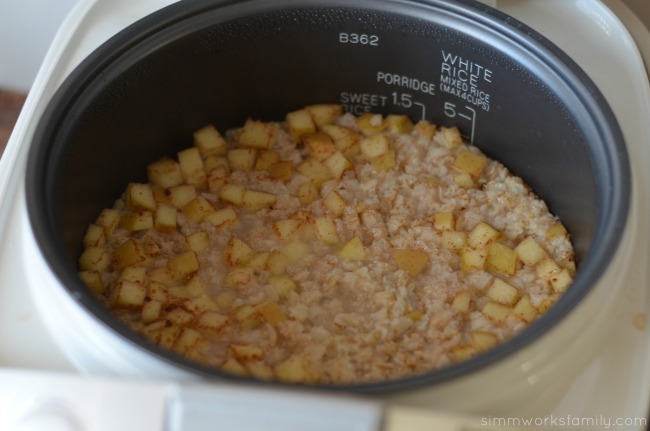 3. When the rice cooker is done cooking the oatmeal it will play a melody again. Don't worry if you aren't immediately available – the rice cooker will go to the warm setting after it's done cooking. When you're ready to eat, open the lid carefully and scoop out your oatmeal.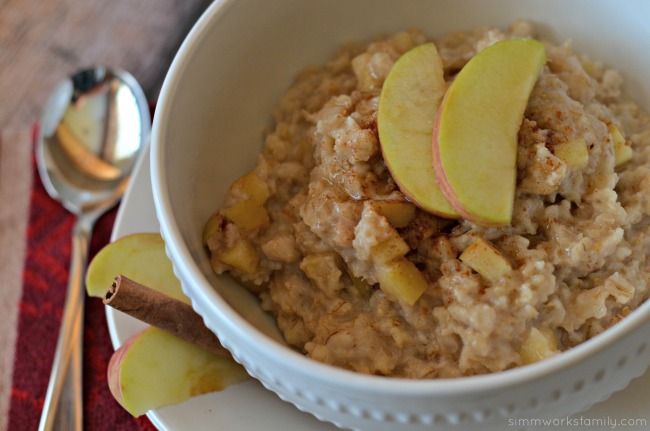 This 5-1/2-cup rice cooker and warmer makes 10 cups of cooked rice and includes a variety of cooking functions including white rice/sushi, mixed rice, porridge, sweet, brown, steam, and quick cooking.
If you're looking for a great rice cooker to add to your kitchen definitely check out the great line of Zojirushi rice cookers.
What would you love to make in a rice cooker?
Love what you see? Try these recipes!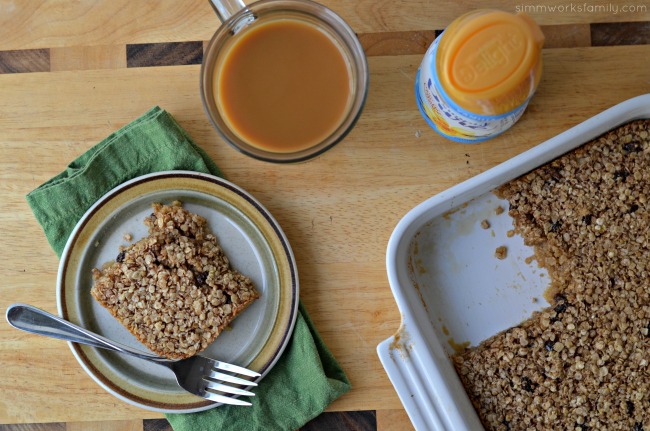 Vanilla Raisin Oatmeal Squares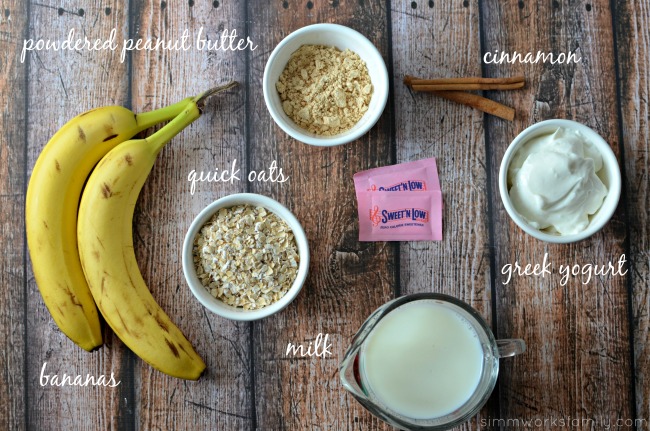 Peanut Butter Banana Oatmeal Smoothies