This shop featuring BBQ Asian Cornish Hens and a recipe for Rice Cooker Fried Rice has been compensated by Collective Bias, Inc. and its advertiser. All opinions are mine alone. #JuicyGrilledCornish #CollectiveBias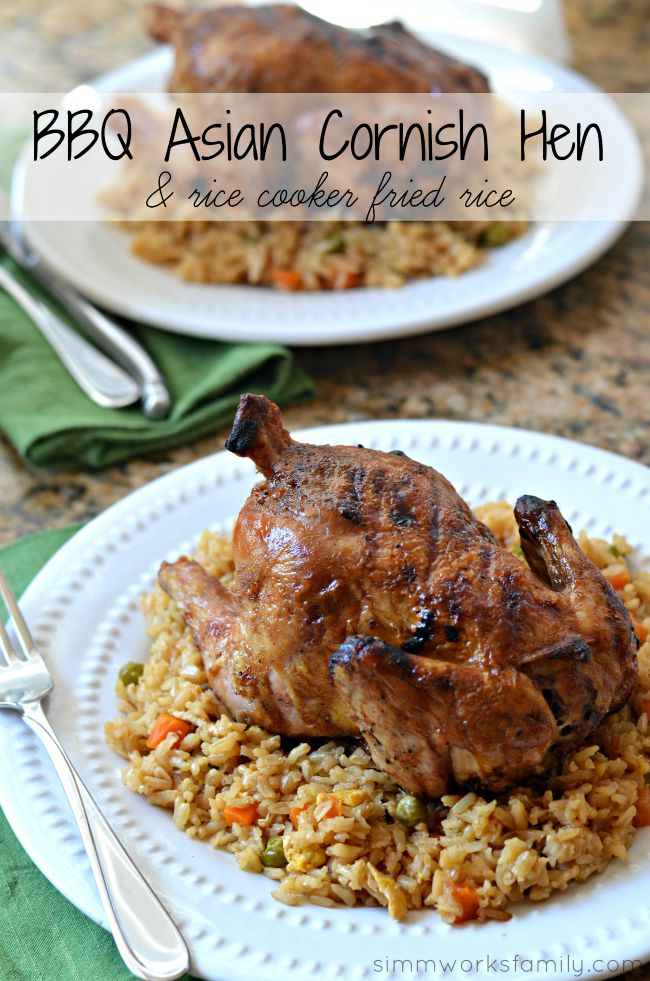 With a 6 month old at home (who refuses to take a bottle now) it's a little hard to get out for date night. But that doesn't stop my husband and I from spending time together. Instead of heading out for a date night together at a nice restaurant, I try and find delicious, simple meals I can make at home that we can enjoy after the kids go to bed.
Now we don't let the kids starve, we make them something fun like hot dogs or mac and cheese from the box. They consider that a treat and are happy to eat dinner without us. Once we sucker them into their beds, it's our time!
Now since it's summer and I'm already using the stove for the kids meal, I don't want to have to wait a while to get our meal going. So while the husband is putting the older two to bed, I get the barbecue ready and my rice cooker going. By using something other than the oven to make our dinner, we don't have to worry about the heat.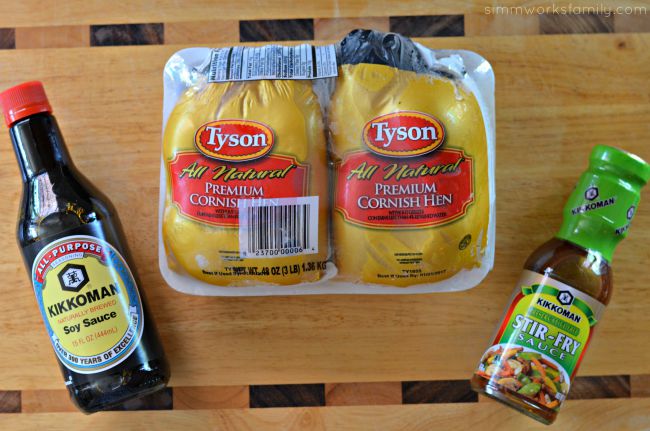 I have to admit. I've never considered making cornish hens for dinner. But after seeing them at our local Walmart in the freezer section, I figured I'd give it a shot and try them out. And since Tyson Cornish Hens are All Natural with no artificial ingredients, preservatives, added hormones or steroids, they fit perfectly with our family.
Paired with the Kikkoman stir-fry sauce as a glaze and I'd have a deliciously tasty main course! Kikkoman's full line of sauces and marinades are perfect for the grilling season. Next time I want to try the sweet & sour sauce! 
Now for the side dish. Since I was going with an Asian themed meat dish I knew I wanted to make some fried rice. But didn't have any time (or cooked rice) to do so. So in the rice cooker everything went! And it turned out surprisingly well. No sauteeing or cooking ahead. I could make fried rice without having to have leftovers on hand in the fridge to do so. The only thing I had to do was scramble an egg before I put everything in the rice cooker.
Rice Cooker Fried Rice
2 cups brown rice
1 1/2 cup frozen peas and carrots
2 cloves garlic, minced
1 teaspoon ground ginger
1 teaspoon onion powder
2 eggs, scrambled
1/2 cup Kikkoman® Soy Sauce
3 1/2 cups chicken broth
Wash rice thoroughly in a mesh strainer until water is clear. Add to rice cooker.
On top of the rice add frozen vegetables, garlic, ginger, onion powder and scrambled eggs. Top with Kikkoman Soy Sauce and stir to combine.
Add chicken broth and set rice cooker to the brown rice setting OR quick setting if you have a Zojirushi rice cooker.
*makes 6-8 servings
How to Barbecue Cornish Hens
Barbecuing the hens was easier than I thought! With very few ingredients, and a hot grill, I was able to make two delicious birds in about an hour. Here's how:
1. Heat up the grill. Make sure the charcoals are white hot before cooking.
2. Take the Tyson® Cornish Hens and drizzle with olive oil. Season with salt and pepper.
3. Place on grill breast side down. Cook for 30 minutes.
4. Turn over breast side up and glaze with Kikkoman Stir Fry sauce.
5. Cook an additional 20 minutes or until internal temperature reads 165 degrees and juices run clear with no blood.
Serve the chicken with the rice cooker fried rice and enjoy a delicious date night meal together with your significant other!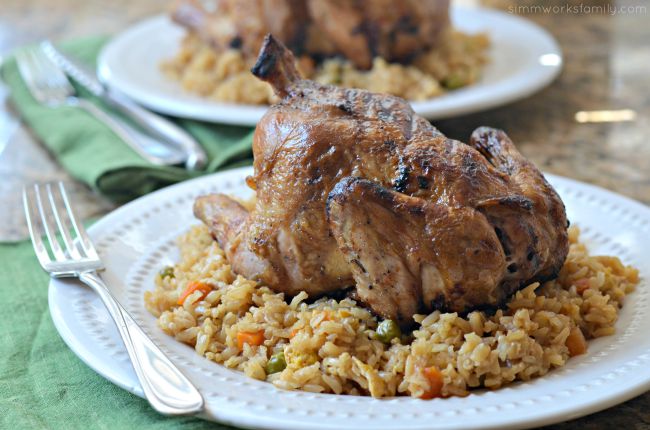 How do you make time for your significant other?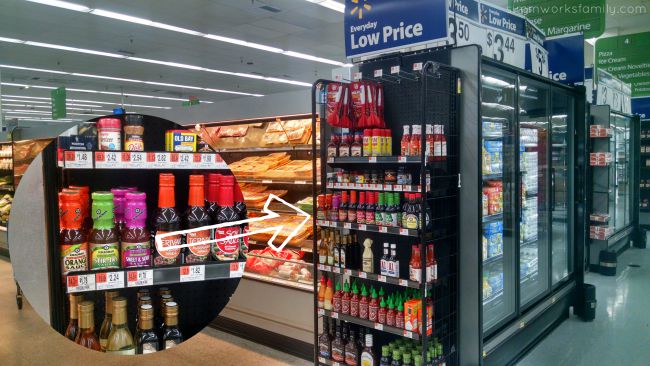 You can find Tyson cornish hens in the freezer section of your local Walmart. And right around the corner from the hens, you can find the Kikkoman products in the Asian food aisle or, like in my store, next to the refridgerated meat section.