When I'm in need of a comfort meal the first dish that comes to mind is my Meatballs & Polenta. I've been making this dish for almost a year now after seeing it on my friend CB's blog, Two Pink Hippos, and trying it out with a few changes. Now I make it at least once a month and love how versatile it is.
Plus I can never get over how easy it is to make polenta!
When I'm rushing to put dinner together 4 times out of 5 I always forget to start the grain or starch. So I've been saved quite a few times by quick cooking dried polenta. And the frozen brown rice from Trader Joe's.
This is one of those meals that you can make ahead, freeze, and pull out when you want them too. So it's the perfect dish to make for expecting mamas, friends in need, and any other meal in between. Plus you can turn left over meatballs into a meatball sandwich for the next day's lunch. Mmmm…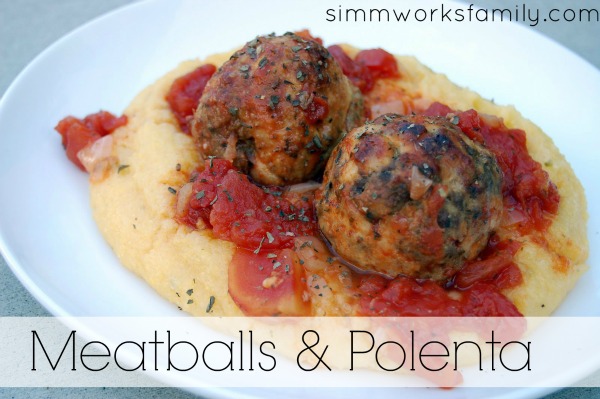 Meatballs and Polenta
1 pound 99% fat-free raw ground turkey breast
1 pound 85% lean/15% fat raw ground beef
1 egg
1/3 cup seasoned bread crumbs
1/2 cup fresh parsley, diced
1 teaspoon fennel seed
1 teaspoon sea salt
1 teaspoon black pepper
1 tablespoon Worcestershire sauce
2 teaspoon onion powder
2 teaspoon garlic powder
1 tablespoon Italian seasoning
15 oz canned tomatoes
1/2 cup onion, diced
1 garlic clove, minced
1 tablespoon basil, minced
1 teaspoon crushed red pepper flakes
1/2 cup pre-cooked polenta, dry
2 cups fat-free chicken broth
1/2 oz mozzarella, shredded, fat free
1/2 oz part-skim mozzarella cheese
2 teaspoon regular butter
Preheat oven to 450 degrees.
Combine the beef, turkey, egg, bread crumbs, Worcestershire sauce, and herbs & spices in a bowl.
Use your hands to mix the ingredients together. Form meatballs about 2″ diameter and place them on a baking pan. (I weighed each meatball at 2 oz and got 19 meatballs.) Bake for 25 minutes.
While the meatballs are baking, dice your onion and mice the garlic and basil. Saute the onion & garlic until onions are translucent, about 3 minutes. Add in the tomatoes and basil. Let simmer.
After meatballs are done bake, transfer from the oven to the sauce. Cook for another 10-20 minutes, turning the meatballs occasionally so all meatballs are coated with sauce.
Place chicken broth in a medium pot. Set to medium high and bring to a boil. Once boiling whisk in the polenta. Continue to wisk for 3 minutes or until thick. Add cheese and salt, to taste, and continue to whisk until the cheese has melted and is combined with the polenta. Remove from heat and divide in half on two plates.
Serve meatballs over polenta. Top with a little chopped parsley and grated Parmesan if desired.
1 2oz meatball = 1 serving
1/2 polenta (roughly 1 cup) = 1 serving
2 Servings | 10 WW+ Points