In preparation of the fun camping trips we have planned this summer, I made this delicious mini dessert pizza to enjoy with a cup of coffee. This shop has been compensated by Collective Bias, Inc. and its advertiser. All opinions are mine alone. #DunkinCreamers #CollectiveBias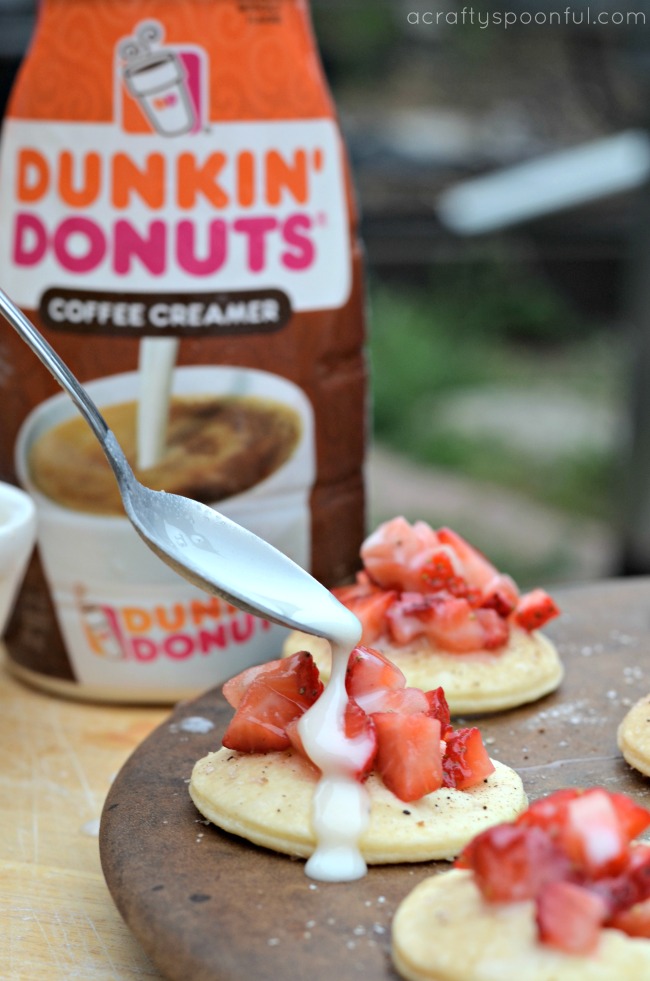 Whether you're camping in in the wilderness or in your own backyard, there's nothing like a delicious, slightly sweet treat to begin (or end) your day. And what else tastes better with a sweet treat than a deliciously caffeinated cup of coffee? With a little Dunkin' Donuts® Extra Extra Creamer stirred in, of course.
These mini dessert pizzas are so fun to make! Plus, they're so versatile. And I love that we can make them on the grill when we're out in the wilderness or at home in the oven. We always bring fruit and creamer with us when camping and occasionally have pie crust for hand pies and other desserts but usually only use one of the two crusts that come in the package. I love that this recipe uses up that other pie crust AND can be made with the creamer we already have on hand.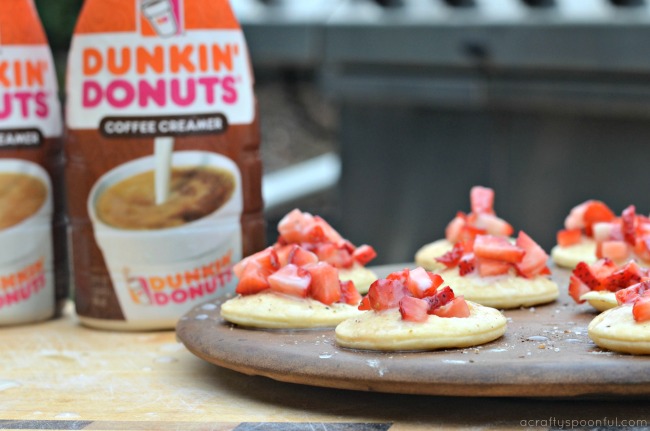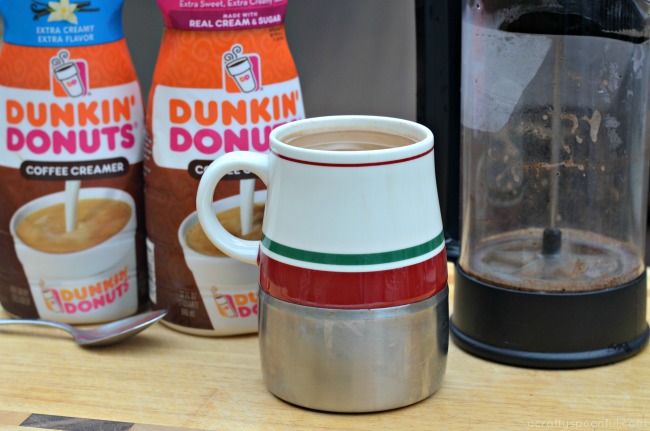 Another bonus about this recipe? the fact that the kids can help make it. While they try and sneak my coffee in the morning, I can distract them by asking them to help make these with me. That means I get to enjoy a HOT cup of coffee while they work on finishing up the recipe. And then I can enjoy another cup when we're eating these up. Yum!
Since the recipe is so simple, it's important to layer on the flavor. From the dough to the strawberries to the glaze, we kick up the flavor at every step. Cinnamon is the perfect addition to sprinkle onto the dough, and macerating the strawberries in sugar and vanilla just add a little extra boost. But then when it comes to the final touch… the glaze… we save the best for last!
Dunkin' Donuts® Extra Extra Creamer is made with real sugar, milk, and cream for a wonderfully rich and smooth taste. The perfect choice for coffee purists. And it tastes amazing in this simple glaze. You can also sub Dunkin' Donuts® Vanilla Creamer for another pop of flavor.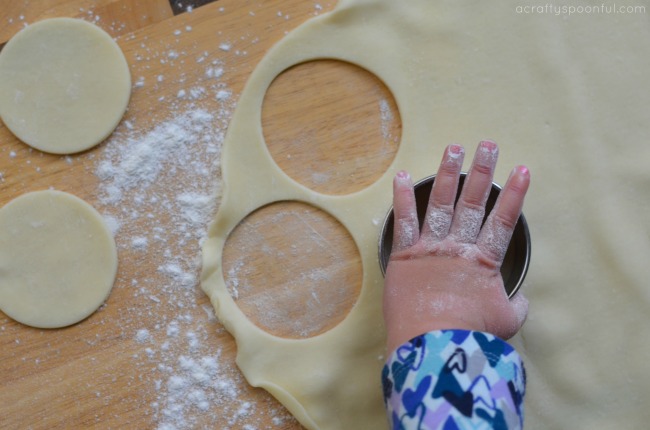 We're sharing one flavor – strawberries and cream – but there are endless possibilities when it comes to making these. Looking for more flavor options?
Here are a few of my kids' favorites:
S'mores – mini baked pie crust round topped with marshmallows and 1 square of chocolate placed under the broiler until golden then drizzled with creamy glaze made with Dunkin' Donuts® Vanilla Creamer and sprinkled with graham cracker crumbs.
Apple Pie – mini baked pie crust round topped with diced granny smith apples that have been cooked up in a skillet with sugar and cinnamon and drizzled with creamy glaze with Dunkin' Donuts® Caramel Creamer
Bananas & Cream – mini baked pie crust round topped with a little banana pudding and sliced bananas and drizzled with a creamy glaze made with Dunkin' Donuts® Caramel Creamer.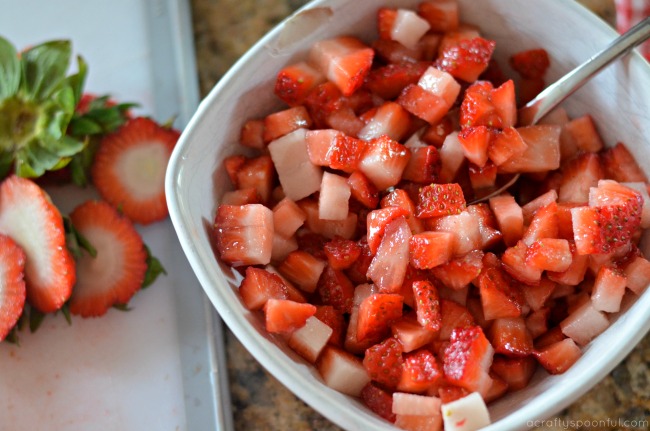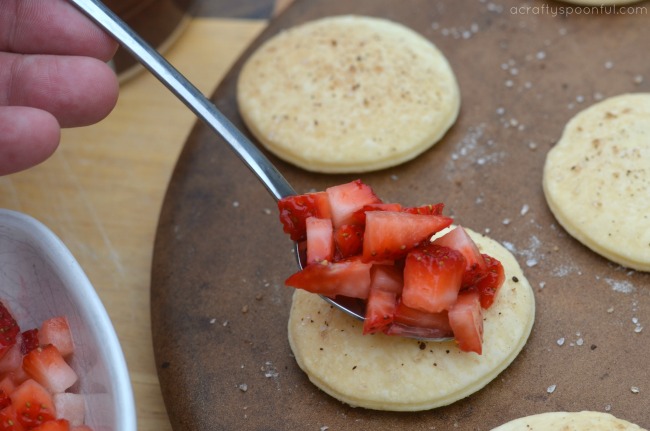 Mini Dessert Pizzas with Creamy Glaze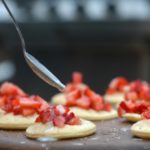 1 package pie crust
1 teaspoon cinnamon
6 strawberries
1 tablespoon sugar
1/2 teaspoon vanilla
3 tablespoons powdered sugar
1 tablespoon Dunkin' Donuts® Extra Extra Creamer
Preheat oven or grill to 350 degrees.

Using a round cutter, cut pie crust into circles and place onto pizza stone or parchment-lined cookie tray. Sprinkle a little cinnamon onto each round. Place in oven or on grill and bake for 15 minutes or until slightly golden.

Dice strawberries and place into a bowl. Sprinkle with sugar and add vanilla. Stir until sugar dissolves.

Mix together powdered sugar and Dunkin' Donuts® Extra Extra Creamer until smooth and glaze forms.

Once pie crust has cooked, let cool 5 minutes then layer mini pizzas. Add 1 tablespoon strawberries to each round then drizzle with glaze.
What's your favorite dessert pizza flavor?
Looking for Dunkin' Donuts® Extra Extra Creamer to make your morning extra special? Head over to Walmart and pick up one or two containers from the Dairy aisle.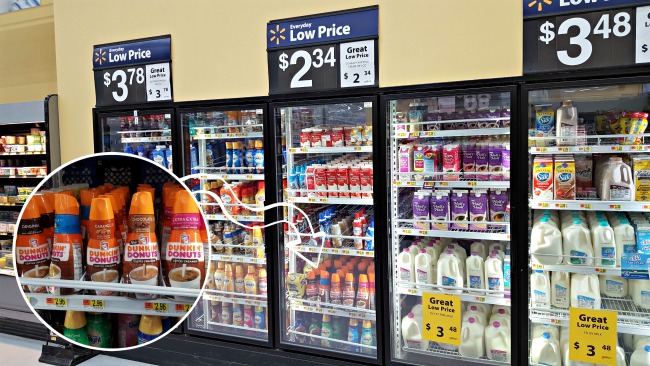 Love this post? Check out these great recipe ideas you can use creamer in:
Pin this article for later!
Click the Pin button on the image below to save for later.