Yesterday was one of the most terrifying days of my life. My daughter was bit by a dog. And not any dog, our family dog.
While we know it was not intentional and just a snap it was enough to do a lot of damage to her face.
Yesterday afternoon as I was getting my son after he woke up from his nap my daughter played blocks on the rug in our living room with my dog sleeping nearby.
As we started to walk out of the bedrooms and down the hallway to the living room we heard a bark and a scream from my daughter.
I nearly pushed my son out of the way to run to where my daughter sat. With blood on her face. I had no idea how bad it was or what exactly happened but would later find out that she touched his paws (something he's always nervous about) and he snapped at her.
That's all it took to cause this much damage…
Warning: the following photos are graphic!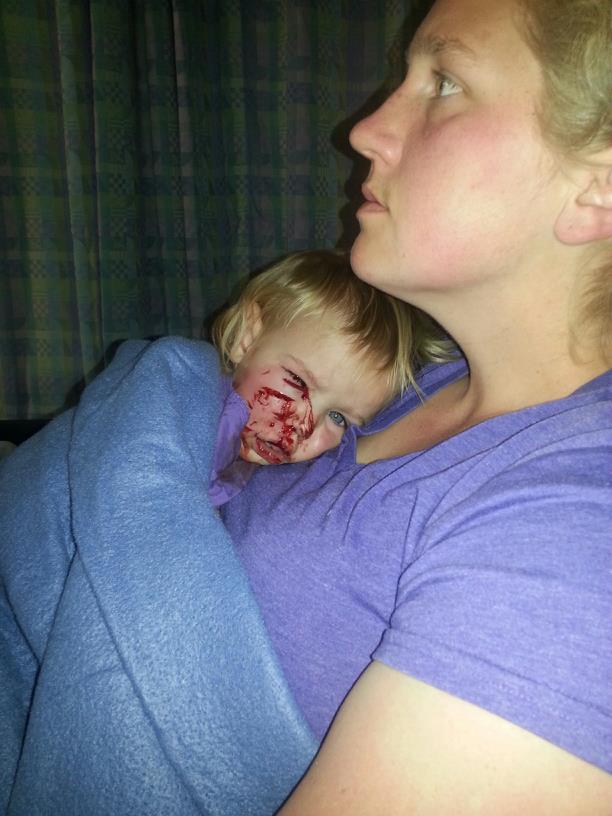 As soon as I saw the major gash on her cheek I nixed the idea of driving to Children's Hospital myself and called 911. 15 minutes after I called the firetruck and ambulance arrived.
What happened afterwards was all a blur but I do have to say that I am so grateful for the men who rushed to our aid. The firefighters quickly ran to my daughter and the chief took my son aside to talk to and comfort him.
The parametic firefighter tried cleaning off her cuts to see how bad they were but my little feisty girl wanted nothing to do with that. We had to wait until we got to the hospital to actually see more of what happened.
When we arrived at Children's we checked in and met my husband (who had driven from work to the hospital and luckily saw us through the doors of the ER waiting room.
We went into their trauma room and the nurses gave her an IV and took her temperature and blood pressure. The doctor arrived shortly after and checked her wounds. Because she had eaten a bit earlier we had to wait 4 hours before we were able to go into surgery.
Luckily, one of the best kids plastic surgeons was at the hospital and would be available to stitch her up.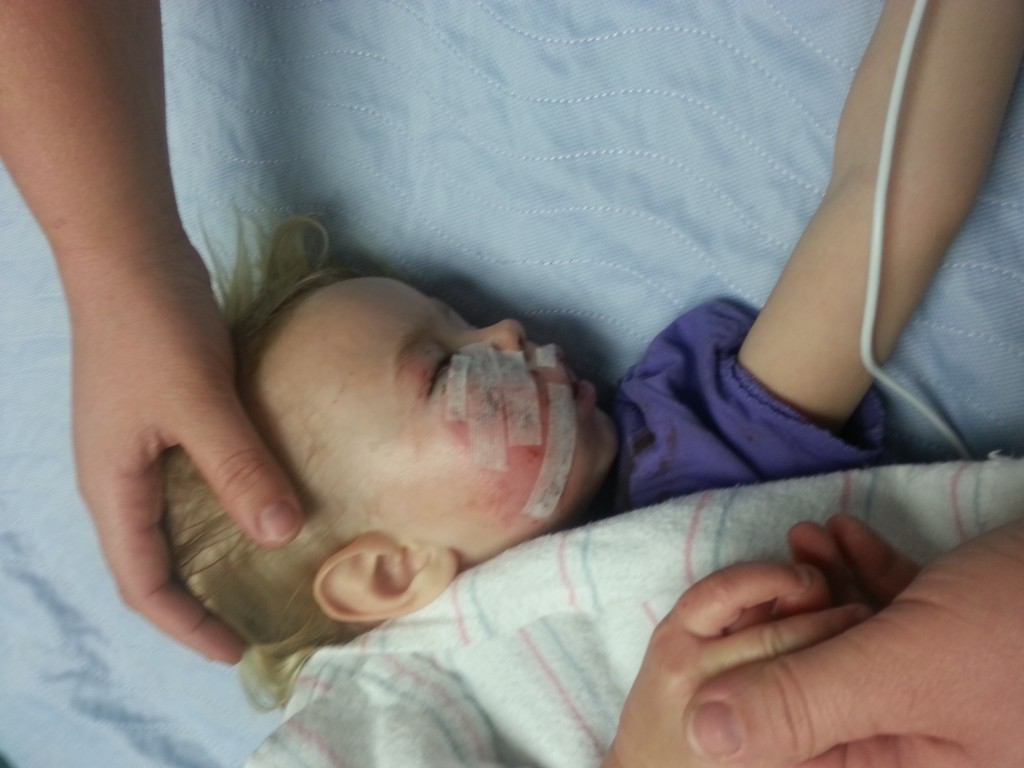 The four hours we had to wait seemed like an eternity. But with antibiotics and morphine in her she was starting to act like her normal self. She constantly asked if we could remove the IV but other than that she was chatting up a storm and making every nurse love her.
Once they were ready to put her under they explained everything to us in detail. They let us know what to expect, what they would do, and what we would see after. She was so tired by that time (a little after 8pm and her bedtime) that the drugs worked quickly.
We had to wait in the waiting area while they sewed her up and luckily my brother in law was awesome enough to bring us some dinner. We ate quickly and soon the doctor came out to tell us things were going great.
Shortly after the plastic surgeon came out when he was finished and chatted with us about what to do in the coming days and what we should look out for. After that we just had to wait for her to wake up.
The waiting was pretty hard since she was so tired. She did NOT want to get up. But luckily she started coming to and by 10pm we were headed home.
Here's what she looked like this morning all stitched up. She's not very happy about the steri strips.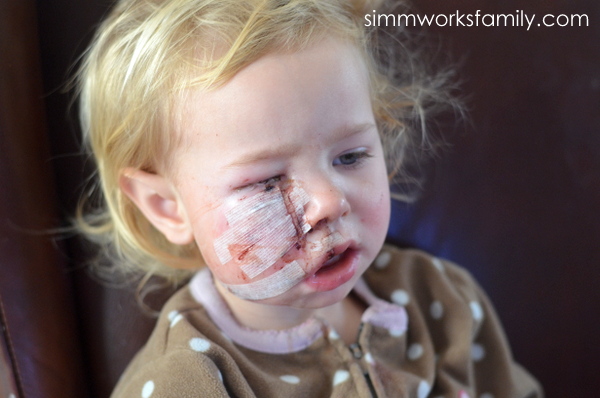 We have a long road ahead of us and lots of healing but luckily we don't see any damage other than scarring in our future. And we've been given great tips on how to reduce the scarring.
I'll keep an update on how she's doing and how she's reacting to the whole situation. For now we're keeping our dog outside during the day and only letting him in the house for bedtime. She isn't quite ready to have her around him more than that.
We're going to watch her cues and take her leads to decide on any other measures that need to be taken.
We'd love prayers for quick healing and no infections. We are so grateful that our baby is with us and the damage wasn't more severe.