I created my Pot Roast Pot Pies using Campbell's Slow Cooker Sauce as part of a sponsored post for Socialstars. #CampbellsSkilledSaucers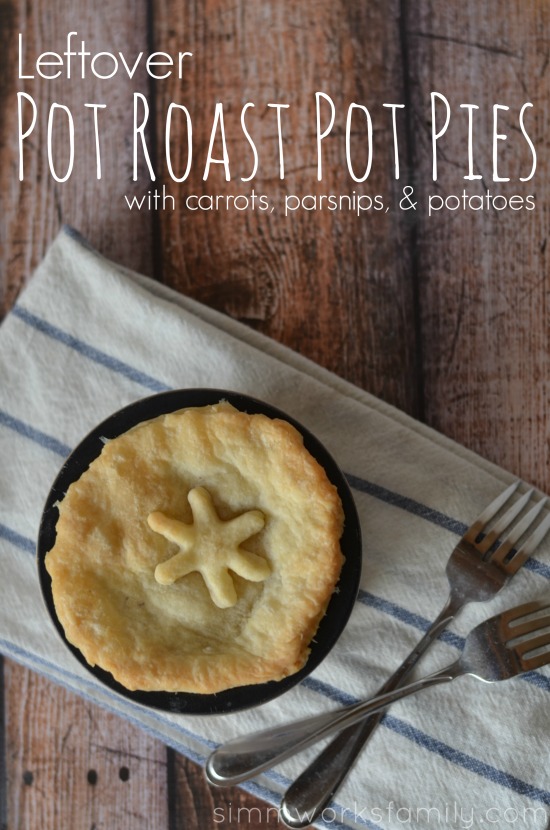 I have a love-hate relationship with my slow cooker. Because sometimes I have these amazing, awesome creations that everyone raves about. And other times I'm calling the pizza guy before my husband gets home because what's in the slow cooker is definitely inedible. Luckily since I've found Campbell's Slow Cooker sauce I can create an easy weeknight dinner AND create a second dinner for another night in the week with the leftovers.
Each time I've used these sauces I'm left with an absolutely delicious meal that the whole family loves. Lucky for me I'm stocked up on all of my favorite flavors. I love the Tavern Style Pot Roast: roasted garlic, mushrooms, cooked in it's own gravy. Delicious. And the leftovers? They make these awesome leftover pot roast pot pies!
Creating a simply amazing weeknight dinner that can be turned into two meals is simple and easy! First you grab one of your favorite Campbell's Slow Cooker Sauces. Then grab the meat you want to use. Feel free to add veggies as well but I prefer the texture of roasted veggies with my crock pot meals. In as little as 5 minutes your whole dinner will be prepped with the help of Campbell's Slow Cooker Sauces.
In order to get a great texture on my roasts, if I'm cooking beef or pork I like to sear the sides of the meat first before placing it into the crock pot. 2-3 minutes per side in some olive oil should be more than enough time. But if you don't have the time, or simply want to keep things as easy as possible, this step is not required.
When my slow cooker meal is about an hour away from being done I prep the sides. Small potatoes, carrots, and parsnips go great with the Tavern Style Pot Roast. I left the potatoes whole and cut the veggies into sticks.
Then coated everything in olive oil and tossed with some salt, pepper, fresh rosemary and roasted garlic. Throw the veggies and potatoes in the oven to roast about 30-40 minutes on 375 degrees or until slightly golden and tender.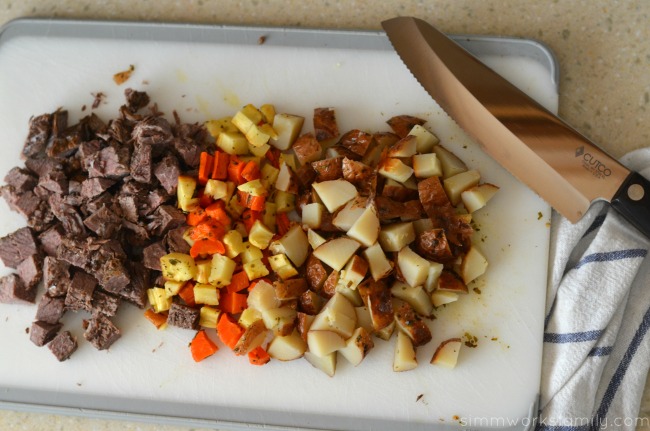 If there are any leftovers from this quick and easy slow cooker recipe (and there were for my small family) save them! Because this is where the magic happens. Two dinners from one slow cooker meal! Pot roast turns into pot roast pot pies for a meal a few nights later.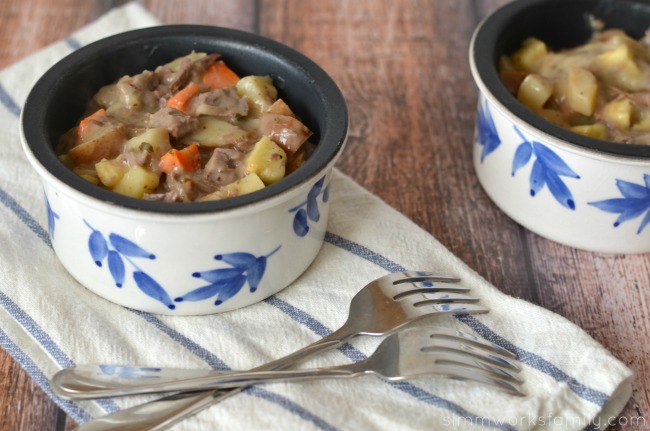 The only difficult thing about this second meal is the fact that I made the dough from scratch. But guess what? My food processor did all of the work!
Homemade dough takes less than 5 minutes to put together if you do have a food processor. I'm pretty sure it's cheaper than store-bought dough too but I won't judge if you opt to use that! Crescent roll dough would be tasty on these as well.
Grab our delicious savory dough recipe here!
Leftover Pot Roast Pot Pies
2 tablespoons unsalted butter
1/2 cup flour
2 cups chicken stock
2 servings leftover pot roast
2 servings leftover potatoes & veggies
salt & pepper to taste if needed
pot pie crust
Heat butter on medium in a small sauce pan until melted. While whisking butter, add flour. Make sure to break up any lumps.
Cook until butter and flour mixture starts to smell nutty and is a golden brown color.
Slowly add stock while whisking continuously until everything is combined. Let cook another 2-3 minutes or until sauce is thickened. A good way to check this is to dip a spoon into the sauce and put a line down the spoon. If the line fills up, it's not thick enough!
Once sauce is thickened, add diced meat, potatoes, and veggies. Let cook until heated thoroughly. Add salt and pepper if needed.
Grab pie dough from the fridge and roll out to about 1/4″ thick. Trace a circle in the dough with a butter knife using the dishes you're baking the pot pies in as a guide.
Fill each dish with equal amounts of pot pie filling and cover with pie dough. Bake at 350 degrees for 30 minutes or until top of pie dough is golden brown.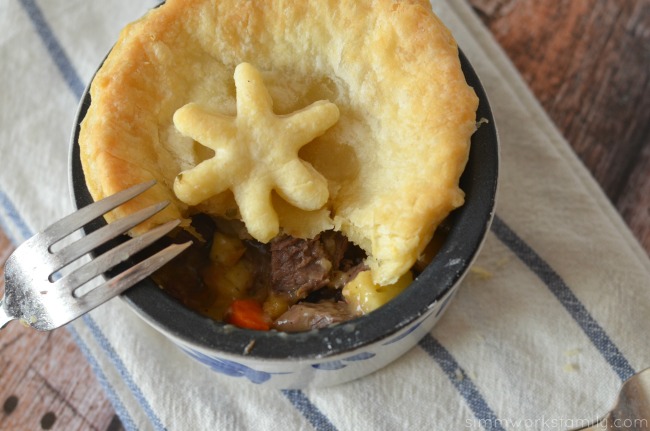 There are a total of 5 different Campbell's Slow Cooker sauces available on store shelves including Tavern Style Pot Roast, Sweet Korean BBQ, Hawaiian Luau, Moroccan Spiced Stew, and Mexican Red Chile Taco.
I'm definitely trying the Sweet Korean BBQ next. How amazing would that taste over rice? And maybe Korean BBQ tacos later on in the week! Yum. What would you try?
What's your favorite slow cooker meal?