This post featuring Easy Entertaining with Pepperidge Farm Puff Pastry Appetizers is written by me on behalf of the Pepperidge Farm Puff Pastry.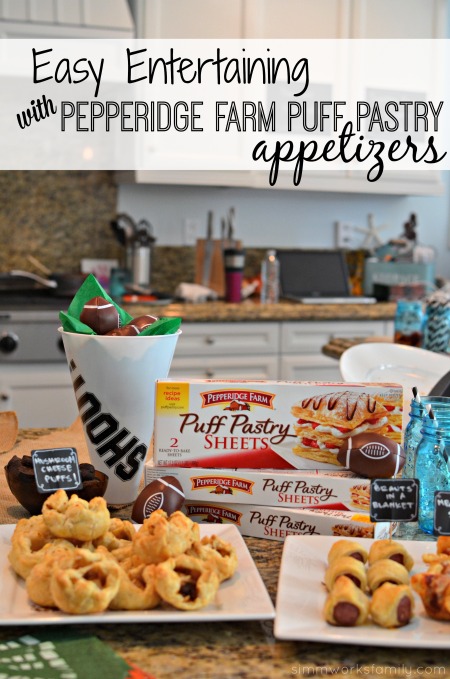 I love appetizers. They're small, bite-sized, and packed with flavor. So when appetizers become easy enough  to throw together with 2-5 ingredients you know I'm interested!
Last week I was invited to attend a delicious party featuring Pepperidge Farm puff pastry and a handful of recipes. While I mingled with social media friends I was able to try a nibble of just about everything. And this pregnant mama was very grateful for the small bites.
If you're planning a homegating party or heading to the next game for some tailgating fun, then you'll love these quick and easy recipes you can whip up in no time.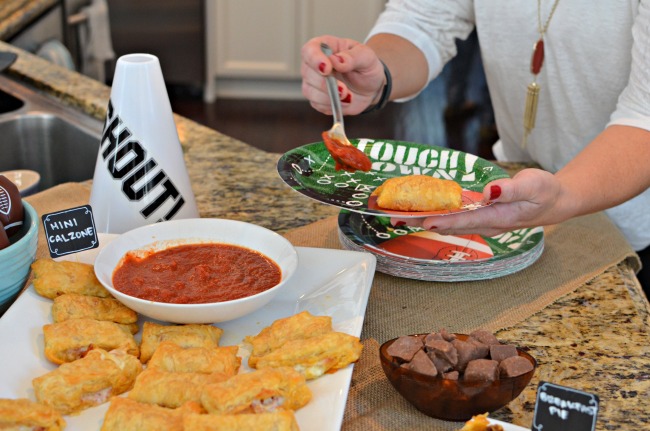 Delicious, Flaky Layers
What I love about Pepperidge Farm puff pastry is that it's so easy to use. It's made with the same basic ingredients as pie pastry, but the dough is folded multiple times to create layers.
And when baked, steam makes the layers rise about 8 times higher. This leaves you with flaky, buttery deliciousness that you can wrap or cup around any ingredients you love like these mini calzone. Tuck a little mozzarella  and some pepperoni in the puff pastry and bake until the cheese is melted!
Paired with some mozzarella dipping sauce, these calzone totally hit the spot. And they're a favorite with my kids too.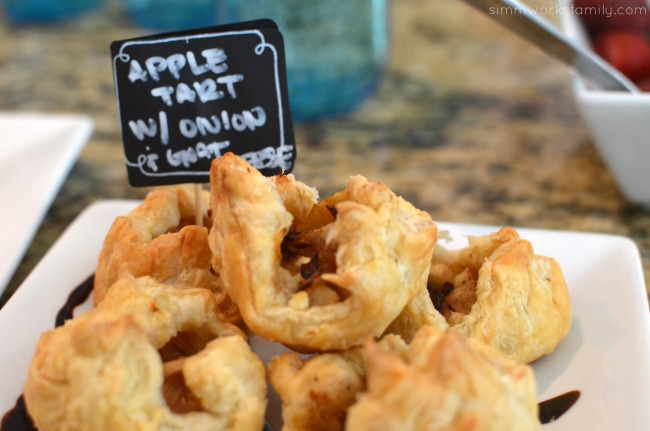 A Variety of Options
Pepperidge Farm puff pastry can be purchased in sheets, shells or cups. Which makes entertaining easy because not only can you make appetizers like the calzones mentioned before, but you can make delicious savory tarts like the apple, onion and goat cheese tart above.
Simply dice up some apples and saute in butter, add a little caramelized onions and some goat cheese and add the mixture to cups. The best part about these products is that you bake them for however long it takes for the filling inside to cook.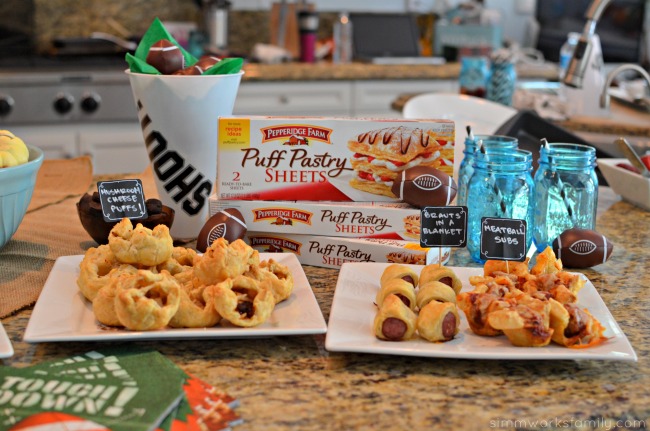 Quick and Easy Appetizers
Two more favorites that are perfect football bites are the brats in a blanket and the meatball subs. 2-3 ingredients and oh-so-delicious.
Our host used the sheets of Pepperidge Farm puff pastry for these two and just cut into squares for the subs and rectangles for the brats. Meatball subs were simply some mini meat balls and mozzarella cheese with marinara sauce nestled into squares of pastry and baked in a mini muffin tin. And the brats… self explanatory!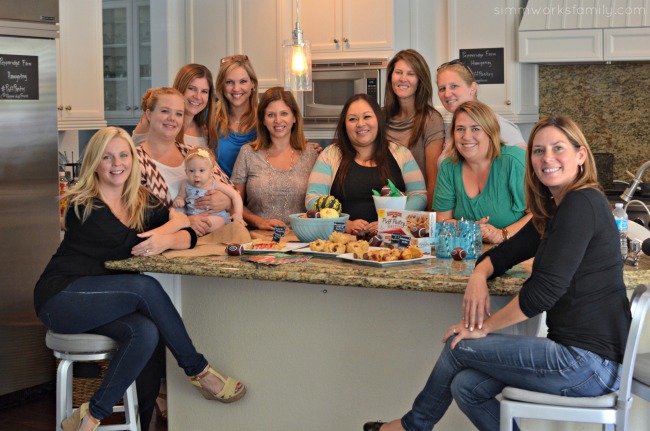 After hanging out with these ladies for a bit I was inspired by the delicious recipes and creations everyone talked about in addition to the appetizers served at the party.
So next week I'll be sharing my own creation… a delicious pumpkin walnut tart that's perfect for the upcoming Thanksgiving season. How delicious does that sound?
Need some more inspiration? On the Pepperidge Farm Puff Pastry website you can find a rich recipe box filled with ideas to try.
What appetizers would you love to see made with Pepperidge Farm puff pastry?
Disclaimer: This is a sponsored post written by me on behalf of the Pepperidge Farm Puff Pastry.