This article is sponsored by Nestlé® Pure Life® Purified Water
Growing up I always heard that if I drink enough water my skin would stay clear. So I drank water like crazy. Vanity will get you everywhere when you're talking to a teenager, right?
As the mom of two young kids I'm constantly worrying if my children drinking enough water. From their constant requests for juice or milk to the fact that everywhere we go they have the option to choose sugary drinks over water I just hope that I'm doing the best I can when I push water first. Keeping kids hydrated is important.
My daughter is awesome at choosing water. She has no problem taking her bottle of water with her everywhere and drinking it when thirsty throughout the day. However my son prefers milk and always chooses it over water. So I've begun researching the importance of hydration.
What I've found has reaffirmed my belief that water should be their first choice in drink. And I really hope that as they grow up they'll realize just how great water really is. And not just because it leaves you with fabulous skin.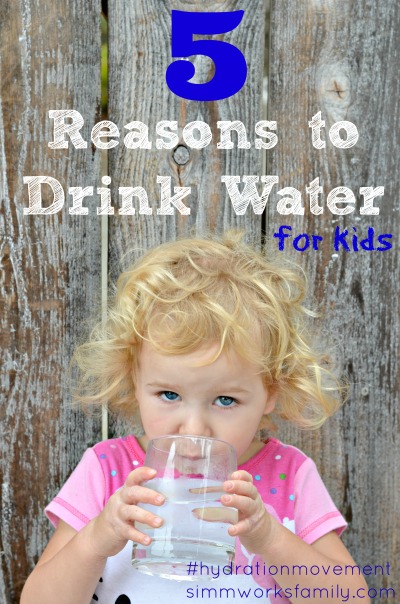 5 Reasons to Drink Water For Kids
1. Water Helps Us Grow –
Every cell and organ in your body requires adequate water to function properly. Your blood is over 80 percent water and needs water to make healthy new blood cells. Your bones are over 50 percent water and, you guessed it, need water to make healthy new bone cells.
Same goes for just about every other part in your body! Water helps your body keep your temperature normal, remove waste products, and transport nutrients. So staying properly hydrated with water will help you grow and stay healthy.
2. Drink Water and Stay Smart –
Water helps your brain and nervous system function properly. Your brain and nervous system send out electrical signals and water is used to help lubricate the parts of the brain that send out these signals.
When drinking enough water your brain functions properly and doesn't have to lessen the amount of signals sent out.
3. Reduce Chances of Obesity –
Childhood obesity is always on the rise and some say that the main culprit are sugary drinks available for our kids. That includes fruit juices.
By choosing to drink water instead of a sugary alternative your child will be consuming less "empty" calories and saving room for the healthy calories found in whole foods like veggies, fruits, proteins and whole grains. Water also helps regulate metabolism which will help combat the chance of obesity later in life.
4. Stay Fit and Active –
Staying well-hydrated, especially in hot weather and when you're exercising, helps your body function at its best. Water lubricates your joints and helps reduce joint pain and protect against wear and tear.
By drinking water kids will have the energy and hydration they need to continue to excel in the sports they love.
5. Great Skin –
Now while my kids aren't old enough to be self conscious, I hope that when they are a bit older and start worrying about their outer appearance they realize how important water is.
Basically what they put in their body has a direct relationship with what's on the outside. Water consumption helps keep the skin hydrated and fresh!

Join the Hydration Movement
This year, Nestlé® Pure Life® Purified Water wants you to hydrate healthfully by Pledging to drink more water. You can join thousands who've already Pledged and inspire others to do the same by sharing your Mom's Wisdoms – any tips you use as a mom to encourage healthy habits in your family.
The Hydration Movement started in 2010 when Nestlé® Pure Life® Purified Water challenged its fans to take the Pledge to swap one sugared beverage a day for water for one year. Visit the Nestlé® Pure Life® Purified Water Facebook page to take the Pledge to drink more water and share your own Mom's Wisdom. By taking the Pledge, you have the option to enter a sweepstakes for a chance to win the some awesome prizes!
Those prizes include a grand prize trip for four (4) to Universal Studios Hollywood or Universal Orlando Resort, or one of the 100 first prizes of a one year's supply of Nestlé® Pure Life® Purified Water and receive a downloadable coupon to save $1.00 on two (2) .5-Liter or 8 oz. Multi-Packs of Nestlé® Pure Life® Purified Water (15-pack or larger). How awesome is that?
How do you encourage your kids to drink more water?