We're about 1/2 way through summer and I can tell you that we've spent a lot of time at the pool or the beach already. Because we live in Southern California, I found it really important to teach my children how to swim from an early age. And I've found the importance of continuing swim lessons even after summer has ended. With the help of our partner, SafeSplash Swim School, I'm sharing 9 reasons why you shouldn't stop swim lessons after summer.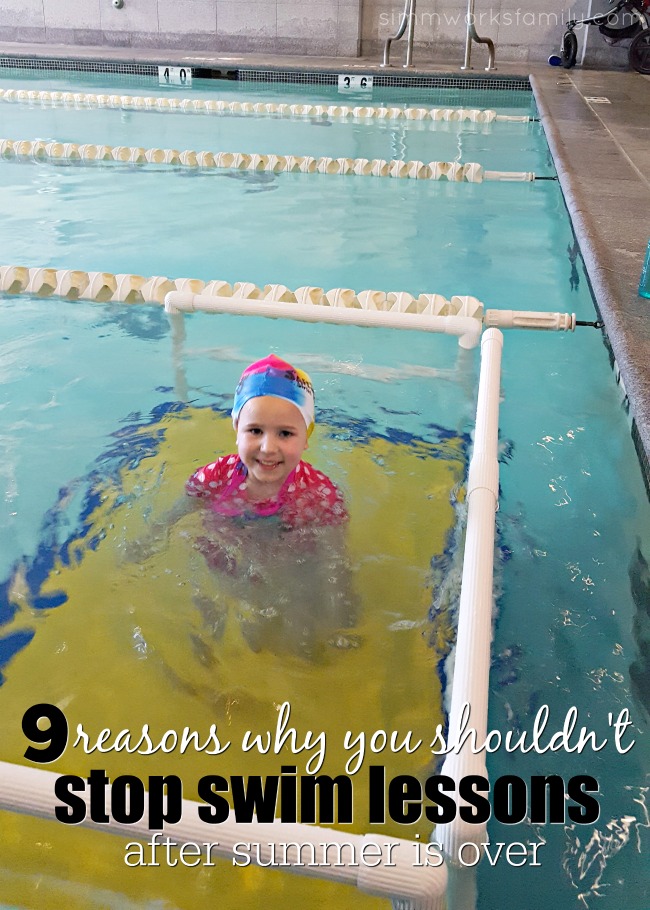 As soon as my kids took interest in the water, and from a young age, I wanted to teach them water safety. It wasn't just about learning how to swim, or feeling comfortable in the water. I wanted to make sure that if something happened and they found themselves in the water, they would know how to safely react until help arrived.
For the first two kids we tried a few different variations of swim classes. From the rec center down the street to the local YMCA, we couldn't find something that we absolutely loved for all of the kids. And especially for babies.
Luckily, we found SafeSplash swim school this year for my youngest's first experience in the water. And I have to tell you, I think we have another water baby on our hands! Not only did she LOVE being in the water, now she enjoys practicing the skills she's learning any time we are in the pool. And I've realized the importance of continuing swim lessons even after summer has ended.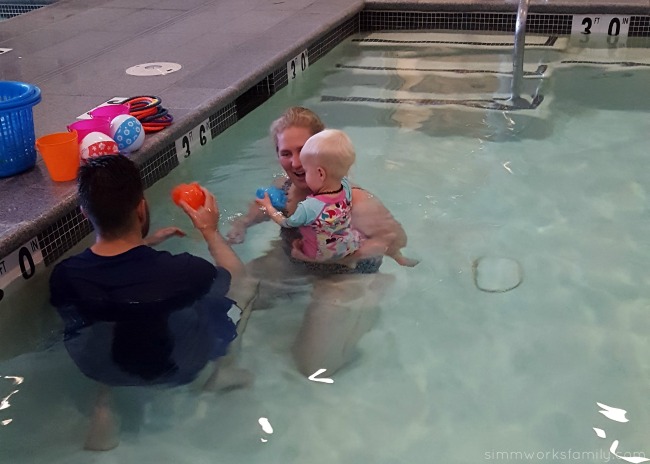 9 Reasons Why You Shouldn't Stop Swim Lessons After Summer
1. Stick with a Routine – I've found that while we don't care for busy schedules in our home, a routine is a good thing. And when my kids do the same thing frequently, they come to realize the important of a routine. By taking them to swim every week they've started to get excited about going and genuinely look forward to their next lesson.
2. Safety First – Just because it's not summer doesn't mean children aren't near water. Whether it's ponds, lakes, the ocean, etc, or even a pool in their friend's back yard, continuing to learn swim techniques and becoming a stronger swimmer can help reduce the chance of an accident should a child fall into a body of water.
3. Swim Parties – If you live in SoCal like we do, swim parties can pop up throughout the year. And if your child is rusty on their swim techniques, they may not be as confident in their swimming skills when a party comes around. By continuing their swimming lessons, they'll be a pro at the next swim party.
4. Reiterate What You've Learned – Practice makes perfect, right? As each lesson passes, children will learn to become a stronger swimmer and gain confidence in their ability in the pool. There won't be any down time to get rusty!
5. Creating A Love of Swimming – My children are water babies. As soon as they see water they get excited. I can only hope that by continuing swim lessons, they've created a love of swimming that will last their whole lives.
6. Great Exercise – Swimming is a great stress reliever but it's also great exercise as well. Plus? It's not hard on joints or bones so it's great for all ages. And there are so many ways to challenge oneself in the water. From underwater weights, to water aerobics, to laps, there are great opportunities to strengthen and stay fit.
7. Individual and Team Sports – With a love of water, and great exercise, comes great opportunities. From water polo, to competitive swim, there are so many different sports for children to learn after they've mastered the basics of swimming. This can help them greatly in the years to come.
8. Helps Kids In School – Your kids' time in the pool can translate to higher grades in school. Swimming has been scientifically linked to an better academic performance. Studies have found that children who swam during their developmental years achieved several physical and mental milestones faster than their non-swimming counterparts. How cool is that?
9. It's Fun! – I don't know about you but some of the best memories I have of the water are good ones. My friends and I playing marco polo, or siblings diving off my Grandma's diving board into her pool. Running into the ocean and swimming out just a tad farther than I could touch and riding the waves back into shore while body surfing. Water can be fun when you have the skills to do so.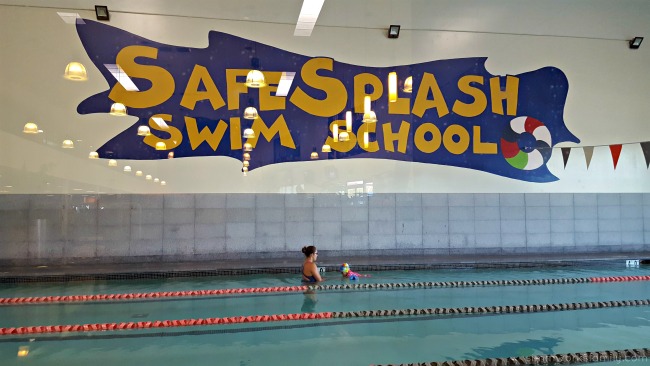 With over 150 locations across the US and Mexico, The SafeSplash/Swimtastic brand family is the largest and fastest growing group of swim schools for kids in North America. At each one of their swim schools, they understand swimming is a life skill® that is extremely important to your child's safety and development.
To learn more about SafeSplash swim schools and see if there's a location near you, check out www.safesplash.com and www.swimtastic.com. You can also check out their blogs at https://www.safesplash.com/blog and http://blog.swimtastic.com.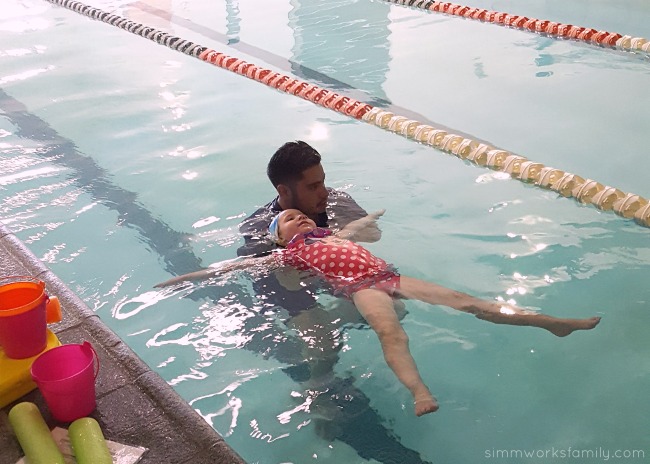 Are your kids in swim lessons?
Want to read more? Consider these articles: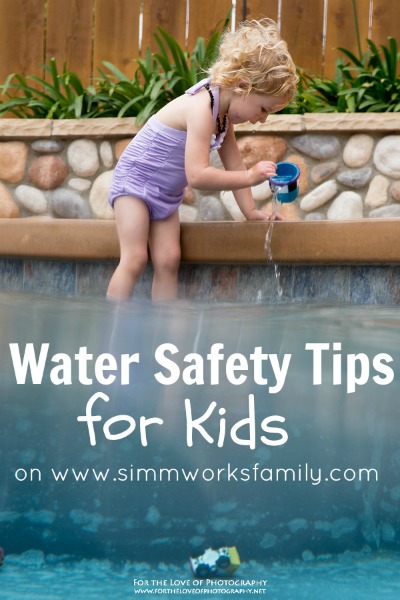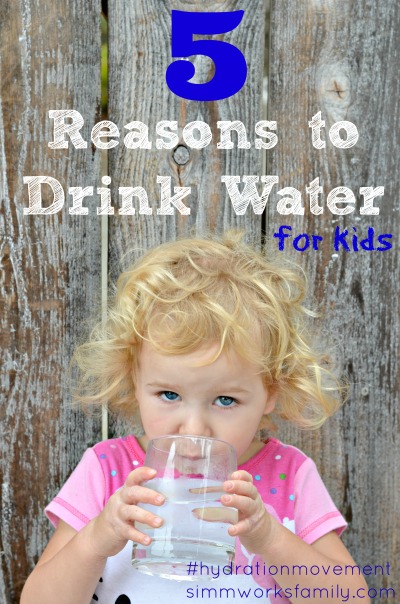 5 Reasons to Drink Water for Kids