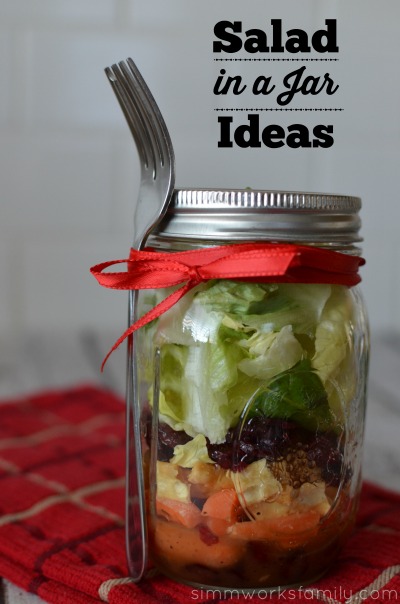 Even though I work from home, I need something quick and easy for lunch or else it's 3pm and I've realized I haven't eaten since breakfast. So when I saw a few salad in a jar ideas I knew I had to create a few of my own.
So when Fresh Express sent out a few coupons for me to test out their salads and partake in their 30-day Salad Swap challenge. Basically the challenge is to take mealtime favorites that are higher in calories and swap them for a delicious, lighter salad creation.
I just took the challenge one step further and put my salad creation into a jar for easy access and easy storage. Now I just have to grab a salad from the fridge and chomp away as I work without actually having to prepare anything! Win-win.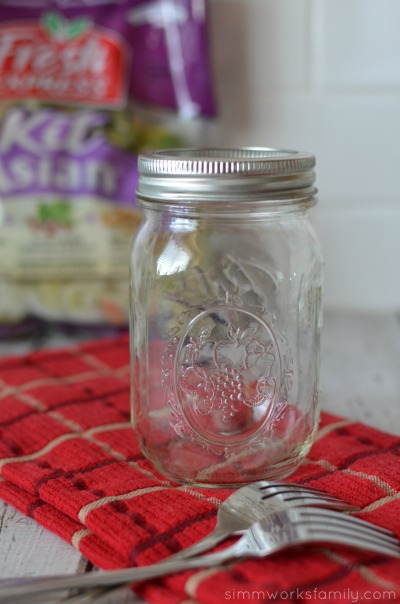 Lunches in a mason jar make perfect sense. And being able to prep my lunches ahead of time made the challenge that much easier. I can prep 5 salads on a Sunday to enjoy during the week and, because of the layering, each one tasted just as good as the last.
Plus with the Fresh Express salad kits, creating great flavor combos to mirror my favorite lunchtime meals was simple and easy. By starting with a salad kit as my base I didn't have to worry about having a ton of different toppings on hand.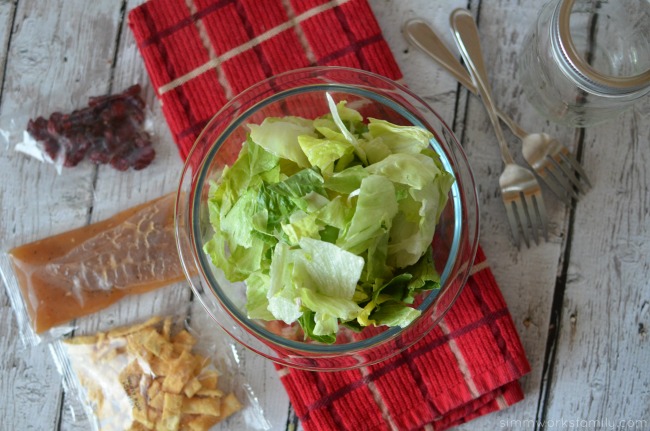 How to Make a Salad In A Jar
Grab a Fresh Express salad kit
Add in some of your favorite additions (proteins like chicken or cheese, extra veggies, etc)
Layer the salad kit and additions starting with the dressing first. Then add veggies, protein, toppings, and end with your lettuce
Screw on the jar lid and label/date each jar
Place in the fridge to hang out until you are hungry
Salad In A Jar Ideas
Shrimp Pad Thai Salad using Fresh Express Asian Chopped Kit (divide in 4 jars)
Fresh Express Asian Chopped Kit dressing
cooked shrimp, peeled and deveined
lemon, juiced
2 tbsp extra virgin olive oil
1/2 teaspoon kosher salt
1/2 freshly cracked black pepper
cranberries
wonton strips
lettuce
Santa Fe Style Chili Salad using Fresh Express Caesar Salad Kit (divide in 4 jars)
Fresh Express Caesar Supreme Kit  dressing
cooked flank steak, seasoned with taco seasoning
1 cup yellow corn kernels
1/2 medium red onion, thinly sliced
1 basket cherry tomatoes, cut in half
croutons
cheese
lettuce
Chimichanga Chicken Salad with Fresh Express Hearts of Romaine (divide in 4 jars)
1 cup tomatillo salsa
juice of 1 lime
1 cup (4 oz) rotisserie chicken breast, skin removed, hand shredded
1 avocado, diced
3 green onions, thinly sliced
2 cups pinto beans, canned, drained, rinsed
1 cup monterey jack cheese, shredded
Fresh Express Hearts of Romaine, chopped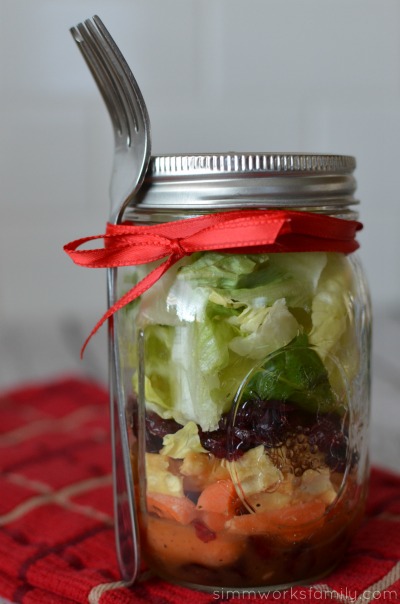 What is your favorite lunchtime meal?