This past week I hosted an event at my house sponsored by Renew Life Probiotics. We enjoyed delicious food, tried new things (kombucha!), and had a frank discussion about gut health. Yup. We went there. But one thing I learned was that I'm not alone in my gut health issues. And there are a lot of things I could be doing differently to take better care of myself. So I'm sharing a few tips for gut health along with a recipe for delicious Bacon Brie and Sauerkraut egg cups. Yum!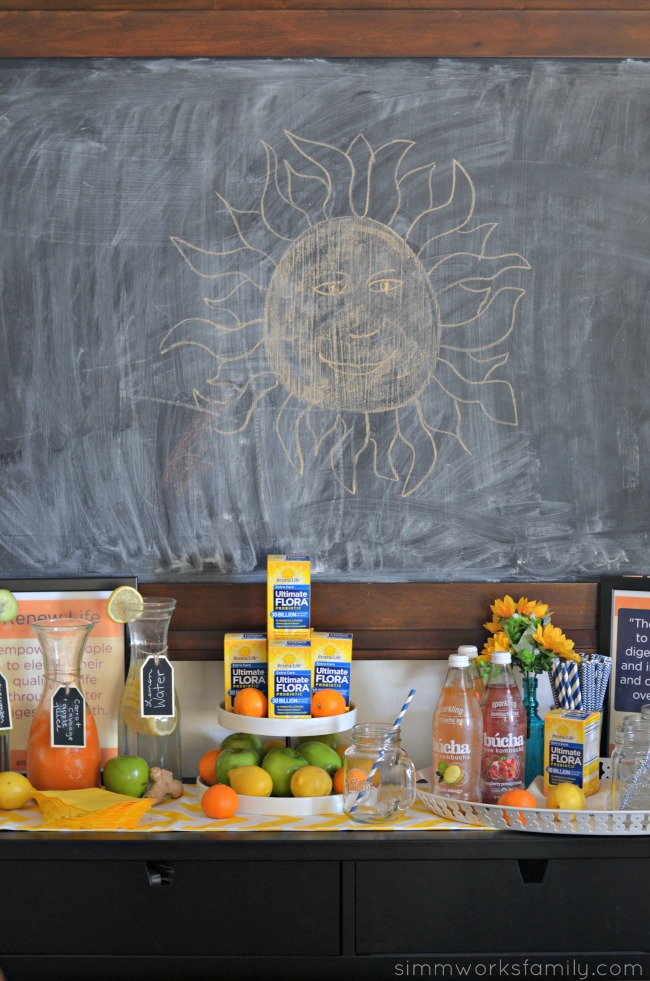 All of my life I've had stomach issues. And I always assumed it was related to the ulcer that first developed when I was a pre-teen. Heartburn, tummy trouble, and digestive issues were always something I dealt with. And to be honest I just assumed it was normal. Didn't really think anything more of it. Then I got older, I read more about our body and how everything is connected, and tried to see if there was something else going on.
Fast forward about a decade and I've finally figured out a solution to my issues. Probiotics.
No, seriously! While I only used them previously alongside antibiotics (for both myself and the kids), I've now started taking probiotics daily and boy have I noticed a difference. But that's not the only change I've made. Probiotic rich foods, plenty of water, and healthy changes in diet can also play a huge role in gut health and one's comfort. Opening the conversation with my guests allowed to me to learn more about how I can be proactive and focus on self care in the new year.

Tips For Gut Health
The "gut" is considered the core of your body's overall health and well-being and can affect your entire body, including immunity, digestion and more. So that means paying attention to your gut health should be pretty high on your list of priorities.
Here are a few ways to do just that:
1. Start taking probiotics –
To help keep your complex digestive system thriving and restore good bacteria, Renew Life Ultimate Flora Probiotics deliver unique, potent formulas that contain tens of billions of cultures, and multiple probiotic strains to help achieve better digestive and immune health.*
2. Drink plenty of water –
Drinking enough water is so important for healthy digestion. Water helps break down the food you eat and allows waste to pass more easily through the intestines. It also helps boost nutrient absorption. Water also softens stool, which helps to prevent constipation. Yup… we're getting real! If you aren't a huge water drinker, you can infuse your water to make it taste delicious.
3. Talk about your gut health –
Whether it's with friends, your doctor, or family, don't be shy about speaking up about your gut health. If something doesn't feel right, you more than likely need to change things up. Nearly two in three women (64 percent) aren't willing to talk about gut issues with their friends. And with almost three quarters of women (72 percent) experiencing a digestive/gut issue in the past 12 months with gas/bloating (53 percent) being the most reported issue, you aren't alone.
Nearly a quarter of women (22 percent) don't consider the status of their digestive health when they think about their overall health and wellness, but it can affect your entire body, including mood, memory, immunity, digestion and more. By being proactive and talking about your issues, as well as taking probiotics regularly and getting enough water, you can help increase immunity, lessen the negative effects of gut issues, and find relief.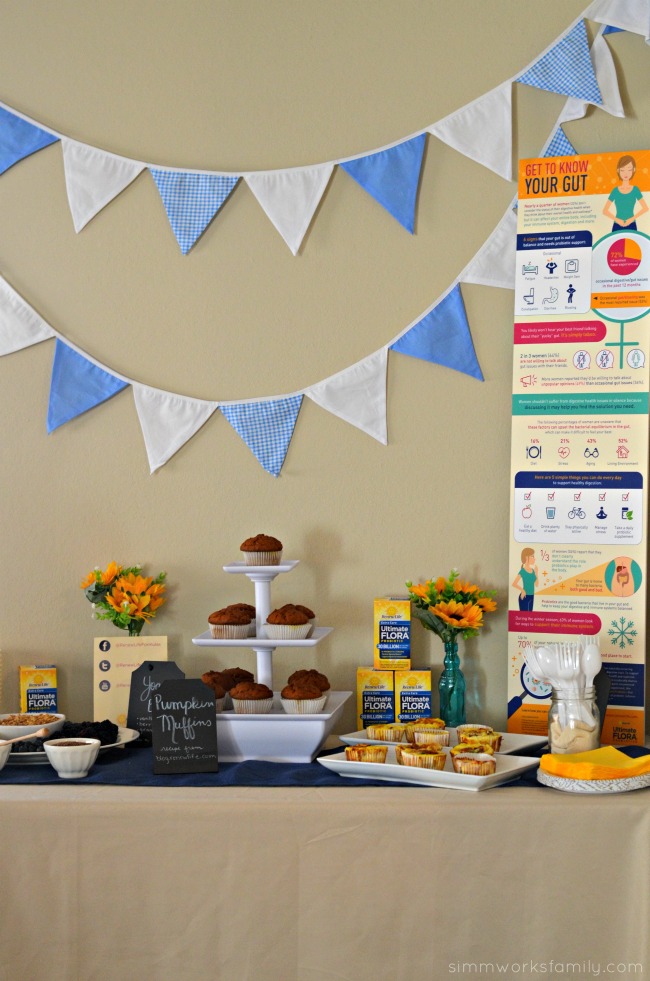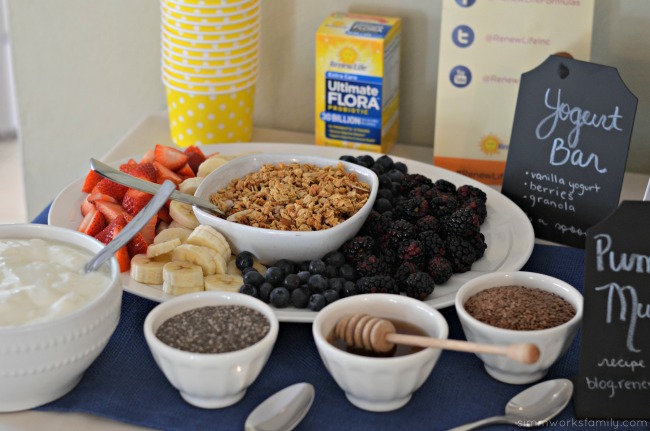 Gut-Friendly Probiotic Rich Foods
In addition to taking probiotics, you can also find them naturally in these probiotic-rich foods that are hosts to the good bacteria our guts need:
Yogurt
Kefir
Sauerkraut
Miso Soup
Kimchi
Tempeh
Kombucha
Pickles
While some of these are easy to enjoy in our diet, others need a little… sneaking in. You can only eat so many hot dogs with sauerkraut. So finding other dishes to make with probiotic rich foods can give you more variety in your diet.
The Renew Life blog also has some great recipes as well! We made the fresh carrot, cabbage, and apple medley juice and quick and easy whole wheat pumpkin muffin recipes for this event and they both tasted so good!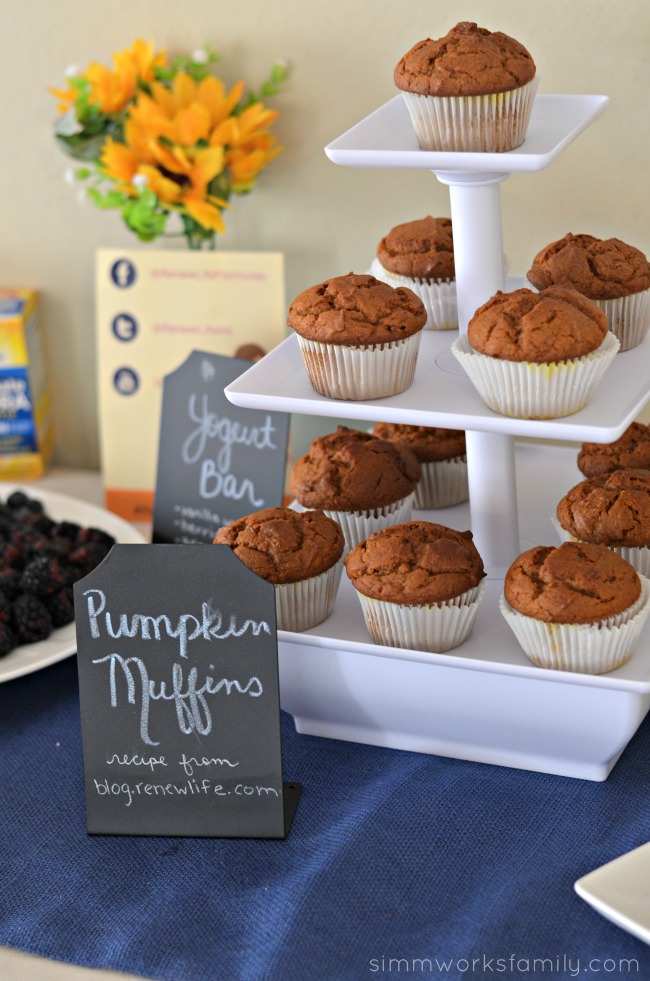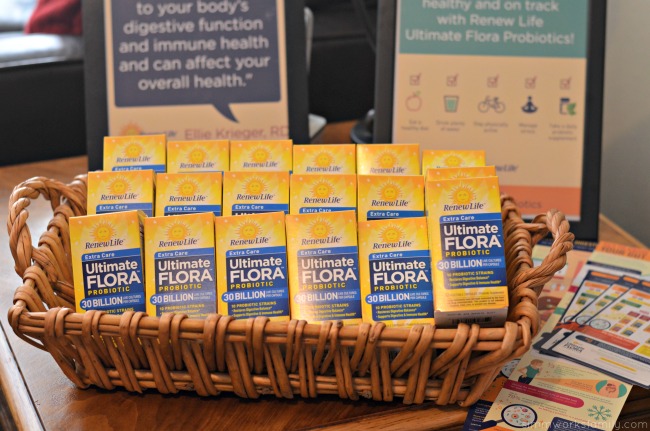 Probiotics 101
A proper functioning gut, containing a delicate balance of both good and bad bacteria, helps with digestive and immune health.
There are more than 100 trillion bacteria of many diverse strains inside your digestive tract which need to be balanced in order to keep your body healthy.
70% of the immune system is located in the intestinal tract, therefore, maintaining gut health is a key part of maintaining your overall health.
Signs that your gut is in need of replenishment and balance can include occasional bloating, constipation, diarrhea, fatigue, headaches, and weight gain among others.
Experts agree that taking a probiotic supplement like Renew Life Ultimate Flora Probiotic is a good way to help support balance in the digestive tract and replenish the good bacteria found in a naturally diverse and healthy gut. It is reported that a person typically feels a difference after taking a probiotic supplement for 7-14 days.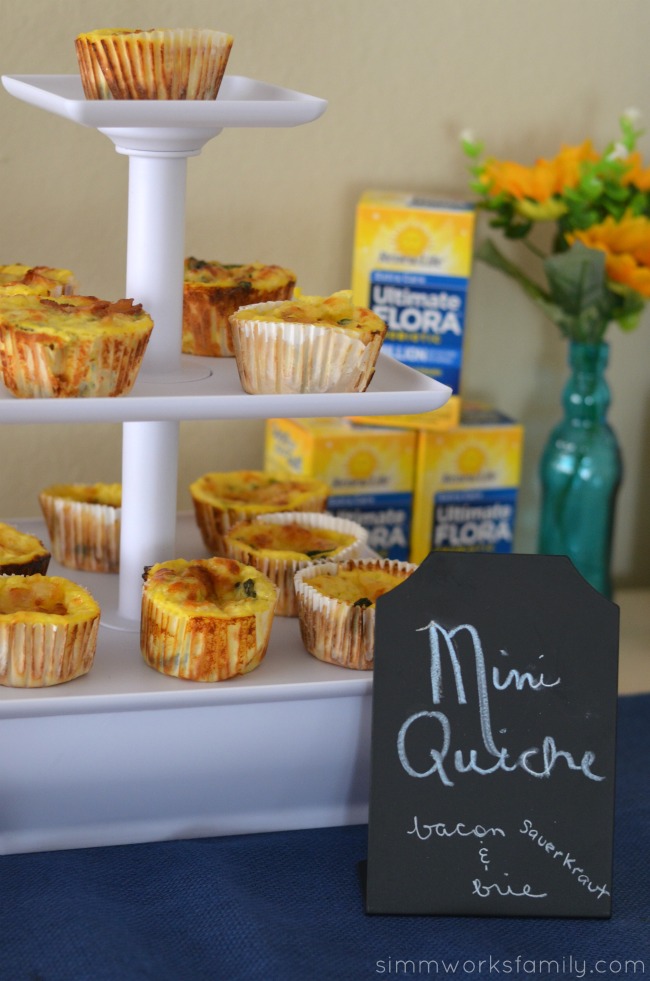 Bacon Brie and Sauerkraut Egg Cups
A variation of this recipe
1 tablespoon olive oil
2 cubes frozen sauteed glazed onions (or 1/2 an onion, diced)
2 cups fresh spinach
6 slices cooked bacon, chopped
1/2 cup sauerkraut
6 eggs
1/2 cup milk
1 container 16oz cottage cheese
1 8oz package of shredded cheddar
salt and pepper
2oz brie cheese
Preheat oven to 375 degrees. Add oil to large skillet and heat on medium high on the stove. Once hot, add onions to pan and saute 2-3 minutes. Then add spinach and cook until slightly wilted. Toss in bacon and sauerkraut and set aside to cool.
While spinach/bacon/onion mixture is cooling down, add eggs, milk, cottage cheese, and shredded cheddar to a bowl and mix together. Add salt and pepper to taste (about 1 teaspoon salt, 1/2 teaspoon pepper). Drop pieces of brie cheese into the mixture and fold in. Then add spinach/bacon/onion mixture to eggs and combine.
Line 2 muffin tins with baking cups or spray well with cooking spray if not using baking cups. Using a large cookie scoop, scoop mixture into the muffin tin wells filling about 2/3-3/4ths of the way up.
Baket at 375 for 30-35 minutes or until top is starting to turn golden brown. Let cool 2-5 minutes and serve.
Makes approximately 24 but could get more if you scoop less into each cup.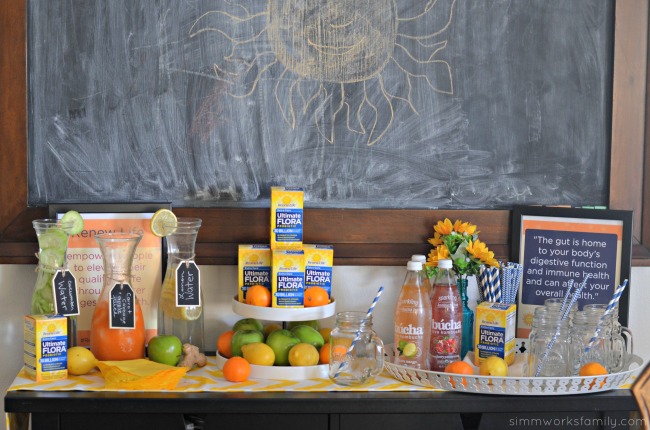 What are your favorite gut-friendly foods?
*These statements have not been evaluated by the Food and Drug Administration. These products are not intended to diagnose, treat, cure, or prevent any disease.
**This survey was conducted online within the United States by Harris Poll on behalf of Renew Life Probiotics from November 9-11, 2016 among 1,127 U.S. women ages 18 and older. This online survey is not based on a probability sample and therefore no estimate of theoretical sampling error can be calculated. For complete survey methodology, including weighting variables, please contact Katie Young at Katie@pdcpr.net.
This is a sponsored post written by me on behalf of Renew Life Probiotics.