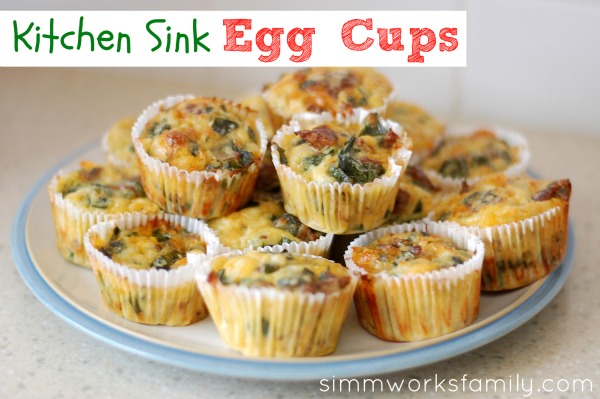 One of my favorite meals of the day is breakfast. The versatility of it, the flavors, the mimosas you can pair with it… So I love making breakfast foods. There's one breakfast recipe that I make that EVERYONE asks for once they've tried it. And it's a recipe I never make exactly the same each time. Don't you love those types?
These egg cups are easy, portable, and re-heatable. You can switch out the meat, veggies and cheese for any other kind and they'll taste equally as good. I love to add chicken sausage to give it a little kick every once in a while.
If you have a brunch to attend or a playdate to go to, bring these! They're sure to be a hit. I know they're a hit at my playgroup. And I have to thank my friend Rachel for introducing me to them.
Kitchen Sink Egg Cups
4 pieces bacon, crumbled
8 eggs, beaten
1 (16 ounce) container fat free cottage cheese
1 cup low fat cheddar cheese, shredded
1 onion, diced
3 cups swiss chard, washed and cut into small pieces
1/2 cup all-purpose flour
1/2 cup butter, melted
1 teaspoon baking powder
1/2 teaspoon salt
Place bacon in a large, deep skillet. Cook over medium high heat until evenly brown. Drain and set aside to cool. Crumble or cut up into smaller pieces.
Add onions into pan and sautee. When almost done add swiss chard and cook until wilted. Set aside to cool.
In a large bowl, combine eggs, cottage cheese, cheese, veggies and cooled meat. Cover and refrigerate overnight (or use right away).
The next morning, preheat oven to 350 degrees. Remove cheese mixture from refrigerator; stir in flour, butter, baking powder and salt. Spoon batter into 24 lightly greased muffin cups.
Bake in preheated oven for 25 to 30 minutes, until cups are slightly golden on top.