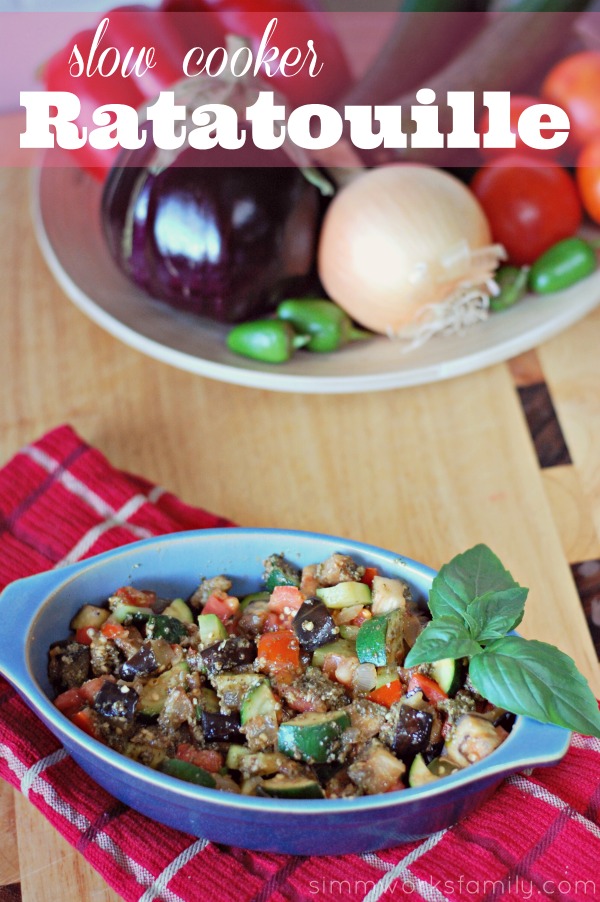 We've been growing eggplant in our garden this year for the first time and I cannot believe how well it's doing! So much so that I'm starting to exhaust my resources with what to do with eggplant. I mean you can only make so much eggplant parm. So this week I went to my favorite slow cooker ratatouille recipe. Easy, simple, and tastes amazing!
I gotta say though, the one reason why I hadn't shared this recipe on the blog yet was because I can never get a good photo of this ratatouille. Seriously. I can't. So if the photos don't look as appetizing as some of my other dishes, don't be scared away! This truly is a delicious vegetarian dish that I love.
And if you have any other eggplant recipes to suggest please send them my way! I'll be needing them.
Slow Cooker Ratatouille Recipe
1 medium eggplant
2 zucchini
1 onion
1-2 cloves garlic, minced
2 tomatoes
1/4 cup pesto
salt and pepper to taste
Dice up the eggplant, zucchini, onion and tomatoes. Add onion and garlic to a pan and saute for 1-2 minutes. When garlic gets fragrant add eggplant and zucchini. Sautee until onions are translucent.
Dump all of the veggies into your slow cooker and top with tomatoes. Cook on low for 4 hours. About 30 minutes before serving stir in pesto and add salt and pepper to taste.
Serve with some delicious corn cakes or corn bread and enjoy!
Have you cooked with eggplant before?