This shop featuring a Candy Corn Inspired Tablescape plus a Starburst Wrapper Napkin Ring Tutorial has been compensated by #CollectiveBias, Inc. and its advertiser. All opinions are mine alone. #SweetOrTreat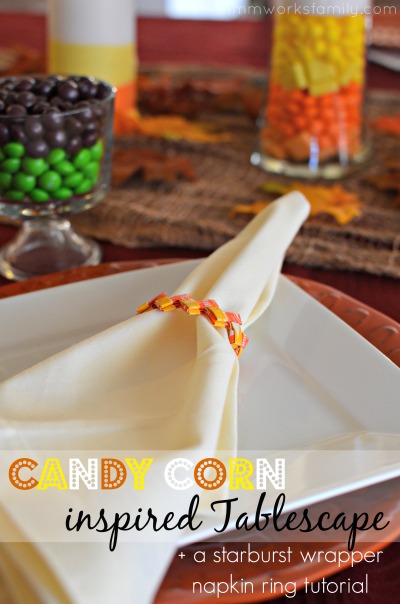 Fall is FINALLY in the air (it was actually 65 this morning when I dropped the kids off!) and that means I'm ready to bust out the Fall and Halloween decor to get the house ready for the kick off of the holiday season.
It doesn't matter that it's still 80 degrees in the afternoon. It's time to push Summer aside and welcome Fall with open arms.
Last year I made these candy corn candles so this year I wanted to create a full tablescape inspired by them.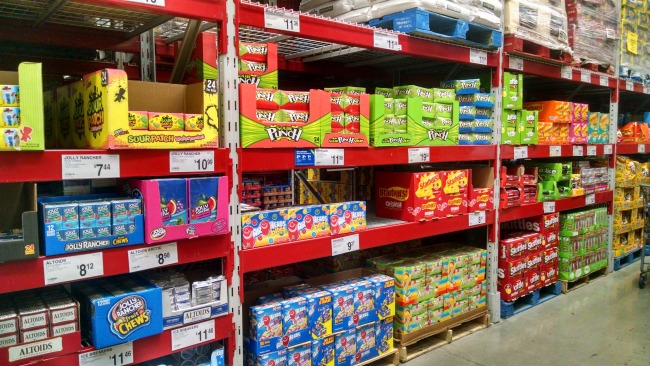 Luckily I just picked up a Skittles & Starburst 30 Pack from Sam's Club for Trick or Treaters so I channeled by my inner middle schooler and grabbed a few packs of Starbursts.
Did you make Starburst wrapper chain bracelets when you were younger? It was always a fun way to pass the time during lunch with my friends. We'd add to ours each day.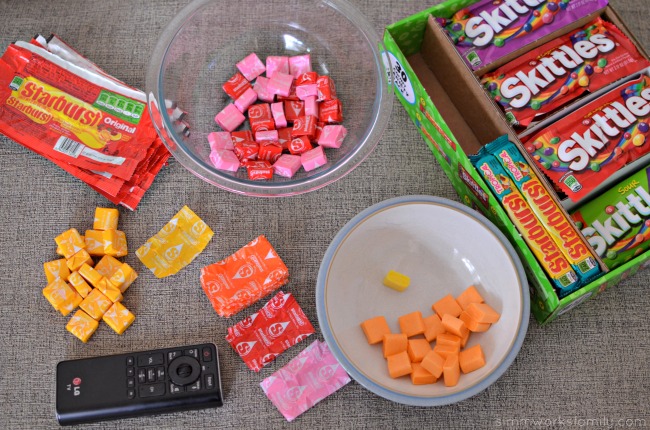 By using the wrappers I made a chain of wrappers into a starburst wrapper napkin ring. And since I couldn't eat all of the candies (I really don't care for the yellow or orange anyway – can you tell I snuck a few red and pinks?) I decided to use the candies to create a candy corn centerpiece along with the two candy corn candles I made last year.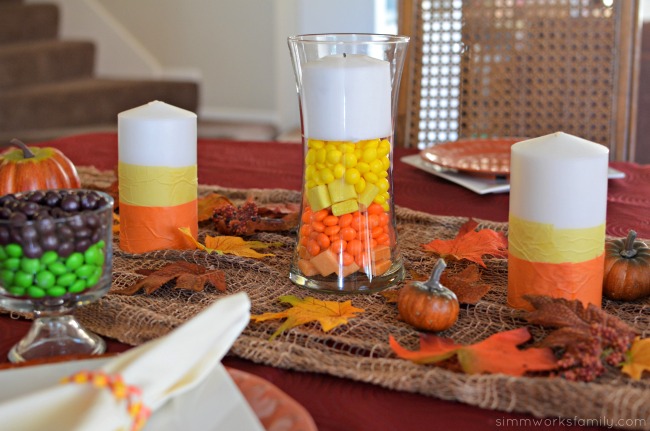 I grabbed the original Skittles packages from the box and dumped them into a bowl to let my kids sort them by color. The kids had a blast helping out and didn't even sneak one piece while finishing their task.
By layering the orange and yellow Starbursts and Skittles in a vase and topping with a white candle I was able to create a candy corn vase to go in between the other candles.
And candy corn isn't the only thing you can make with your skittles and starbursts!
Here is a Frankenstein inspired candy dish I added to the table for guests to nibble on. Green on the bottom and purple on top for the hair.
I also considered getting more orange skittles and adding green to the top for pumpkins.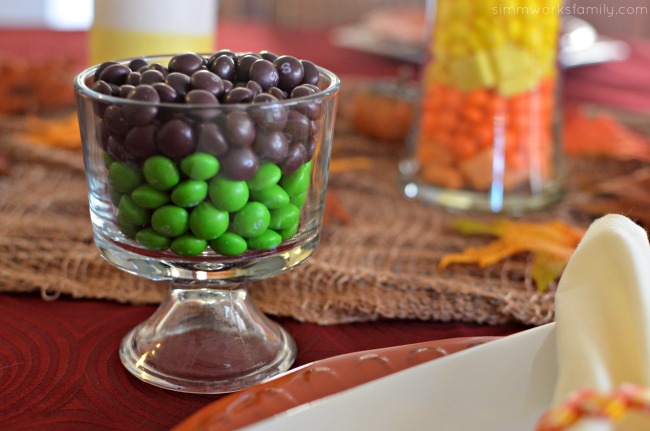 I found it quite easy to incorporate the candies and wrappers into this candy corn inspired tablescape and cannot wait to plan a candy-themed fall party for my playgroup using these ideas.
Once I started to think of ways to incorporate the two I was able to think of a handful of ideas to create even more with candy.
I plan on using some of the Skittles to outline placecards (superglued onto the placecards) in alternating oranges and yellows and creating little treat bags out of the Starburst wrappers for each guest. I'm sure they'll love it!
Candy Corn Starburst Wrapper Napkin Ring Tutorial
What you need: 
orange and yellow Starburst wrappers from ~ 6 Starburst packages
stapler
What you do (see photos for step by step help): 
Place yellow Starburst wrapper color side down and fold in half lengthwise (hot dog).
Fold long sides of wrapper towards the center of the wrapper parallel to the crease and press down along the edge.
Fold long sides of wrapper again towards the center parallel to the crease.
Fold in half lengthwise (hot dog).
Fold in half width wise (hamburger).
Fold each side into the middle.
Fold in half putting sides into the middle.
Repeat with an orange Starburst wrapper.
Grab one of the pieces and slide into the second piece in between the gaps made by the folds to start a chain.
Repeat until you have a long enough chain for your napkin ring.
Attach ends together by tucking one side into the the other and stapling the two ends together.
Slide napkin ring holder onto cloth napkin and add to your tablescape!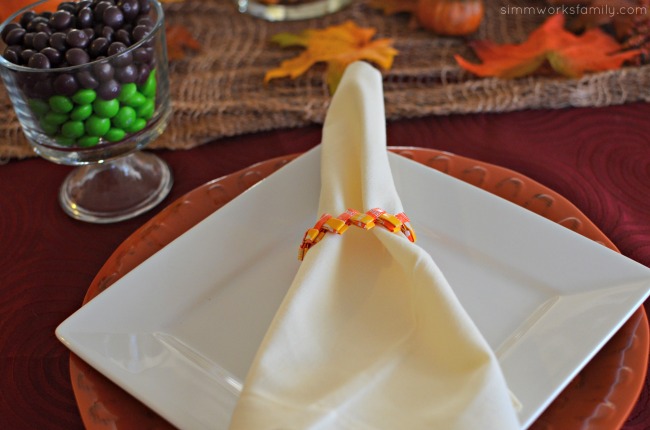 Do you decorate with candy or candy wrappers?