When I first started thinking of what I wanted in the kids bedroom, the one thing that kept coming to mind was toy storage. I mean, we have a playroom that can contain many of the toys we have, but we had nothing to contain all of the stuffed animals my son and daughter have collected.
The only thing I could think of getting was the stuffed animal hammock I had when I was growing up. And when looking at the layout of my kids room I just couldn't do it. Not only would the hammoc either block a window, closet door, or doorway, it just wouldn't be easy for the kids to access their animals without getting myself or their father to get what they wanted.
We prefer a more self sufficient child.
So when I was perusing Amazon for a solution I was pleasantly surprised to find an amazing product that not only stored my kids stuffed animals, it also served as a chair or cushion for the kids after it was stuffed.
Multipurpose storage? Yes please!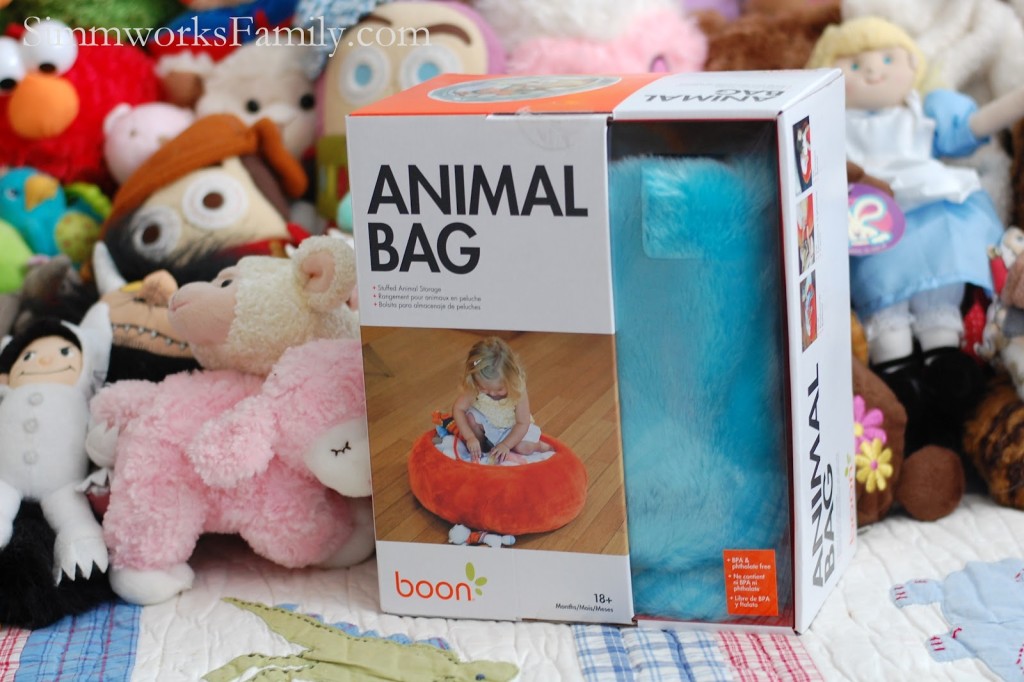 The Boon Animal Bag not only stores stuffed animals, it stores a LOT of stuffed animals.
Here's a look at about 1/2 of the stuffed animals in our home: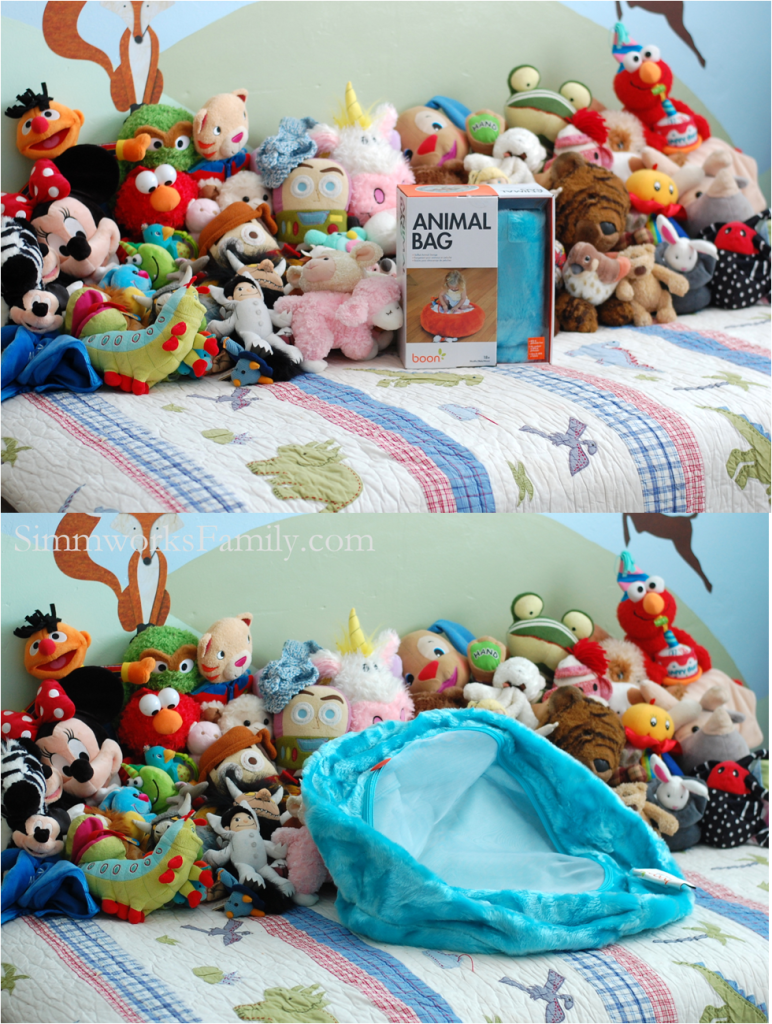 And here's a look at 1/2 of those in the boon. See how there's still room in there? Yeah, all of those stuffed animals fit in that little Animal Bag. SO awesome!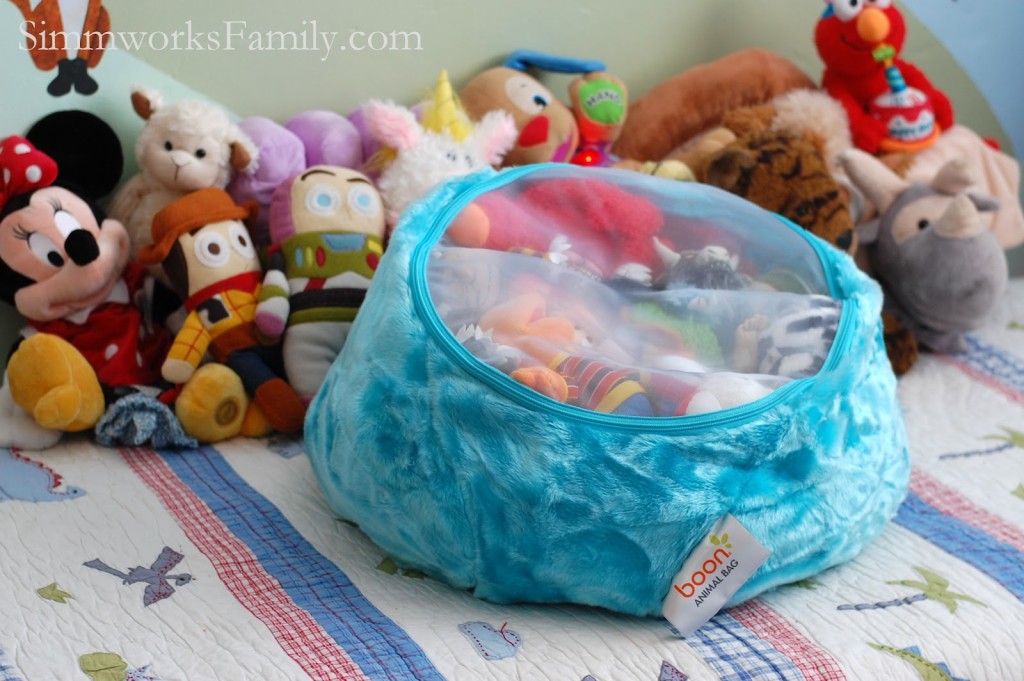 The Boon Animal Bag easily zips open and shut to allow your child easy access to any of their favorite stuffed creatures. And the cover is a breathable mesh! So the stuffed animals wont suffocate! No having to explain anything to little Billy or Suzy.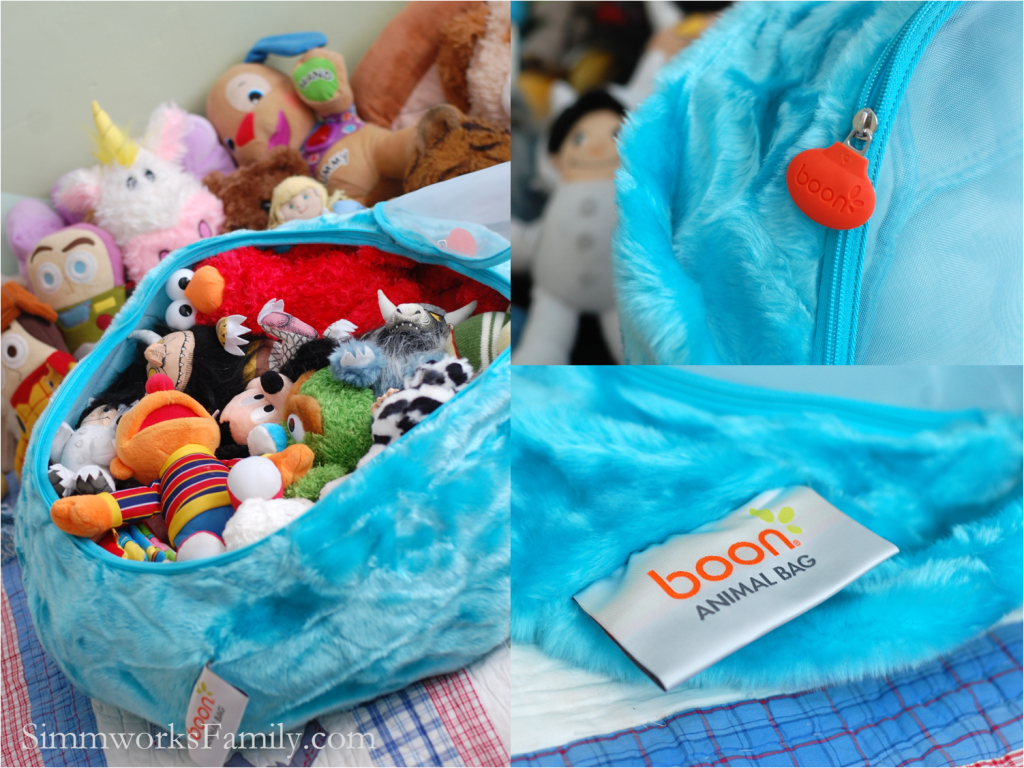 And as I said before, after the Animal Bag is stuffed, your child can use it to sit on and enjoy a book or two. Or you can use it to prop other larger stuffed animals.
We love to use our Animal Bag for story time before naps and bedtime. Our kids curl up on it and get all comfy before we dive into the book we're reading. And they love leaping from their beds onto the bag. All that cushion makes mama a little less anxious (but still keeping a watchful eye!).
The Boon Animal Bag is a soft, easy-to-use storage solution for those toys that get scattered all across your house. And with the simple zippered pouch, the kids can get involved in clean up to help pick their own toys up and store them away.
Interested in purchasing a Boon Animal Bag for your home?
You can head on over to the Boon website or check out Amazon.com
.
And don't forget to head on over to visit Boon on Facebook or follow them on Twitter! There's always something new in the works and you wouldn't want to miss out on hearing about an awesome product. I know we have quite a few Boon items in our home and we absolutely love them!
Want to WIN a Boon Animal Bag? 
The Noise Girls have yet again put together an amazing giveaway event just for your family! And Boon has joined in on the fun to offer one lucky reader a Boon Animal Bag of your very own in this giveaway.
The For the Family giveaway event starts on September 1st so please remember to hurry back and enter for your chance to win. You won't want to miss what we have to offer!
Disclaimer: I received a Boon Animal Bag for review purposes only. Regardless, I only recommend products or services I use personally and believe will be good for my readers. All opinions are my own and are not influenced by monetary compensation.