This post featuring a delicious Bacon Wrapped Chicken Stuffed With Artichoke Dip recipe is sponsored by Foster Farms®, the opinions expressed are my own.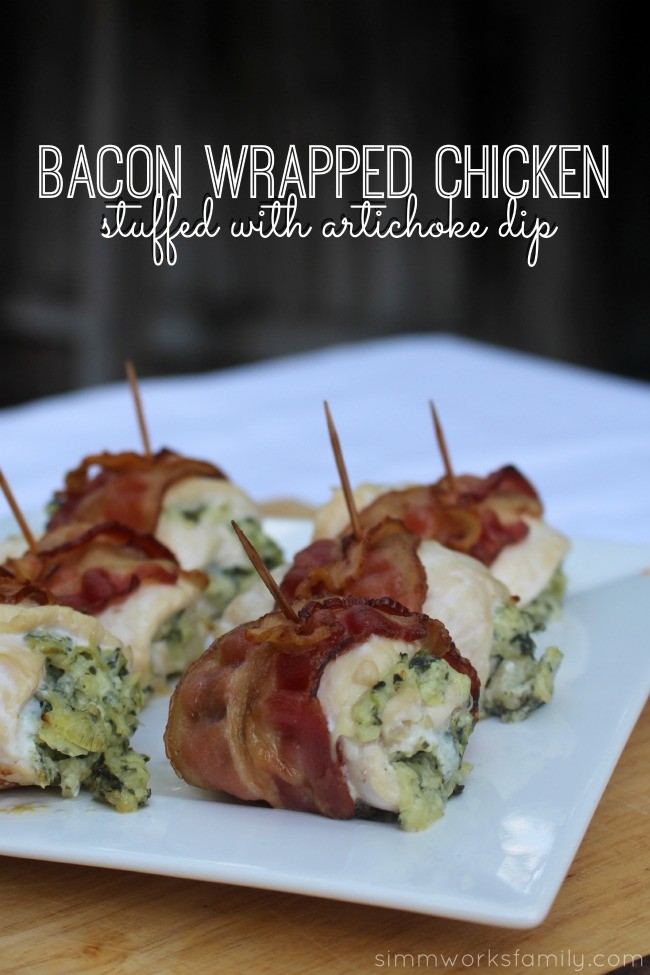 When making dinner for the family I hate having to think of preparing two seperate meals. For the most part I choose at least one thing – whether it be the main course or one of the side dishes – that I know each kid likes and then prepare the rest depending on what we have on hand.
However sometimes with a few tweaks I can turn one meal into two: a grown up meal and something more kid-friendly. How awesome is that? Same amount of time with two delicious main courses. With three kids I need 30 minute meals or less and these recipes make that happen.
The bacon wrapped chicken stuffed with artichoke dip takes a few of my favorite things – bacon, artichoke dip, and chicken – and marries them ingredients together to form an amazingly delicious meal. Plus artichokes are in season right now so you can find them everywhere. And the homemade chicken nuggets… need I say more?
We try to stock up on produce when its in season or grow it in our garden. Not only does it taste better but it can also be cheaper. Another thing we do that keeps costs low is purchase our chicken at Costco.
Foster Farms® Organic chicken is in Costco now and in grocery stores in the fall. This means we can purchase USDA Certified Organic chicken in bulk to save money and stock our freezer. Free range, organic vegetarian fed AND locally grown in California!
Since my daughter has requested that we not eat our chickens once they stop laying I need to go somewhere for chicken!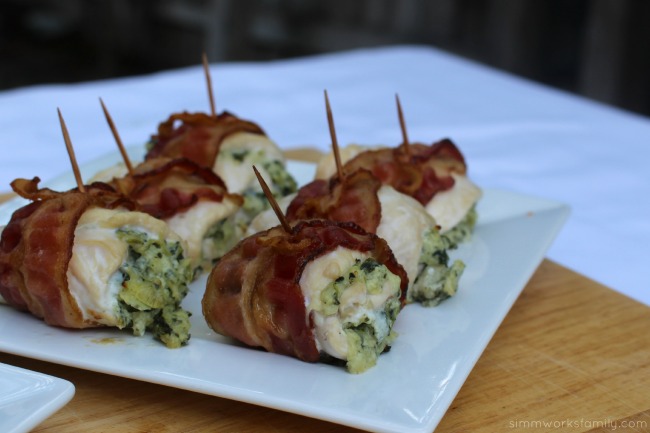 The bacon wrapped chicken stuffed with artichoke dip is so simple! And if you just hosted a party where you made artichoke dip and have leftovers then its super easy to throw together. But don't worry, you can purchase artichoke dip at your local grocery store if you don't want to make it.
So 3 ingredients and you have a grown up chicken dish that'll make you feel all awesome about yourself for making. And?? It works great or parties too! So do the nuggets.
Bacon Wrapped Chicken Stuffed With Artichoke Dip
Ingredients
chicken tenderloins (or breasts cut into 3 1″ thick strips)
artichoke dip
pre-cooked bacon
Directions
Preheat the oven to 375 degrees. Place the chicken tenderloins on a piece of plastic wrap. Cover with a second piece of plastic wrap and, using a rolling pin or meat tenderizer, hit until flat.
Remove the plastic wrap and place a spoonful of dip on and spread over the whole piece of chicken. Taking the thicker/wider side of the tenderloin, roll the chicken up.
Take a piece of bacon and wrap that around the rolled chicken. Keep in place with a toothpick.
Cook for 20 minutes and serve.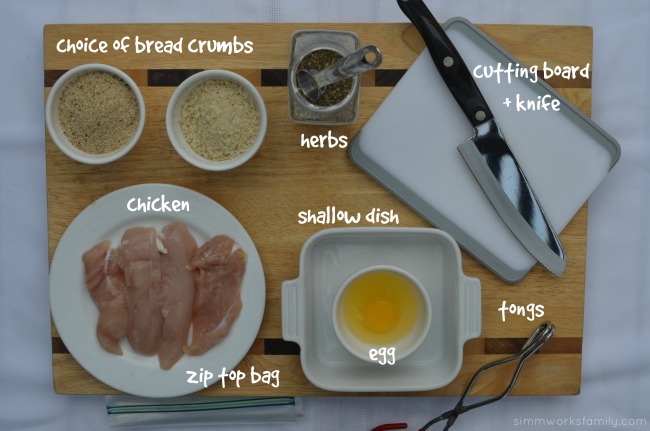 And now for the nuggets… so easy but SO good! And I've skipped a few steps that I used to include for simplicity.
Homemade Chicken Nuggets
Ingredients
chicken tenderloins
1 egg, whisked
1/2 cup panko or regular breadcrumbs
1 teaspoon Italian seasoning
salt and pepper to taste
Directions
Preheat oven to 375. Place whisked egg into a shallow dish. Cut tenderloins into 1 inch pieces.
Place chicken pieces in egg and coat well.
Add bread crumbs and seasoning into a zip top bag. Then add egg coated chicken and close the bag. Shake, shake, shake until chicken is thoroughly coated.
Spread the nuggets out onto a foil-lined sheet pan and bake for 20 minutes. Enjoy!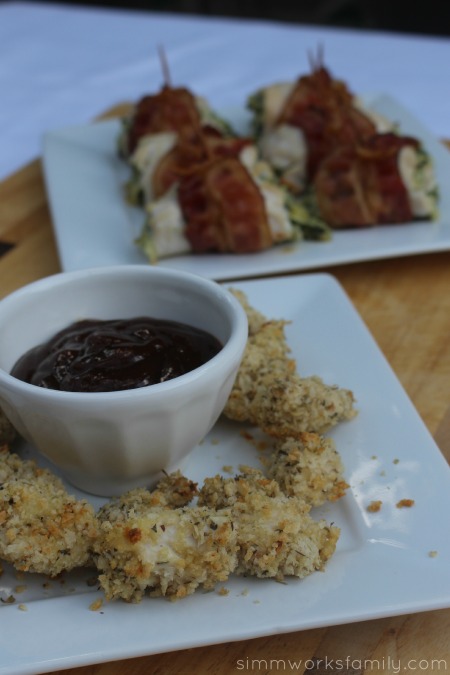 Disclaimer: This post is sponsored by Foster Farms®, the opinions expressed are my own.