I am part of the Microsoft Blogger Program and receive incentives from Microsoft to blog about its products.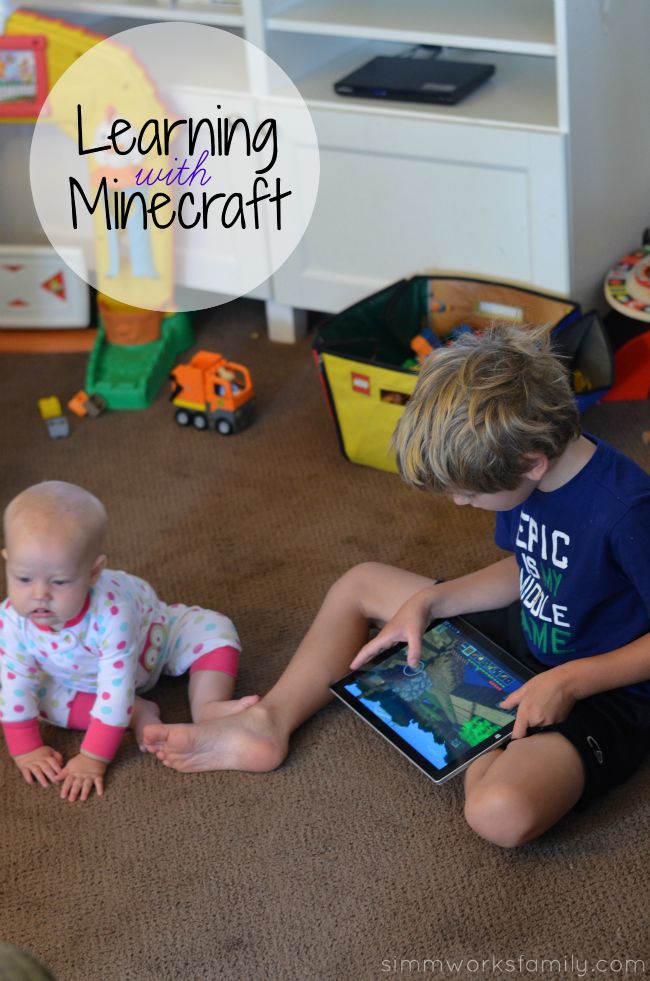 As I have mentioned previously, my son has quite the obsession with Minecraft right now. It all started with a few mentions of Minecraft 1-2 years ago from his cousin. He wasn't too interested back then but learned the basics about what it actually was. We went over to one of his friend's houses for a birthday party before the start fo summer and the kids ended up playing Minecraft after swimming for a few hours. It was then he started begging for us to download Minecraft for him to play at home.
We don't have an updated gaming console that he could purchase a Minecraft game for so I decided to download the Minecraft Pocket Edition on our tablet to try it out. I wasn't quite ready to give him access to our PC just yet and testing the game out on the tablet seemed like the safest idea. No connection to the internet and he got a taste for what Minecraft was all about.
Then we were invited for a pool party at the same friend's house and again they played Minecraft. He realized that the Minecraft he was playing was severely lacking in the options the PC version provided. So I did a little more research on the game and decided he was ready to move up. And luckily a whole new version of  Minecraft was on its way called Minecraft: Windows 10 Edition Beta.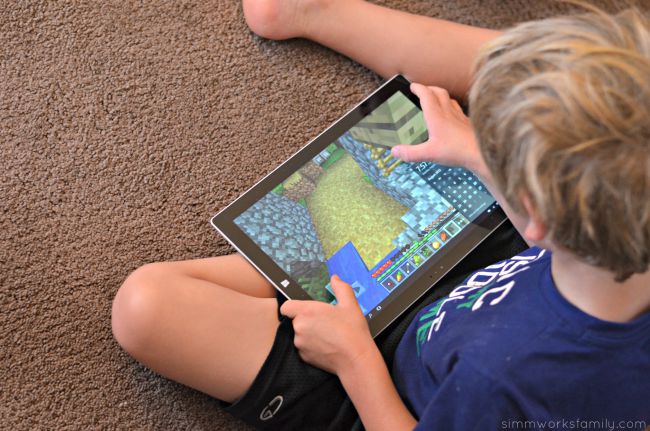 So I bit the bullet when it came out on July 29th and downloaded it onto our Surface Pro 3. Since he was used to playing the Pocket Edition on a tablet, having the full game on the Surface Pro 3 made things easy to transition. He knew exactly what he was doing and in tablet mode could easily maneuver throughout the game with ease.
One thing I love about Minecraft is that it's a gateway into programming and engineering. From choosing what color your character's hair is, to creating new worlds and lands by building up their villages and empires, kids are getting a hands on learning experience through gaming. And my son is eating it up!
At first I was worried he'd become "addicted" to the game and always want to play it. And in the beginning he did go a little crazy. He'd constantly ask me to log him in to play (safety first, right?). But then we roped him in and let him know that he only had a certain time he could play each day. After that was up, he could earn more time by doing a few math problems. But then after that he was done until the next day. So in addition to STEM learning, he's also learning to utilize his time playing wisely.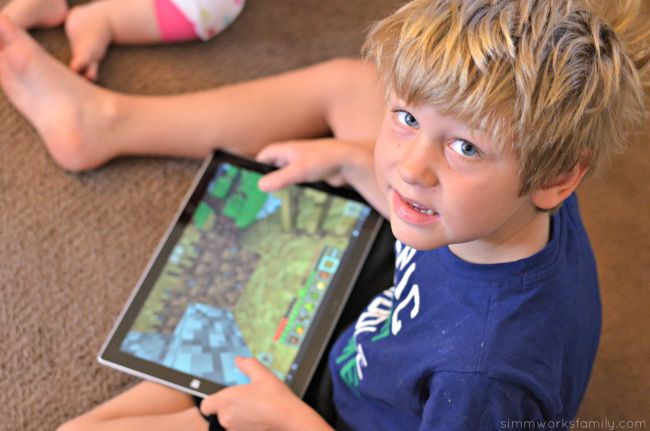 We've kept him offline and for the most part he sticks with the creative mode. This means that he's not interacting with others online yet. And he has all of the building materials he needs. He doesn't need to search for them. At age 6 I'm not quite ready for him to be playing a game online without me being right next to him. But he'll be ready to take on bigger responsibilities in the near future. And this is a great way to start teaching him about the online world.
As I learn more and more about Minecraft and how it can be utilized to spark inspiration in children and get them thinking about STEM topics, I consider the other possibilities of using Minecraft as a teaching tool. I even saw a Minecraft Programming class offered this summer that I would have loved to sign my son up for. I'm still considering tracking down the info again and seeing if they'll offer an after school class or two for his school. What a great way to get kids interested in these subjects, right?
Has your child caught the Minecraft bug? Do you think it's a positive way to increase opportunity for STEM learning?
Just like the first release of Minecraft, Minecraft: Windows 10 Edition Beta will develop and evolve over time with the help of our feedback. Players who already have the PC edition of Minecraft can download the Windows 10 beta version free. Others can download "Minecraft: Windows 10 Edition" at a discounted price of $10 throughout the beta period. 
Players who download "Minecraft: Windows 10 Edition" during the beta phase will still have the game when it comes out of beta, and receive all future updates to the game at no additional cost. Download Minecraft beta or Minecraft Windows 10 Edition at the Windows 10 Store today.