I am part of the Microsoft Blogger Program and receive incentives from Microsoft to blog about its products.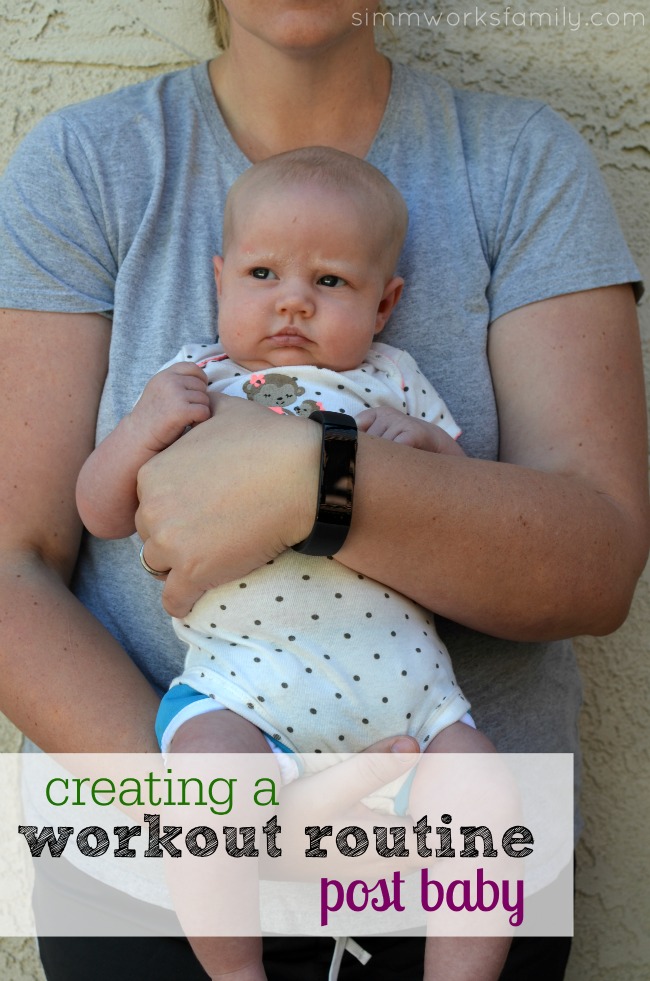 It's hard to believe that my little angel is 7 weeks old already! Over the past few weeks we've been able to find a new rhythm in our home now that we're a family of 5 and I've been using the tools I have on hand to make life easier. One thing I've found difficult is finding the time to jump into a new workout routine.
For some reason now that I've taken over school pick up and drop off from my husband and mother-in-law (they were saints for taking the kids to and from school over the past 6 weeks) I've found that I have even less time during the day to work. And that means less time to workout as well.
So I've had to analyze our new routine and make a few changes here and there to ensure that I'm not only getting my work done and meeting deadlines but also taking care of myself as well. Because if I'm not taken care of, how will I take care of the family, right?
Creating a Workout Routine Post Baby
Stepping On Up
Keeping myself accountable is so much easier when I have tools to track my progress. I love seeing data that shows my achievements and using a fitness tracker like the Microsoft Band has helped me do just that. Not only can I track my daily steps, I can also keep an eye on my heart rate as well to give myself an idea of how much I'm pushing myself and what level of exertion I'm staying at.
Heart rate monitoring is normally reserved for chest straps or high-end fitness trackers. But Microsoft Band has an optical heart rate sensor that tracks your heart rate with incredible accuracy from a compact, wrist worn device. It lets me monitor my heart rate all throughout the day or night, whether it's during workouts, while I'm sleeping, or simply going about my daily routine. And, I can check in as often as I like.
Thanks to Microsoft Band's onboard GPS, I can now run without your phone. It will track everything from my route, to pace, distance, duration, splits and calories burned broken down by carbs versus fats – all of this information will sync up with my phone when I'm back in Bluetooth range.
By tapping on splits, you can see pace per mile and average BPM.
By tapping the heart icon, it overlays your heart rate on the run and shows when you were running in an anaerobic state versus aerobic state, giving a clear picture of how efficiently you're performing.
And it can be hooked up to my RunKeeper app to sync together!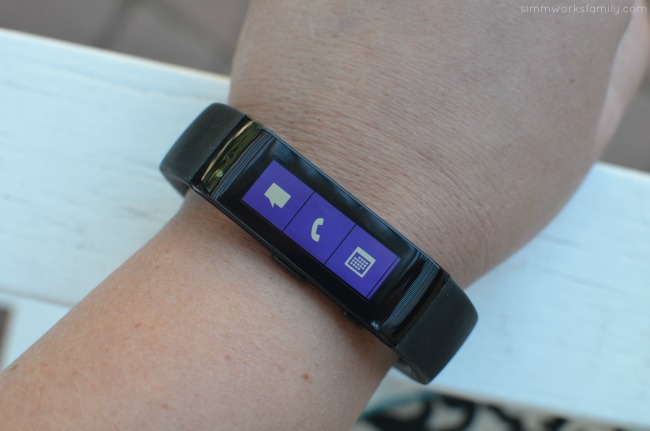 Staying Connected
One thing I always worry about when I head out for a long walk or a run is missing an important phone call or email. Yes, I know it's silly, but when working from home I need to make myself available during the daytime hours and being able to respond to an email right away is important in my line of work.
With the Microsoft Band I can choose to get notified of every email (and read and reply to them!!), every text message, and every phone call that comes in. So when I'm out walking the neighborhood with the baby, or on a hike, I don't miss out on anything. This reduces the excuses I come up with when I carve time out for working out during the day.
I've mentioned a few of these features above but here's a breakdown of all of the things you'll see if you swipe left from the Me tile on your Band:
Calls: When you receive incoming calls, they appear on the screen giving you an option to dismiss, or respond with a preset text message. Tapping directly into the Calls tile, you can see a record of missed calls, voicemail notifications and caller ID.
Emails: Similar to calls, email previews appear right on your wrist. It's perfect for those times when I'm out to lunch, or in a meeting, but waiting for an important email from my boss. You also have the option to tap into the email tile and see a complete list of your unread email.
Calendar: If you're constantly moving between meetings you can see where you need to go next with a simple glance at the wrist. You can also view upcoming meetings and appointments in the Calendar tile.
Texts/Facebook Messenger/Facebook Notifications/Twitter: 

Microsoft

Band also offers notifications for your text messages, and some of your favorite social networks like Facebook and Twitter.
On Microsoft Band, all of these notifications are optional and can be easily turned on or off via the mobile app.
Trying New Things
I love trying new workout routines. It keeps me interested in working out and gives me something new to look forward to. With the Microsoft Health app I can get new workout routines right on my phone. I know exactly what exercises to do, what weights to use, and how many reps to complete. No more guessing when I'm on my own at home. And when I find something I like I can add the workout to my band for easy access. I don't even have to bring the phone out to the garage where my weights are.
Once I'm done I can check out what I've been up to in the Microsoft Health dashboard on my PC or via the app on my phone.
Getting Enough Sleep
Now this one is important with a newborn and without! Most people forget how important sleep is when they're trying to get in shape and get healthy. Getting enough sleep at night is a huge factor in my weight loss success in the past so I keep track of my sleep with my Microsoft Band.
Each night before you go to bed, you can tell Microsoft Band that you're going to sleep by tapping on the sleep tile. And each morning when you wake up, you can check the mobile app to see your sleep quality through the night. It shows everything from restful sleep vs. light sleep, amount of times you woke up through the night, the time it took to fall asleep, sleep efficiency, overall time in bed, and calories burned.
I can then work on scheduling bedtime a little earlier and making sure that I'm sleeping productively – keeping all lights in the room off completely, making sure that I give myself time to fall asleep without worrying about everything. A great way to clear my mind is to do some meditation before bed while diffusing some lavender essential oil. Puts me to sleep every night!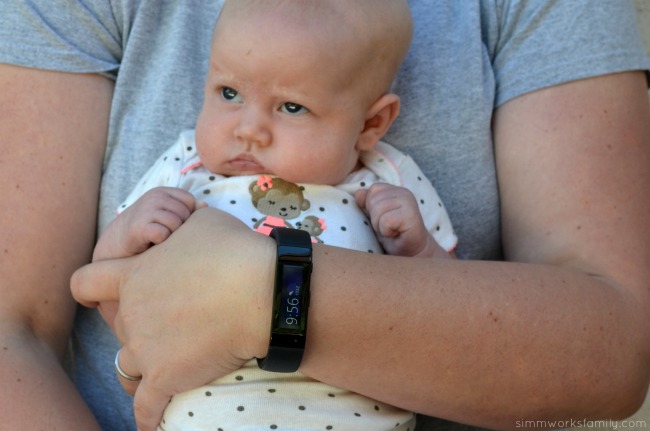 Have you had a chance to find time in your busy day for exercise? How do you do it?