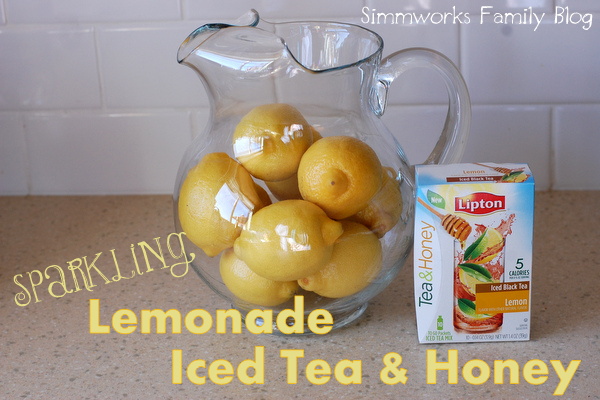 Sparkling Lemonade Iced Tea and Honey
Our family has one passion and that's tea! Yes, I'm known to have a love of coffee, but my roots have always been with tea. So when I saw these Lipton Tea & Honey iced tea mixes on the shelves of Walmart I knew I wanted to try something new and test them out.
But it wouldn't be fun to simply mix the Tea & Honey packets with just plain water. No… I wanted to make something that would be tasty and fun for the whole family!
So I started thinking about some of my families favorite flavors and two things immediately emerged… lemons and iced tea! How perfect is this combination? Simple, classic, and refreshing. Instead of simply mixing the iced tea with lemonade, I decided to kick it up a notch and add a little sparkle to the mix.
What I love about this recipe is how versatile it is! With so many Lipton Tea & Honey varieties, there are so many combinations of flavors you can make with this one recipe.
I served this pitcher to my family as a taste test first and then served it at my My Favorite Things Spa party. It was the perfect refreshment for the mamas-to-be who attended and were looking for something fun and bubbly to enjoy.