The best part about Disney movies is the bonding time I get when watching them with my kids. With the upcoming release of The Little Mermaid Collector's Edition BluRay/DVD on October 1st, I thought I'd treat my daughter to an impromptu Little Mermaid viewing party with her friends after naptime as part of a sponsored post for Collective Bias®.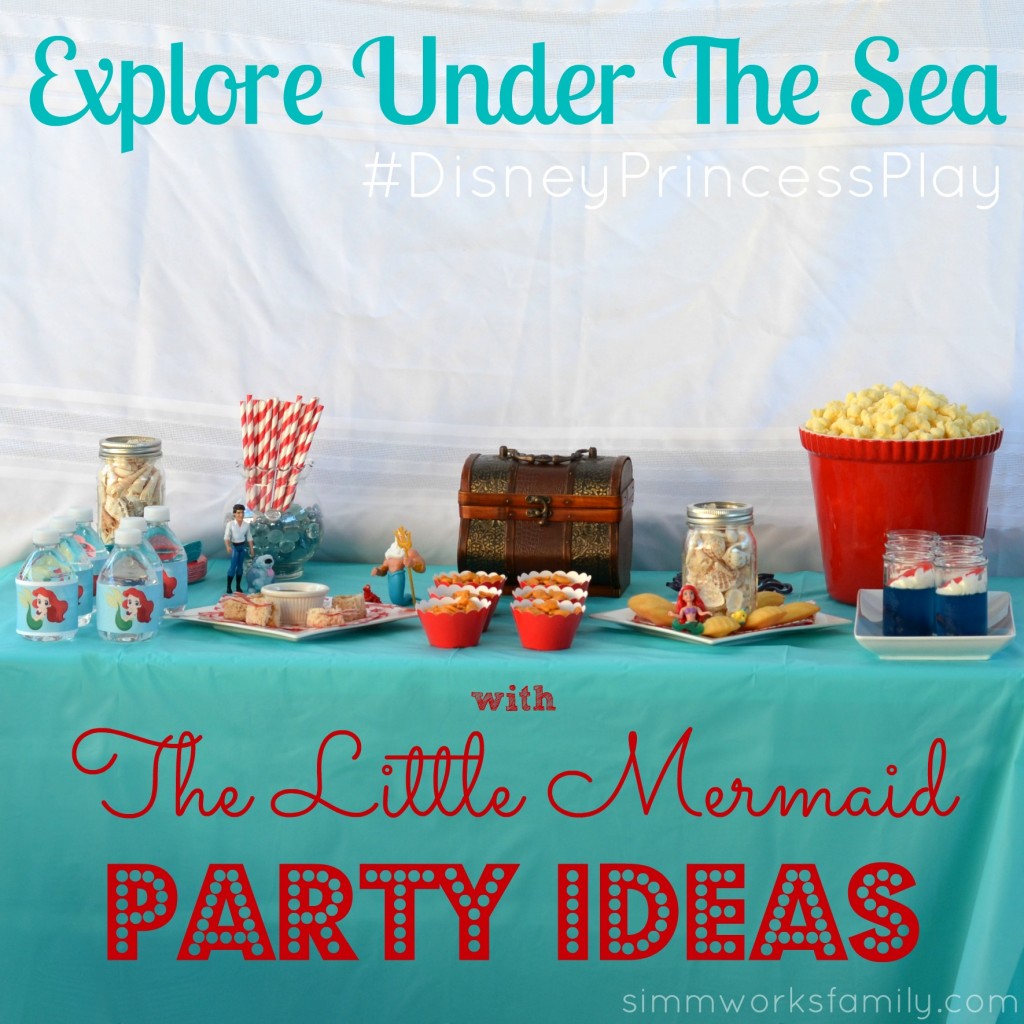 We don't yet own the DVD but I was able to dust off a VHS tape that my husband brought over from his parents house. And since my daughter had never seen the movie before we figured we should get some toys so she can play along as the movie plays.
While she played a bit with her new The Little Mermaid Story Gift Set I picked up from Walmart I set up the rest of the party around her. You can see more from my adventures at Walmart shopping for this awesome toy here in my The Little Mermaid G+ Album.

The Little Mermaid Party Ideas
Using Toys In Decor
One thing I LOVE doing with the parties I throw is to use the things we have around the house as decor. And that includes toys.
So when I was picking out something to gift to my daughter in celebration of the upcoming movie release, I decided on this cute figurine set that included all of the key characters from The Little Mermaid.
They looked great with the food spread and have provided hours of entertainment after the movie. My daughter loves to re-enact her favorite scenes and even makes up a few scenes of her own now.
Walmart has a great selection of The Little Mermaid toys including dolls, bubble makers, and bath toys. And I'm fairly certain we'll be back again to purchase the Ariel costume for Halloween.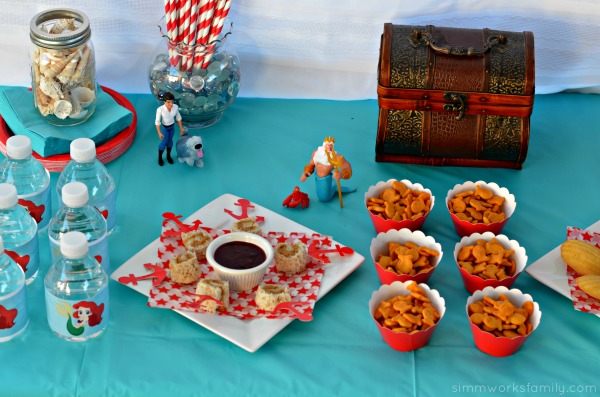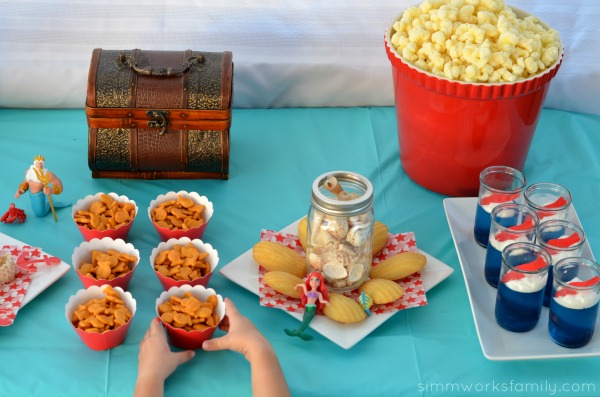 The Food and Drink
I definitely enjoyed coming up with the menu for our Under The Sea party. I went with easy snack foods that would be enjoyed throughout a movie. Everything but the jello could be eaten without utensils.
Here's what I served: 
Peanut Butter "Sushi" with Jelly dipping sauce
Whole Grain Goldfish
Pirates Booty
Madelines (the perfect shell shape!)
Jell-o Aquariums with Swedish Fish
The sushi was a simple concept. I cut off the crust of a piece of whole wheat bread, lathered it with peanut butter (you can also substitute sunbutter), rolled it up, and cut it into small sushi sized pieces. Adding a skewer to pick them up made it easier for the kids to dip it in the jelly.
Jell-o is always fun at a party. But when you add fish to the blue jello mix you can create an aquarium for your kids to enjoy. Simply add the Swedish Fish to the Jell-o cups as it's setting in the fridge. Top with whipping cream for a tasty topping.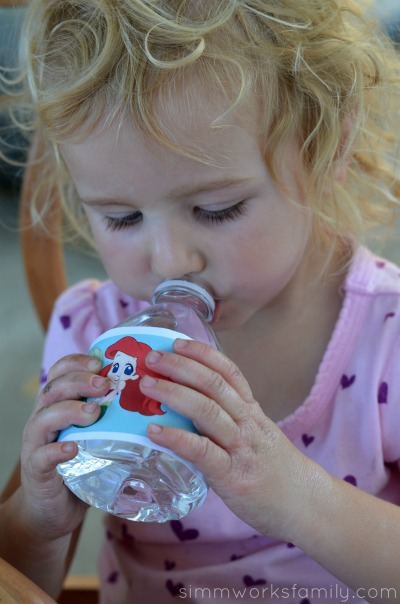 The Fun and Play
There are a lot of fun activities to include in your Little Mermaid party. We had fun with bubbles, made our own mermaid tails out of towels, and even sang along to a few songs from the movie that my friend brought over.
Here are some other great ideas to make your Little Mermaid party shine: 
Paint a treasure chest – Head over to your local craft store and pick up some small wooden chests and acrylic paints. Let the kids go crazy decorating their chests.
Bubble fun – Pick up a small plastic pool. Grab a few wire hangers and bend them into different shapes. Fill the pool with water and dish soap and dip the wire hangers into the pool to create fun bubbles!
Have a mermaid race – using towels, wrap a towel around each child as you would if you were getting out of the shower. Secure at the top with a knot or a safety pin. At the bottom of the towel use a large rubber band to secure the tail to the child's feet. Now let the kids race from point A to point B. Winner gets some Swedish Fish!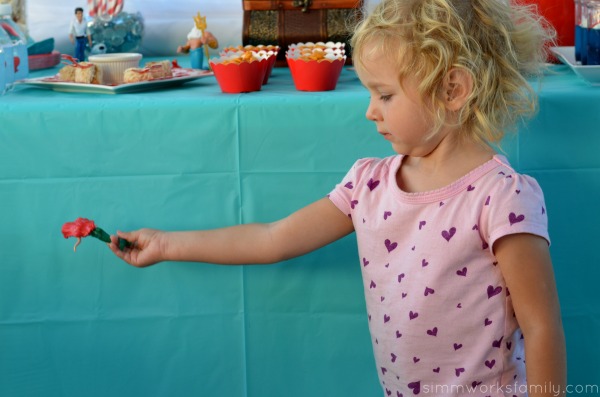 Check out the Under The Sea Pinterest Board for more great The Little Mermaid party ideas!
Find more fabulous Disney Princesses toys, including more featuring Ariel from The Little Mermaid by checking out the Disney Walmart selection. Head on over to like Disney Princesses on Facebook. You can also follow on twitter at @Disney.