I've been pretty bad about keeping the cupboards stocked lately. I started to get lazy when it came to dinner planning and have been making sandwiches or eating what's in the freezer to make up for it. So when Lent came around I was not prepared for a non-meat dish for dinner. But I didn't have to worry… we always have the ingredients on hand for tuna noodle casserole. It's a family favorite.
Only we were out of cream of mushroom AND cream of celery condensed soup.
So I went in search for an alternative. It was about time. I mean… really… I, er, we don't need all of that extra sodium and additives. Plus I'm sure I read somewhere about canned stuff being bad. Or was that just for veggies?
Anyway… I only had 30 minutes until everyone under the roof starved and was already starting to get complaints about hunger pains so I searched the web until I found a recipe that sounded tasty and didn't include canned soup.
This recipe is a winner! And I love how versatile I can be with the veggies. Next time I'm going to try some spinach. Delicious, nutritious, and the kids liked it. Added bonus.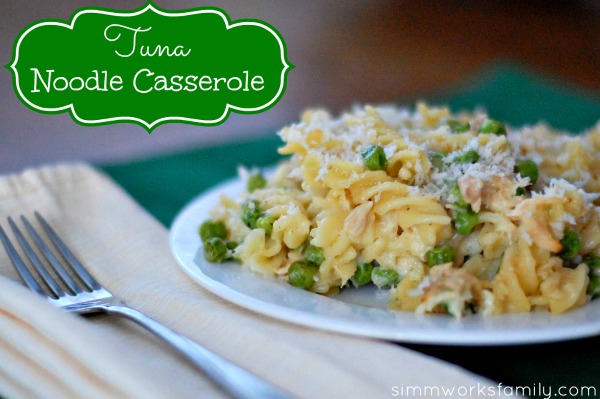 Tuna Noodle Casserole
1/2 box fusilli pasta
2 cups frozen peas
4 tablespoons unsalted butter
3 tablespoons of flour
2 cups 1% milk
1 clove of garlic
1 teaspoon salt
1 can of tuna
parmesan cheese
Boil water for pasta and cook the pasta according to package directions. Add the peas to the pasta for the last two minutes.
Meanwhile, preheat oven to 375.
Melt butter over medium heat and then add garlic. Saute for a minute, then add flour, cooking and stirring for about one minute. Slowly add milk and stir often until sauce becomes thicker.
Add tuna to sauce and remove from heat. Drain the pasta and mix the pasta, peas, and sauce together, sprinkle parmesan on top.
Bake, covered, at 375 for 20 minutes. Let sit for 5 minutes and serve.