There's one word and one alone that can describe why my family can't completely kick paper towels. And that word is BACON! While I can clean my counters with cloth rags, use cloth napkins at the dinner table, and dry my hands off with a kitchen towel, nothing compares to using a paper towel to drain and cool off.
My family is pretty obsessed with bacon and we always seem to be cooking more up. With the kids starting to demand bacon on a more regular basis I needed to figure out how to streamline the process but still end up with delicious, slightly crispy bacon for the family.
And, of course, create a deliciously simply BLT sandwich while I cooked up my last batch of bacon. Complete with an avocado ranch spread that really hit the spot. 
The first thing I look for when picking up bacon is more meat, less fat. Yes, I know that bacon fat can be a favorite amongst many, but I'm the weird one that picks off all the fat once the bacon is on my plate and just eats the meaty part.
When I get my bacon home I then cook it up… well… bake it up! Yup, that's right. I don't get grease splatters everywhere or get burned on my hands multiple times while trying to flip bacon.
How to Bake Bacon:
Heat oven to 400 degrees
Line rimmed baking sheet with foil
Place bacon on baking sheat
Bake for 12-15 minutes (or more for crispier bacon)
Remove bacon and place on paper towels to drain
Enjoy!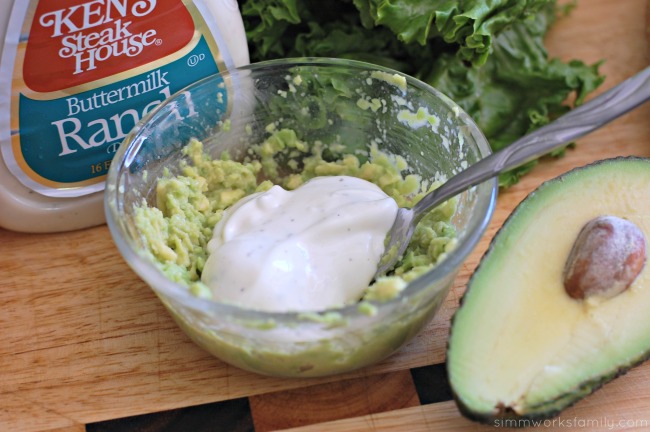 While my bacon was baking in the oven I made up an avocado ranch spread. It's so simple. 1/2 an avocado and 1/4 cup of dressing. Mash up the avocado and then add the dressing and combine. Set aside to spread on the bread when you're ready to make your sandwiches.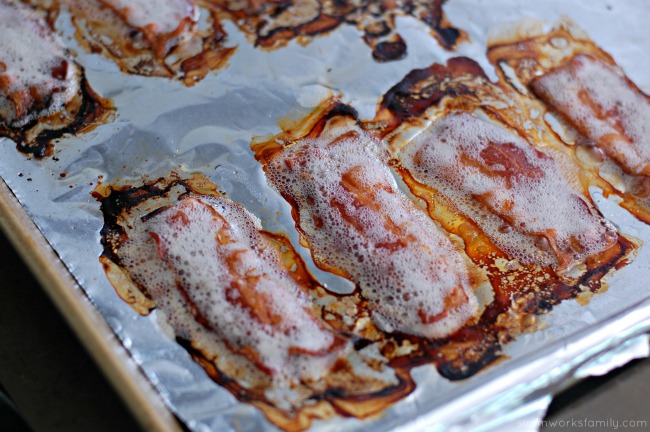 The one thing I love about baking my bacon in the oven is that it always comes out perfectly. There's no need to worry if the first or second batch will be different or if I'll make a mess anywhere.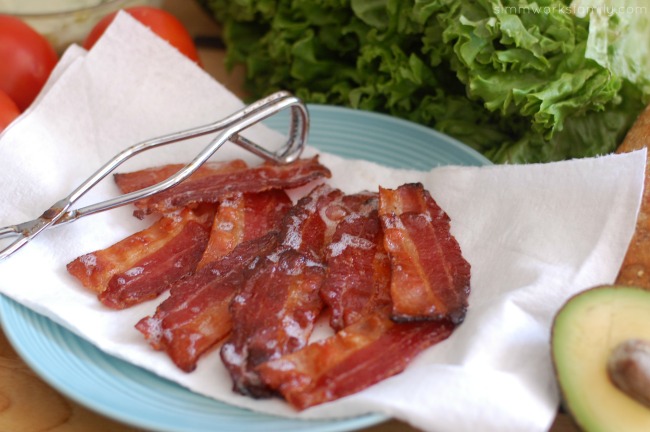 After the bacon is all ready to go it's all about stacking up the ingredients to create the perfect BLT. With a delicious, fresh loaf of bread, some tasty crisp bacon, and fresh produce, this simple sandwich can really hit the spot!
The Ultimate BLT Sandwich
bacon
tomatoes
lettuce
bread
avocado ranch spread
Cook up bacon.
Slice tomatoes and rinse lettuce.
Slice bread and spread with avocado ranch spread.
Layer tomatoes on top of the spread.
Add lettuce and a few pieces of bacon.
Put other slice of bread on top and cut in half.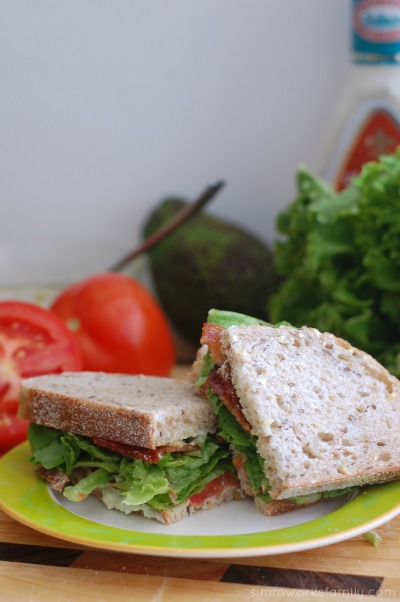 What's your favorite recipe including bacon?