This post featuring great baby sprinkle gift ideas for the second (or third, or fourth) time mom is a product-provided, sponsored conversation written by me on behalf of FeverAll® Infants' Strength Acetaminophen Suppositories.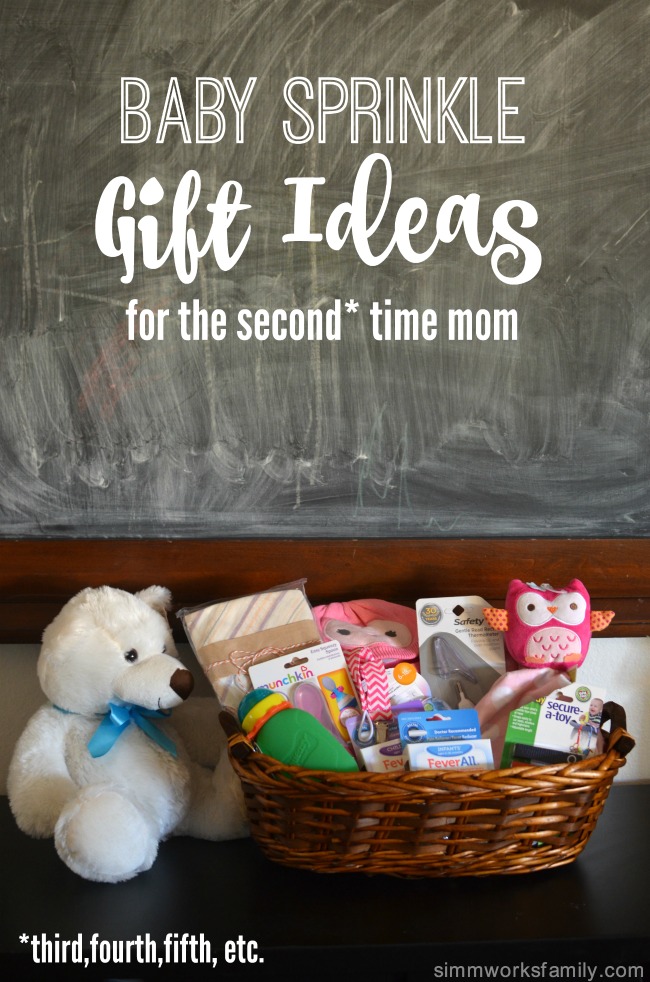 As a mom of 3, I've had quite a bit of experience with the necessities when bringing home a new baby. And while a lot of personal preference – and figuring out what works well with one baby may not work well with the next  – plays an important role in what is needed for a new baby for moms who've already had one, I've narrowed down a few areas that focus on necessities for every kid no matter if it's your second, or your fourth!
No, I'm not pregnant (nor planning on being pregnant again) but my sister is pregnant with her 4th and we're hosting a sprinkle for her next weekend. I don't see any reason why every baby shouldn't be celebrated and love any excuse to get family together so we're very much looking forward to this event.
Sometimes when a family has already had kids (and they're relatively close in age) they don't need all of the big items they needed the first time around. But that doesn't mean they don't need things if you're generous enough to send a gift. Below are some great ideas on what to get the second (or third, or fourth, etc) time mom their baby sprinkle!
Baby Sprinkle Gift Ideas for the Second Time Mom
Feeding
While you can definitely reuse items like bottles, bowls, plates, etc for each child, there's always something new on the market that makes feeding baby easier for parents. We're sharing our favorite feeding tools with my sister and her family as well as stocking her up with new nipples for bottles.
Here's what we've included in our basket: 
Squeeze pouch feeder
Easy squeezy spoon (can fit on most squeeze pouch foods too)
Handkerchief bib
Pacifier & pacifier clip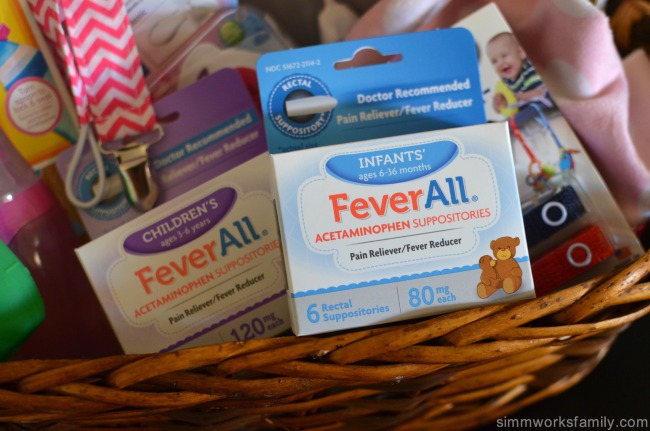 First Aid
First aid is something that's often overlooked when gifting a new baby. And while there are great baby first aid kits out there, some moms already have the nail clippers, useless bulb sucker, thermometer, etc. But it's a great idea to stock the new parents up with the first aid items they might need in the first few years of life so if their baby does get sick, they don't have to race out to pick up these essentials.
Here's what we've included in our basket: 
FeverAll® Infants' Strength Acetaminophen Suppositories – Be prepared! Make sure you have acetaminophen in both liquid and suppository forms on-hand for the cold/flu season. In the event your child is unable or unwilling to swallow oral medication, an acetaminophen suppository is a safe alternative to the liquid form and always provides an accurate dose with no mess.
Rectal thermometer (each child needs their own) – Using a digital rectal thermometer will provide the most accurate reading of a baby's temperature.
Nose Frieda (not pictured) – those old bulb suckers just aren't as effective. It may seem gross but is actually quite sanitary! And… it works.
Humidifier (not pictured) – we have a humidifier in each of the kids rooms to help out at night when they're sick.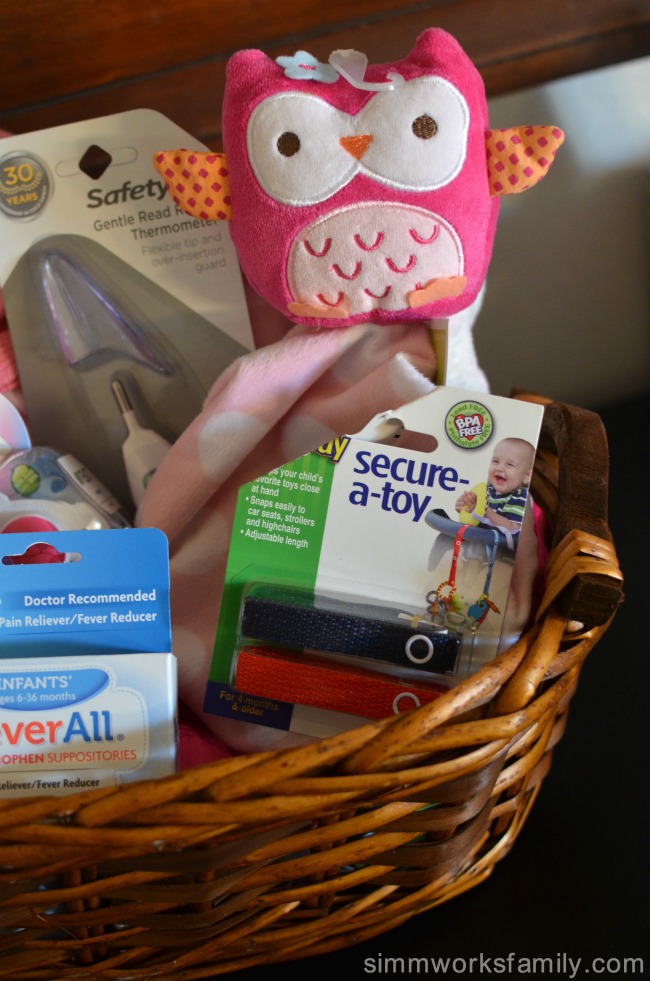 Fun & Play
The best part about a new baby is all of the fun things you can purchase for them to play with. We all know every new baby needs their own lovey! And, of course, a stuffie like the stuffed bear my kids chose for their new cousin. And as baby gets older, she'll learn to throw her toys out of the stroller, car seat, etc. so it's a good idea to have toy clips to secure those items.
Here's what we've included in our basket: 
Stuffed teddy bear
Owl lovey
Toy strap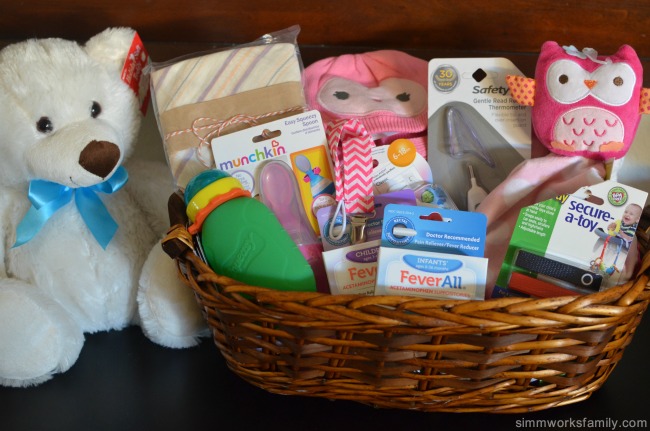 While preparing for a new baby, there's nothing better to do than make sure you take a peek into the medicine cabinet to make sure you're stocked up on everything you might need for the new baby. Being prepared will help out when it's 2am and baby isn't feeling good. A baby or toddler with a fever is no fun, and Acetaminophen is one of the most recommended non-prescription medications by healthcare professionals – including pediatricians and pediatric nurse practitioners – for temporary fever reduction and relief of minor aches and pain in infants and children.
FeverAll® is the only national brand of acetaminophen in suppository form and is available in three strengths for children from 6 months to 12 years of age.
FeverAll® Infants' Strength Suppositories (80 mg of acetaminophen) is the only acetaminophen product available with dosage instructions for children as young as six months of age.

For more than 30 years, caregivers have relied on the accuracy and convenience of FeverAll®. With FeverAll® Suppositories, caregivers can be assured that children will receive the accurate dose of acetaminophen labeled on the package vs. needing to measure liquid oral acetaminophen.

FeverAll® Acetaminophen Suppositories are an important option for caregivers because they permit the administration of fever and pain relieving medicine to children who cannot take medication by mouth due to illness/vomiting, or fussiness, for those who don't like taking liquid medication or who have other health issues; they provide an accurate dosage of acetaminophen without measuring or causing a mess.

Purchase FeverAll® Infants' Strength Suppositories in your local Rite Aid, CVS, Walgreens and Walmart stores. Ad follow along on social media by checking out the hashtag #FeverAllBeFeverReady for great fever reducing tips and tricks.
What was your favorite baby shower gift you've received?
Use FeverAll® only as directed. If you have specific questions about fever, acetaminophen or using FeverAll, speak with your child's pediatrician. FeverAll Acetaminophen Suppositories are available at major retailers and drugstores across the U.S, such as Walmart, Rite Aid, CVS and Walgreens. For more information and current offers, visit www.FeverAll.com.
This is a product-provided, sponsored conversation written by me on behalf of FeverAll® Acetaminophen Suppositories. The opinions and text are all mine.