This shop featuring the perfect baking basket for mom has been compensated by Collective Bias, Inc. and its advertiser. All opinions are mine alone. #BlissfulMoments #CollectiveBias
Life has been crazy here. I feel as if I'm running in every direction and have no idea where I'm supposed to go. I'm in the middle of planning my kids school Gala and am in charge of all of the gift baskets and donations for the event. And it's next Saturday. Months and months of planning and now we're in the final days before the event. Even with all of the planning, there is still a lot to do. 
With all of the running around I've been doing, I've found myself forgetting to sit back and take a moment for myself. I haven't been enjoying naps with Norah, or me time at night after the kids go to bed, because every extra moment is spent on Gala prep. So when the time came to start assembling all of the baskets we have for our event, I decided to combine me-time with basket assembly.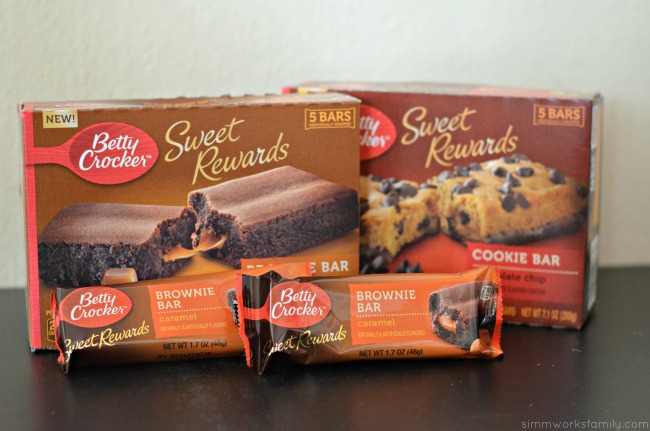 With some delicious indulgent treats in hand, my favorite music on, and the kids at the park with their dad, I jumped in to making baskets and getting my creativity on. Nothing makes me happier than crafting and creating. It's the perfect me-time. And these NEW Betty Crocker™ Sweet Rewards Chocolate Chip Cookie Bars and Brownie Bars were the perfect treat to enjoy.
One of my favorite baskets to put together would have to be this awesome baking basket for mom. Complete with baking pans, aprons, and a few extra boxes of Betty Crocker™ Sweet Rewards Chocolate Chip Cookie Bars and Brownie Bars, I'm sure any mom would be stoked to get it! Here are a few tips on making your own perfect baking basket for mom.
The Perfect Baking Basket for Mom
1. Add a personalized touch
I have a Cricut machine and a Silhouette machine. But I hardly find time to actually use them. So with the time I had while the kids were out of the house, I made some vinyl cut outs to add to a chef's hat and apron set I had. Now mom will have an apron for herself and an apron for her little one to match!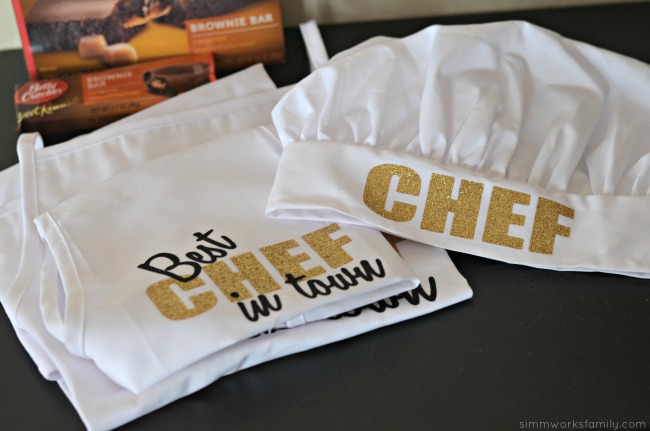 2. Find a nostalgic piece or two
I don't know about you but my mom always had one or two "fun" pans that we could make ice cream cakes or checkers cakes with. So when I saw this Betty Crocker Bake'n Fill bake set I had to grab it for this basket. Consider finding something out-of-the-box to add to your basket and make it fun! It may not be a cool bake set but maybe a gift certificate to a baking class around town.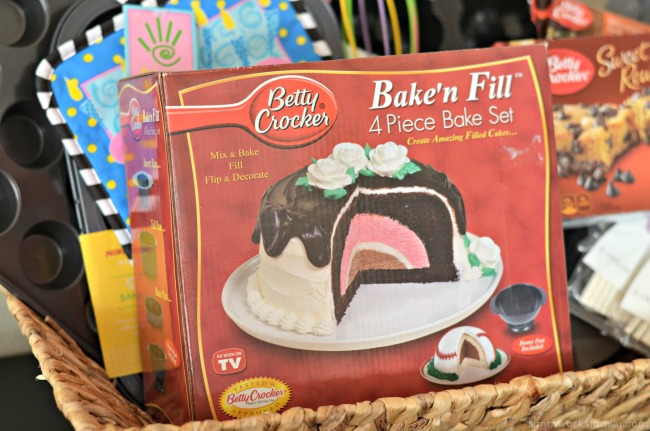 3. Fill the basket with accessories
Once you've picked out your big items – like various sized pans – it's time to find some fun little items! Consider a spatula or whisk, some paper liners, or these cool cookie sticks!
4. Presentation is key
Make sure you choose the right basket for your items. You don't want a basket that's too small or two big. And if you need help fitting things in the basket, grab some filler – cardboard makes a great prop for items and paper "grass" left over from Easter can pretty up any empty space that's visible. And if you'd like, wrap everything up in cellophane and add a big bow!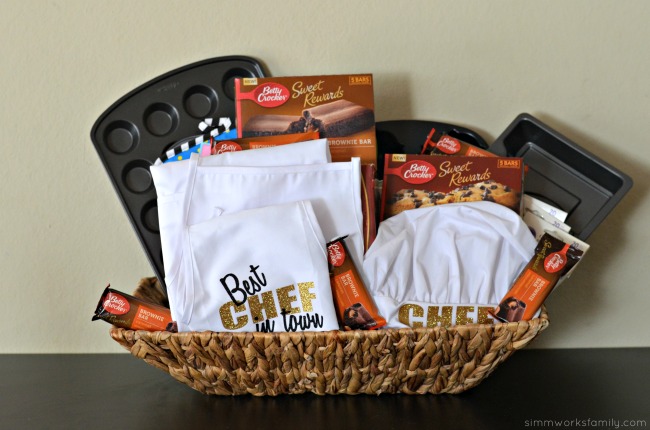 If you're having trouble finding items for your basket, try and think of things that you use daily in your kitchen and the use they bring to you. Then consider a few extras you'd love to have and pop those in as well. And if you get hungry trying to assemble your basket, don't forget to pick up a few boxes of Betty Crocker™ Sweet Rewards bars. These delicious soft baked bars are amazing at home or on-the-go. Pick some up at your local Walmart! I found mine in the Cereal aisle.
Here are a few other great ideas for baskets for mom: 
How do you enjoy me-time?