We had a wonderful day today. It all started with pumpkin carving and ended with a wonderful Halloween party at my neighbor's mother's house. Little E had a wonderful time with all the kids and I took many pictures!
Everyone loved his costume and we got many compliments for it. Most were shocked to find we made it ourselves but it was so simple I couldn't see NOT making it!
Since this was Ethan's first Halloween we didn't want a costume that would make him too hot or uncomfortable so we stuck with an easy Charlie Brown costume. A t-shirt with a squiggle and shorts, how simple is that!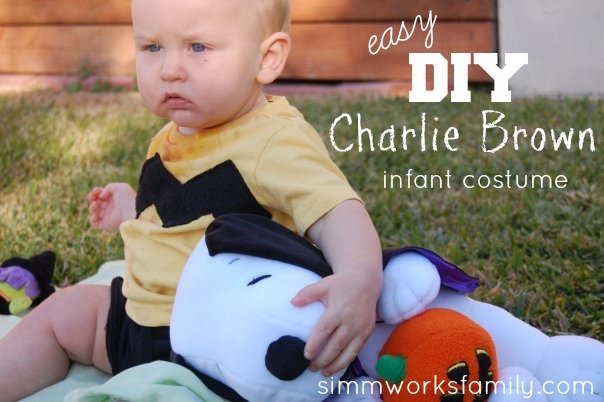 How to make a Charlie Brown Halloween Costume for Baby
What you'll need: 
black felt

No-sew fabric glue

black shorts
What you do: 
Ok guys… this can't get more simple. Cut your black fabric in a zig-zag pattern. Apply No-Sew to the back of the fabric and adhere to shirt. Let dry completely.
Try the shirt on, add the black pants and brown shoes and your Charlie Brown is ready for his big debut! Remember to add Snoopy for an added touch so no one will ask what your little man is for Halloween.
Extra bonus points if baby is still bald… like mine!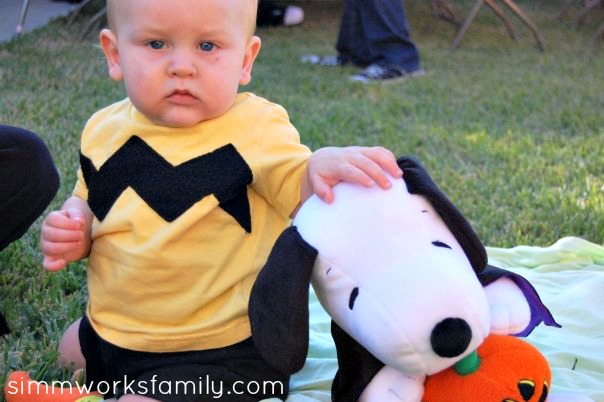 My husband made an iron-on transfer for his shirt that had a picture of Charlie Brown and it said "Wah, Wah, Wah" all over it and underneath Charlie it said "Charlie Brown's Dad" so everyone would know what the "Wah, Wah, Wah" meant. So cleaver he is!
And one more showing Charlie Brown with his Pirate mommy… my neighbor is the lady in front of me with the most adorable panda bear 🙂 He's 5 months old and we always talk about how E and him are going to be the best of buds when they're older.
E and his buddy. And shortly after this was taken…
He didn't know what he did wrong 🙂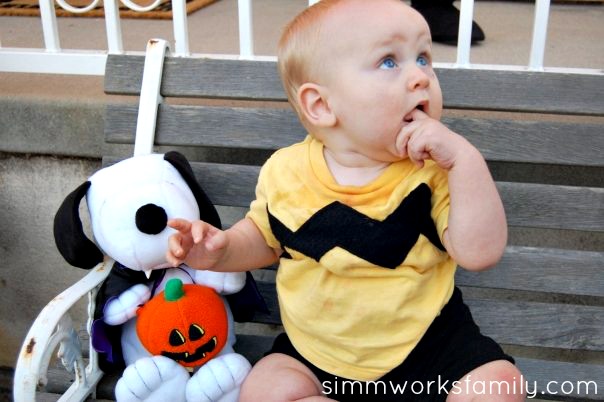 I hope everyone had a safe and Happy Halloween!