I love summertime. For one we get to play outside later in the evening and secondly my mother-in-law is always sure to bring over some yummy (but very large) zucchini.
Figuring out ways to use up the zucchini is always fun and shredding it to put in baked goods and savory meals is usually the way to go. Especially since my son has a fascination with our food processor.
When searching for a recipe to use up some of our zucchini I stumbled upon a delicious looking muffin recipe. Chocolate and zucchini? Why it's a match made in heaven!
This bread tastes exactly like a chocolate cake. My son would have had no clue that there was zucchini in it had he not been the one to help mix the ingredients together.
And the mini chocolate chips just add a bit of deliciousness and push this bread over the edge. Next time I might consider adding a few walnuts to the mix. Mmmm….
Double Chocolate Zucchini Bread
2 cups all-purpose flour
1 cup unsweetened cocoa
1 teaspoon table salt
2 teaspoons baking soda
1 teaspoon ground allspice
1 1/2 teaspoons ground cinnamon
1 1/2 cups unpacked brown sugar
1 cup unsweetened applesauce
3/4 cup regular egg substitute
1 teaspoon vanilla extract
1/2 cup buttermilk
2 cups zucchini, shredded
1 cup mini chocolate chips
Preheat oven to 350 degrees. Prepare 2 loaf pans with nonstick cooking spray.
In a large bowl whisk together flour, cocoa, salt, baking soda, allspice and cinnamon; set aside.
In a medium bowl whisk together the sugar and applesauce. Beat in egg substitute until just combined. Stir in vanilla, buttermilk, zucchini and chocolate chips. Gently stir the liquid ingredients into the dry ingredients until just combined.
Divide batter equally among the two loaf pans. Bake until toothpick inserted into the center comes out clean and muffin tops are springy to the touch, 45 to 55 minutes; rotating halfway through baking time. Cool loafs in pan for 5 minutes, then transfer to wire rack and cool 5 minutes before serving.
Serves 20 | 4 WW+ Points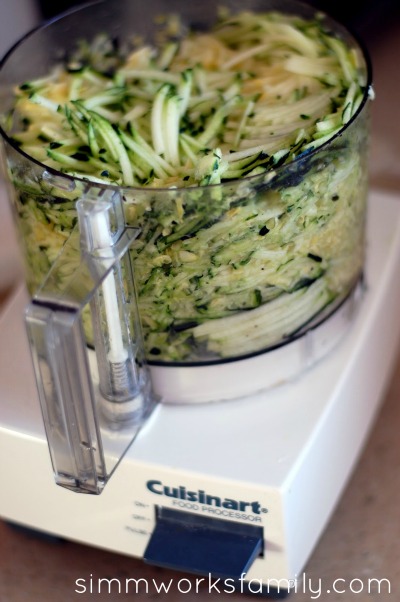 Side Note: One LARGE freshly picked zucchini from my mother-in-law's garden yielded this much shredded zucchini!