This shop featuring easy dinner ideas on the grill has been compensated by #CollectiveBias, Inc. and its advertiser. All opinions are mine alone. #MyGoodLife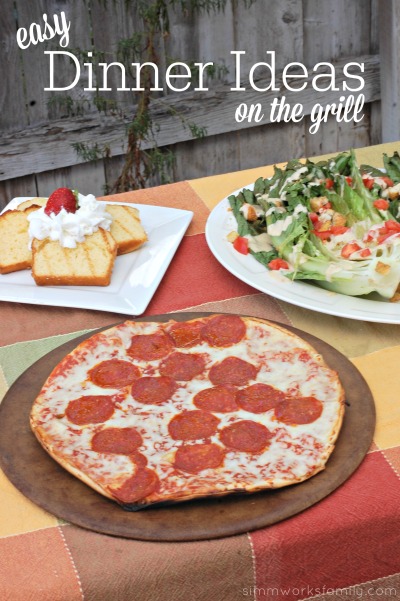 The official end of summer is near and the unofficial end of summer has arrived. While I'm sad to see our summertime fun and memories fade, I'm excited that we'll still have some warm days upon us to continue using our grill instead of heating up the house inside.
Over this past summer I've come to realize that you can grill just about anything. And that includes pizza! Not only is it the perfect way to get a crisp, delicious crust, it evenly cooks all of the toppings so no one is left with a doughy bite.
But pizza isn't the only thing you can put on the grill… I've also started grilling up some desserts and even salad if you can believe it. These easy dinner ideas on the grill are not only simple to make but quick to cook up! This whole meal took less than 15 minutes from start to finish.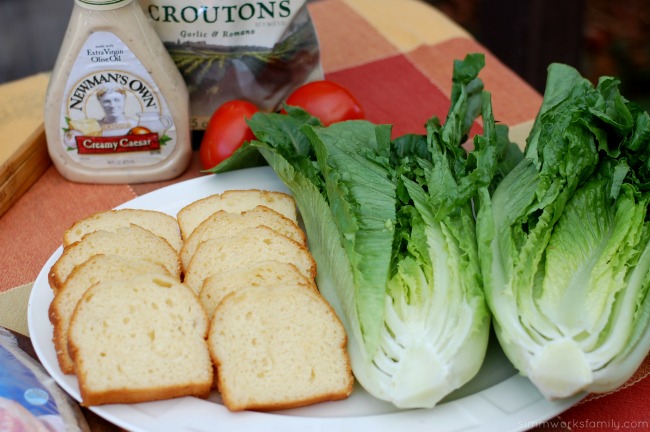 To go along with the Jack's Pizza I picked up at Walmart, I also grabbed a head of romaine and a loaf of pound cake. I had recently enjoyed a grilled ceaser salad on date night a few weeks back with my husband and wanted to recreate it at home.
I've also seen Bobby Flay grill just about anything – including cake – so I wanted to give it a whirl with the pound cake. How could Bobby Flay steer me wrong, right?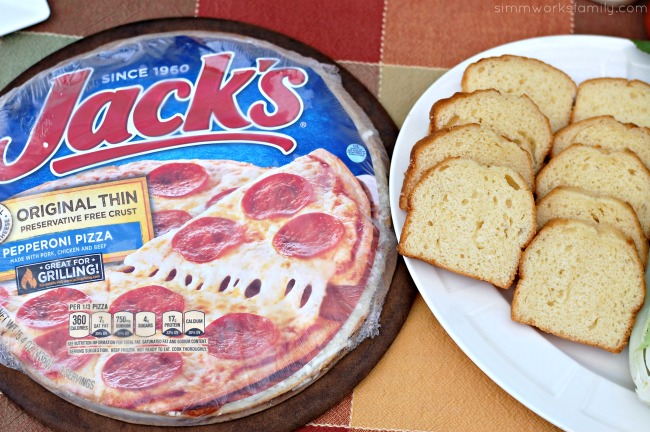 Grilling pizza is easy! But make sure to do it on a gas grill to ensure a proper temperature. You can visit www.jacksgrilling.com for more information on grilling the pizza. Or follow these easy steps below!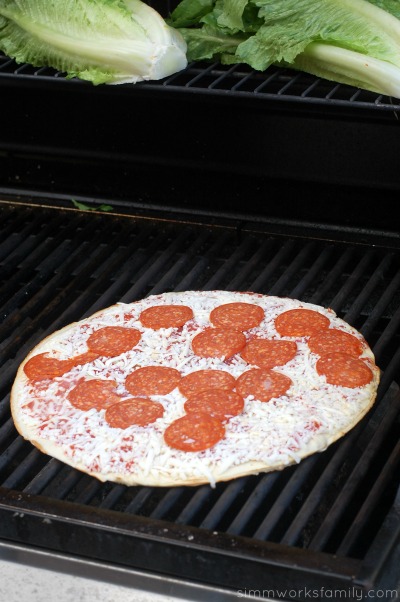 How to Grill Pizza
Preheat grill to 400 degrees setting all burners to low
Place pizza directly on grate in the center of the grill and close the lid
Grill for 12-15 minutes total (ours took 12 minutes)
After 7 minutes, rotate and turn the pizza 1/2 way
Continue cooking an additional 5-8 minutes or until cheese is bubbly and melted and crust is golden brown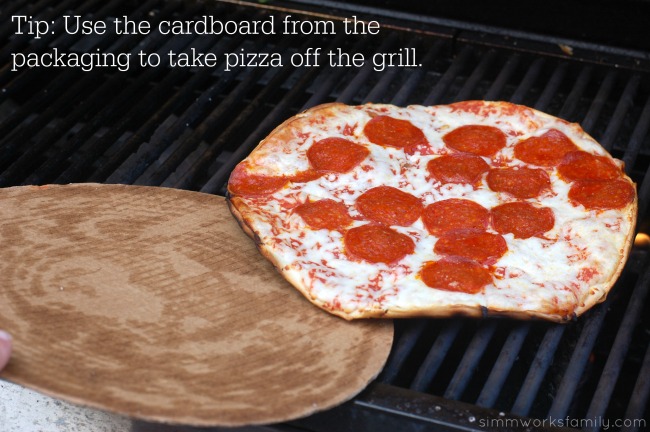 To grill the romaine lettuce, simply put it on the grill for 1-2 minutes or until you see char marks. This is just enough to give it a little charred flavor, you aren't cooking the lettuce.
For the pound cake, I added it to the top rack of my grill to toast it up a bit. Then when I removed the pizza from the grill I placed the pound cake slices where the pizza was for 1-2 minutes to get the grill marks I wanted.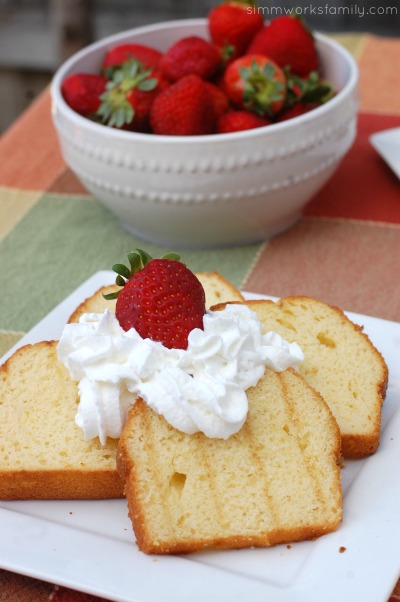 Served with strawberries and whipped cream, this simple dessert sure did please my family!
And the salad was finished off with some crushed croutons (thanks to my daughter), tomatoes and ceaser dressing. I let the kids sprinkle on their own parmesan after they took a bit.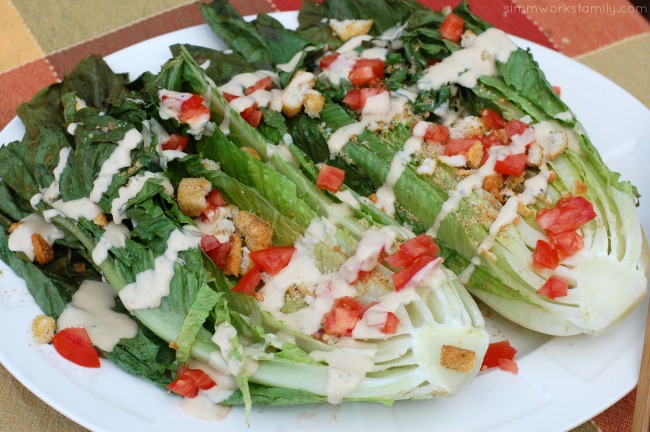 Cooking up full meals on the grill couldn't be easier with Jack's Pizza and a few select sides. Not only do I have a quick and easy back up for dinner sitting in my freezer, I know my family will enjoy it time and time again.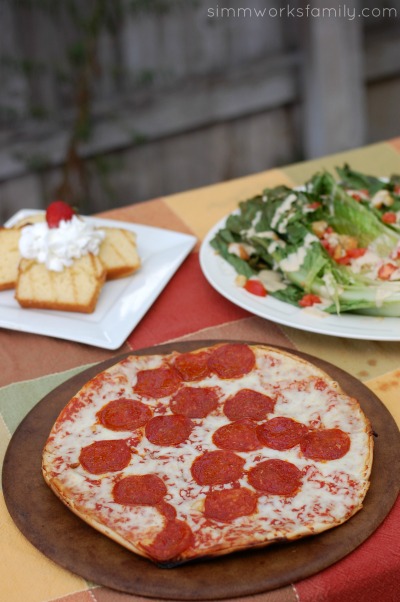 You can find Jack's pizza (and everything else we enjoyed for dinner) at Walmart. Just check the pizza aisle and look for the different varieties of Jack's. Stock up if you have a pizza loving family like mine so you can enjoy pizza night once a week!
And don't worry, the grilling instructions are right on the package in case you need them handy when you're by the grill.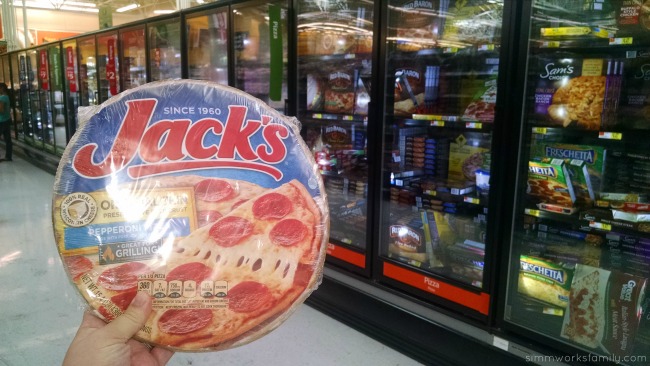 What do you love to put on the grill?