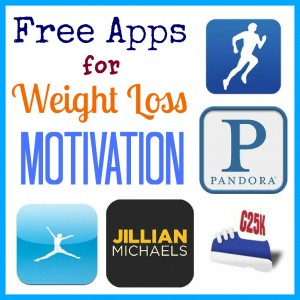 With the craziness that is my life I rely on technology to get me through the day. Whether that's scheduling doctors appointments, keeping in contact with my friends and family, or staying motivated to lose weight. In order to continue leading a healthy lifestyle I've relied heavily on a few great apps to get me through the day and stay on track with my weight loss plan.
These 5 apps are not only easy to access if you have a smartphone, they're also free! And you might have already downloaded them to your smartphone and didn't even know it. So head over to your app store and check these out if you're looking for great motivation to get in shape and stay healthy.
5 Free Apps for Weight Loss Motivation

1. My Fitness Pal
When I'm not doing Weight Watchers, I track all of my calories through My Fitness Pal. It's a free online calorie counter and diet plan where you lose weight by tracking your caloric intake quickly and easily.
Not only does it have a wide database of foods from grocery stores to restaurants, its also very simple to add your own foods to their database. You can also keep track of your activity, weight loss, and the inches you're losing all in one app.
Plus, if you don't like logging food all on your smartphone, you have the ability to log everything on your desktop as well. This works great for when you're at home or on the go!
And the best part? You can now sync your FitBit device right to My Fitness Pal! That means that I don't have to go in and log my activity into My Fitness Pal. My FitBit automatically does it for me. And if you have a FitBit Aria scale your weight is automatically updated as well.

2. RunKeeper
This, my friends, is my FAVORITE app for tracking my runs. Not only does RunKeeper track running, it also tracks other activities as well such as walking, cycling, hiking, etc. It even tracks snowboarding and rowing!
You can choose between different training plans offered to keep you motivated if you want to challenge yourself. And throughout your run you are updated with the time lapsed and the distance you've traveled. You can also set goals to track as well to stay on plan.
With GPS you can also see a mapped out course of where you ran giving you a visual for the distance and route you took. This helps me out a lot because then I can see that I really did push myself on top of seeing my time, etc.
Plus you can still use Pandora in the background while your running RunKeeper.
3. Pandora Internet Radio
I don't know about you but I cannot work out if I don't have music playing. There's just something about getting a beat and just going with it! Sometimes I push myself harder just because a certain song is on. And with Pandora I can simply type in "Power Work Out" and get a whole play list of great songs to work out to.
Pandora will run in the background while I use other apps too like RunKeeper so I don't have to worry about choosing between one or the other.
The only bummer is that there are some commercials because it's the free version. But if you don't mind a 3o second ad inbetween a few songs then you should definitely check it out! It is also great to have on your desktop as well so you can enjoy music while you work.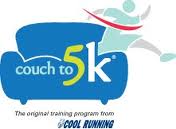 4. C25K Lite
After having my two kids it was hard to get back into exercise. Especially getting back into running. Before the kids I was running 12 miles a week (two 3 mile runs and one 6 mile run) but as soon as I felt the exhaustion of my first trimester with my son's pregnancy, I stopped running all together.
In order to get back into running and ease myself into it, I followed the C25k app. Starting with small intervals of running and walking, over a 9 week period an inactive person can run a 5K. Now that doesn't mean you'll run fast. It just means that you can run 5K without stopping.
You might be doubting me right now but it's the truth! And it only takes 30 minutes a day, three days a week for 9 weeks to accomplish this! Anyone can be a runner by following this app. There is also an Apple version available as well.

5. Jillian Michaels Slim-Down
Jillian not only kicks my butt in the 30-Day Shred, she also does it through this awesome app for workouts. You can choose from beginner, advanced, and intermediate and Jillian will take you through some great circuits to stay in shape and strengthen your body. No gym needed!
You do need a few tools… some hand weights and a ball but everything else is all you and can be done in your home. It's available for download in the iTunes store and in the Google Play store.
Since this is a free app it is limited in what you can see. A few of the workout moves are demoed in a video but most are locked out until you subscribe to a monthly plan. But I'll let you in on a little secret… You can just google what the activity is and follow what google tells you to do.
I mainly use this app as a way to stay on track on the days I cannot make it to the gym or am looking for an alternate workout to shake things up!
What's your favorite weight loss motivation app?