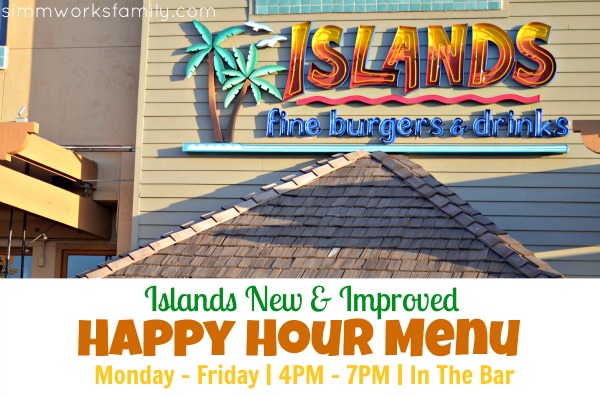 When my husband and I first started dating one of our go-to spots for dinner or lunch was Islands Restaurant. Not only did we love it for their great food and fabulous service, but we knew what we were getting every time we walked in the door. I don't think we have ever been disappointed by a meal at Islands.
After having kids, Islands continues to be a great place to grab a bite to eat. And the kids love it just as much as we do. So when I was invited to head on over to the Mira Mesa location to try out a few items from their new happy hour menu I could not say yes fast enough!
We are always looking for a great happy hour spot for girls afternoons as well as our own frequent date night in the afternoons. And boy will we be heading to Islands more often for happy hour! With a great selection of appetizers and drinks for under $5, we can enjoy our favorite burger joint without breaking the bank.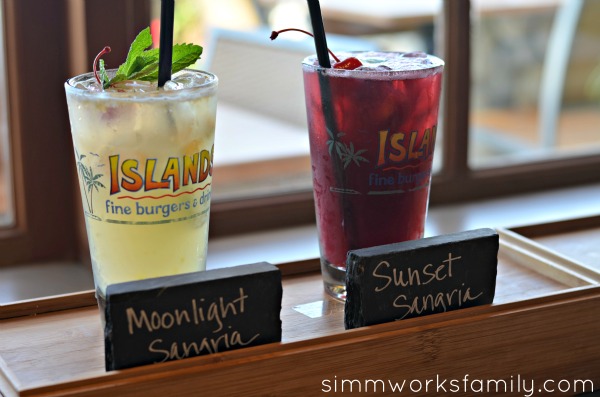 The Drinks
Normally when we head to Islands we stick with burgers, fries, and water. Since we're usually with the kids I don't always partake in an adult beverage. So when we were presented with not one but 7 different beverages on the new Islands Happy Hour menu I was quite a happy camper.
Now don't worry, they gave us small samples of each of the drinks. Not seven full adult beverages. That'd just be silly!
My favorite? That would have to be the Moonlight Sangria. With it's sweet, fruity taste and deliciously refreshing flavor, it was the perfect way to end a hectic day. I'm sure it'd pair great with any of the soft tacos on the menu. The Saint Archer Blonde beer was also perfect with the heat wave burger we sampled. It cooled the spicy taste right down and was very crisp and smooth.
Here's a full list of the summertime drinks now available all day, everyday, at Islands:
Sunset Sangria – Woodbridge Cabernet, brandy, sweet & sour, cranberry & wildberry juice

Moonlight Sangria – Woodbridge Pinot Grigio, Domaine de Canton Ginger Liqueur, sweet & sour, pineapple juice, & Sprite, topped with fresh mint

I-Shandy – Islands Golden Ale, lemonade & mango

Ginger Berry Shandy – Ginger beer, Islands Golden Ale, lemonade & wildberry

Coco Colada Shake (boozy shakes!) – Captain Morgan Rum, fresh pineapple, cream of coconut, vanilla shake & Myers's Rum, topped with whipped cream and roasted coconut

Irish Shake – Kahlua, Jameson Irish Whisky & vanilla shake, topped with whipped cream
You can definitely taste the alcohol in the boozy shakes. They'll knock your socks off!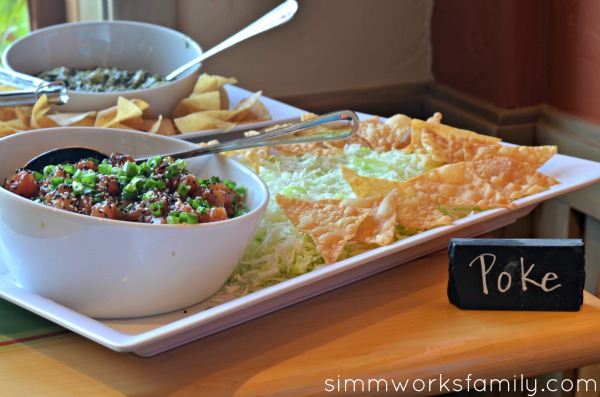 The Food
The awesome happy hour doesn't just stop at drinks (although I'd be fine if they did!). They've also created a fabulous appetizer menu perfect for pairing with your favorite drink or enjoying alone.
For a limited time only you can enjoy delicious Hawaiian Sliders – fresh grilled pineapple atop four mini burgers with teriyaki sauce, carmelized onions, swiss cheese, lettuce and mayo! How delicious does that sound?
Or you can grab some  famous Islands Fries and enjoy a basket of buffalo wings. My favorite isn't on the happy hour menu but is still an amazing appetizer. The poke is absolutely to die for!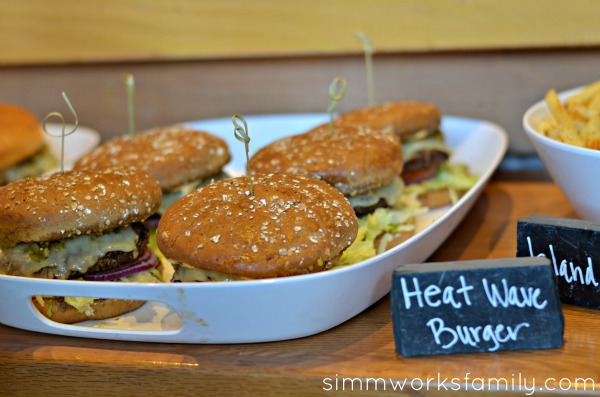 The Atmosphere
Islands Restaurant in Mira Mesa has also kicked it up a notch and renovated their restaurant inside. The new look is fresh, vibrant, and very open. The perfect place to hang out with friends!
They've also added quite a few more flat screen tvs so no one misses out on the big game! What a great way to relax after a day at work, or a way to enjoy an early evening meal before a movie.
If you're in town, definitely check out Islands Restaurant and sample their new happy hour menu. You won't be disappointed. To find a location near you, check out the Islands website.
Disclaimer: I was lucky enough to sample a few of the new items on the happy hour menu and received a gift card to come back and enjoy Islands with my family. All opinions are my own. And my opinion is that I LOVE Islands!